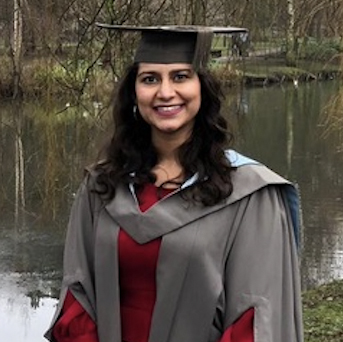 Cohort: 2021
Assistantship
Jordan Fractions Lab
Specialization(s):
Learning Sciences
Nitaya Khanijou
Nisha Khanijou is a Ph.D. in Education student specializing in the Learning Sciences in the School of Education at the University of Delaware. Her research interests include the development of math competencies in preschool children and how that early development predicts later math achievement, as well as mirror writing (the reversal of letters and digits). She is currently working with Dr. Nancy Jordan on an early fractions knowledge project, investigating first-graders' informal, everyday understanding of fractions and then using instructional activities, such as games about equal sharing, to improve upon this knowledge.
Nisha's previous degrees from the University of York and Mahidol University International College have helped her expand her interests in mathematics. Her thesis, titled "Mathematical Performance and Reading Scores Predict Mirror Writing in Children," studied the developmental trajectory of mirror writing of lowercase alphabets and Arabic digits in children aged 4 to 7 years.
Nisha previously worked as a developmental interventionist, behavior analyst, and a special education needs teacher for young children with different developmental needs. She created and administered individualized education plans and social skills classes and helped children with anxiety management.
Education
M.S., Development, Disorders and Clinical Practice, University of York, York, UK, 2019
B.B.A, Finance, Mahidol University International College, Bangkok, Thailand, 2014
Minor, Psychology, Mahidol University International College, Bangkok, Thailand, 2014
Professional Experience
Graduate Research Assistant, Jordan Fractions Lab, School of Education, University of Delaware, 2021–present
Developmental Interventionist, Little Sprouts Children's Center, Bangkok, Thailand, 2019
Behavior Analyst and Special Education Needs Teacher, Reed Institute, Bangkok, Thailand, 2015–2017
Honors and Awards
AIMS (ASEAN International Mobility for Students) Scholarship, Government of Thailand Young Ambassador's Scholarship, Mahidol University International College
Presentations
Göbel, S.M., Clayton, F.J., Khanijou, N., Diaz, M.R., Weiers, H (2019, June). Mirror writing of digits and its relation to mathematical performance in primary school children. Presented at Mathematical Cognition and Learning Society (MCLS), Canada.