CEHD Graduate Programs Ranked 28 in Nation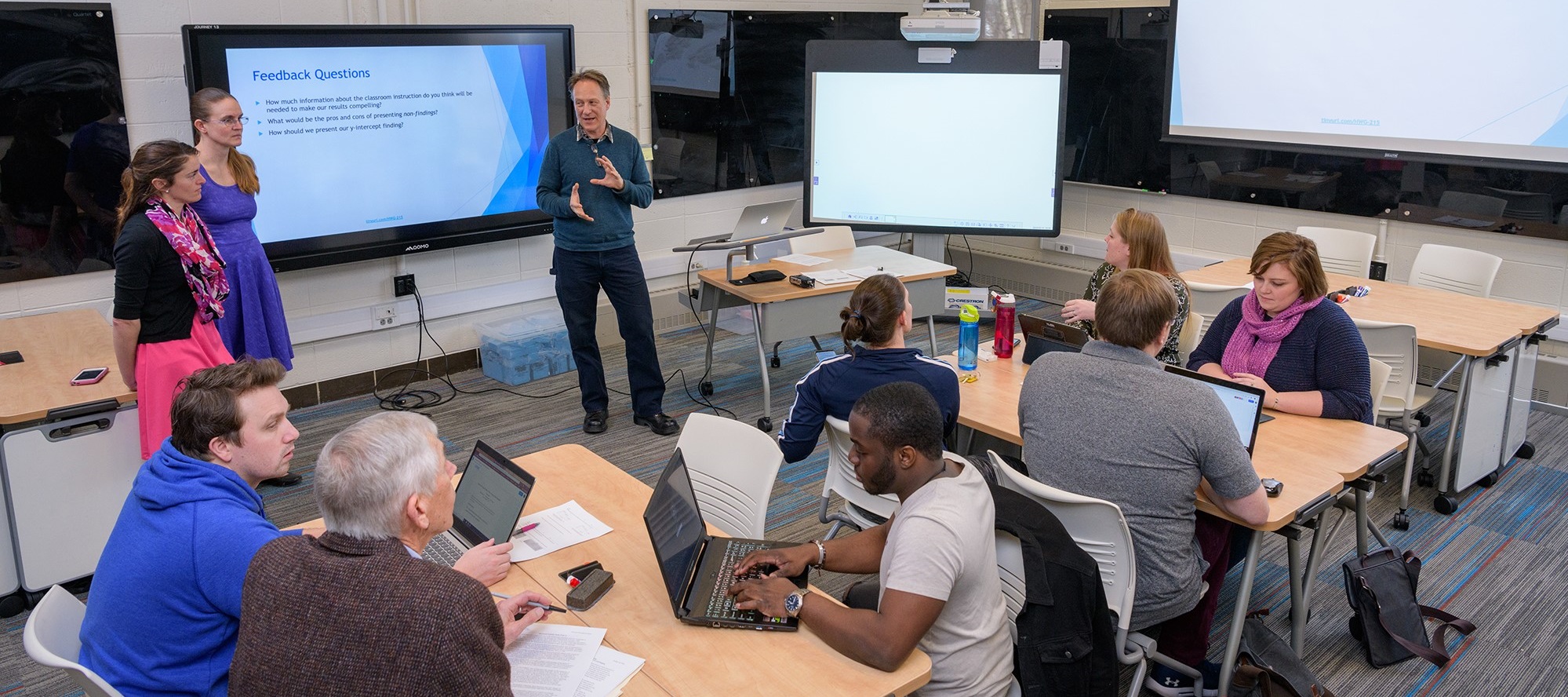 Education graduate programs among top ten percent in US News and World Report rankings
The education graduate programs within University of Delaware's College of Education and Human Development (CEHD) have been recognized by US News and World Report as among the best in the nation.
This year, CEHD ranked at 28 out of 277 colleges and universities, significantly jumping ahead from last year's ranking of 47. US News and World Report evaluated CEHD on its research activity, the academic excellence of their entering students, their faculty resources, and opinions on program quality from education school deans and school hiring professionals.
"Rising 19 places higher in the education program rankings this year represents a significant accomplishment for our College," said Gary Henry, dean of College of Education and Human Development (CEHD) and professor in the School of Education (SOE) and the Joseph R. Biden, Jr. School of Public Policy & Administration. "Our ranking improved in terms of both objective measures of program quality and reputational measures. It is particularly noteworthy that measures of the quality of our graduate students have increased, especially relative to programs ranked among the top 25."
"These rankings reflect the accomplishments and commitment of our faculty and graduate students. None of the schools who were ranked in the top 25 last year moved out of the top 25 this year, which reflects the stability of rankings at the top of the education graduate programs," said Henry. "Recently, our College has added highly productive researchers to a faculty already recognized for making significant contributions. The commitment that these faculty share to the development and success of the graduate students in the College is clearly reflected in the 2022 rankings."
Research-driven programs
The SOE offers a broad portfolio of competitive, research-driven graduate programs, including a PhD in Education with four specialization areas, a PhD in Educational Statistics and Research Methods, a joint PhD in Economic Education, an EdD in Educational Leadership, and several masters or specialist programs in educational technology, literacy, special education, school psychology, and teacher leadership.
Informed by research and grounded in rigorous methodological approaches, CEHD's graduate programs are designed and primarily taught by nationally-known, award-winning faculty in the SOE. Students develop content knowledge and advanced skills through coursework, thought-provoking symposia, and immersive practicum experiences.
Outside of the classroom, many students also have an opportunity to work closely with faculty on grant-funded educational research. In 2020, SOE faculty garnered $16.6 million in funded research projects, many of which supported graduate student assistantships.
"I am currently working on a long-term project funded by the National Science Foundation, the data from which I will likely use in my dissertation. The project, called Partner4CS, is aimed at improving computer science instruction in schools, especially those that serve traditionally marginalized students," said Scott Sheridan, a PhD in Education student working with Chrystalla Mouza, Distinguished Professor of Teacher Education and director of the SOE. "My dissertation is looking at how teachers employ in their classrooms what they learn during the annual Partner4CS summer professional development sessions hosted here at UD."
Caroline Gaudreau, a PhD in Education student nearing graduation, reflected on a similar experience with advisor Roberta Michnick Golinkoff, Unidel H. Rodney Sharp Chair and professor in the SOE and the departments of Psychological and Brain Sciences and Linguistics and Cognitive Science.
"Upon entering the program, I first worked on a large, federally funded grant with Roberta Golinkoff to train preschoolers' spatial thinking skills. During my first year, I was given the time and freedom to explore my individual interests. Through classes and individual reading, I slowly identified my main research interest: the role of questions in children's learning," said Gaudreau. "By my second year in the program, I was able to start my own study, investigating the role of questions in toddlers' word learning. In my third year, I began a new study, which explores the role of parents' cell phone use in preschoolers' information-seeking behaviors."
Supportive faculty
Across graduate programs, students consistently highlight CEHD's supportive faculty members and staff. Committed to the development of their graduate students, CEHD faculty offer mentorship and guidance as students prepare to become educators, researchers, and leaders in their fields.
"Without exception, every UD faculty member with whom I've worked has answered my questions with a smile, generously given much-needed advice, and been more than willing to do whatever they can to equip me with the tools and confidence to grow into the kind of academic that I want to be," said Jessica Leigh Shroeder, an M.Ed in Educational Technology student. "They are the lynchpin in my journey towards teacher, librarian, researcher, and academic."
Adrienne Cornish Lucas, a student in the M.Ed. in Exceptional Children and Youth program, similarly appreciated her instructors' support, encouragement, and flexibility as she juggled graduate school, a teaching position, and personal challenges.
"Jaime True Daley, Josh Wilson, and Kristen Ritchey have been invaluable members of the CEHD family and provided me with constant support in my journey through the program," said Lucas. "Their encouragement was invaluable, whether it was visiting me at school in my physical classroom, offering in-person support, answering after-hours questions, or just reassuring me that I would be okay and that I was a great educator."
"We are honored to be recognized among the very best education programs. I would like to acknowledge the extraordinary faculty who are committed to developing high quality programs and mentoring the next generation of education scholars," said Mouza. "Credit also goes to the CEHD Director of Research Laura Desimone for her outstanding efforts advancing the research mission of our college and supporting the needs of faculty and students."
 For more information about the US News and World Report rankings and other ranked UD graduate programs, visit UD's Institutional Research and Effectiveness Rankings webpage or read "UD graduate programs ranked among best in the nation" in UDaily.
Article by Jessica Henderson.
Photo by Evan Krape.