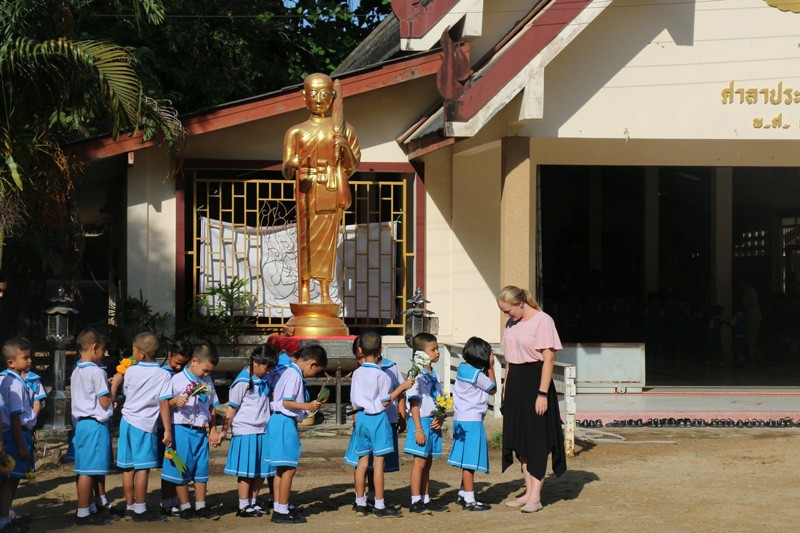 Advice from School of Education alumna Allison Scott on teaching abroad
About 400 miles south of Bangkok in the coastal city of Surat Thani, located along the Gulf of Thailand, University of Delaware alumna Allison Scott is teaching English, math and social studies to classrooms full of talented fourth and fifth graders. For Scott, teaching in Thailand is a dream come true.
"Living in Thailand is absolutely amazing," Scott said. The weather is warm, the people welcoming, the students incredible. "I feel lucky to be able to experience a completely different culture and still do what I love."
Scott decided at an early age she wanted to teach. Both of Scott's parents are UD alumni, and her mother has been a public-school teacher for the past 15 years, graduating from UD in 1990 with a degree in education.
"I chose UD because of the reputation of the education program," said Scott, who enrolled in the Elementary Teacher Education degree program. She recalled how her special education class with Gary Allison, assistant professor in the School of Education, as particularly helpful.
"Professor Allison was a major part of my professional development," said Scott. "His class allowed me to grow as an educator."
Scott also loves to travel — having studied abroad in South Africa through the UD's Human Development and Family Sciences program — and hoped that one day she could combine her two passions by teaching abroad.
Allison graduated in 2017. That summer, UD's College of Education and Human Development had an opportunity for someone to teach in Shenzhen, China.  With the help of Carol Vukelich, who at the time served as dean of the college, Allison and her mother, Michelle Scott, were able to travel to China to teach English to Chinese students for the month of July.
When Allison returned, she began her teaching career in Reston, Virginia.  While she enjoyed teaching fourth grade, she longed for the opportunity to travel and teach in a culture different from her own. After hearing from another UD graduate about an amazing experience teaching in Thailand, she reached out to a job placement agency to make it happen.
"I think teaching in China gave Allison the confidence that she could indeed teach abroad," said Michelle, now back in Delaware, teaching at North Star Elementary School.
Once in Thailand, Scott's first placement was teaching English to first graders at a government school. She immediately fell in love with southern Thailand but wanted to use her teaching degree to teach all subjects to Thai students.
"I was already living in southern Thailand, and knew I wanted to remain living in the south, so I started researching international schools in the area," said Scott. "I came across an International School in Surat Thani, and noticed they had a fifth grade position open for the upcoming school year."
Scott contacted the school's director, and within a day, an interview was scheduled. The staff was impressed. They wanted her to come teach. But first, they wanted her to visit and see the school for herself.
"Upon going to visit the school, I was instantly impressed by the students and teachers," said Scott. "At the end of the day, I sat down with the director and decided this school would be a great fit for me. It was more of a conversation to see if my teaching styles would fit into the school community the director had built. It could not have worked out more perfectly."
Options for Teaching Abroad
If you're interested in teaching abroad, Allison Scott has some first-person advice:
When I started researching teaching abroad, I quickly became very overwhelmed. Below are several resources that will help you get started on your journey.
International Teaching Websites
Job Placement Agencies
When I was looking to teach abroad, I also decided to use a placement agency to help me locate a job. Some options include:
Article by Jordan Howell.
Photos courtesy of Allison Scott and the Surat Thani International School (STIS) in Thailand.