Transforming Learners into Leaders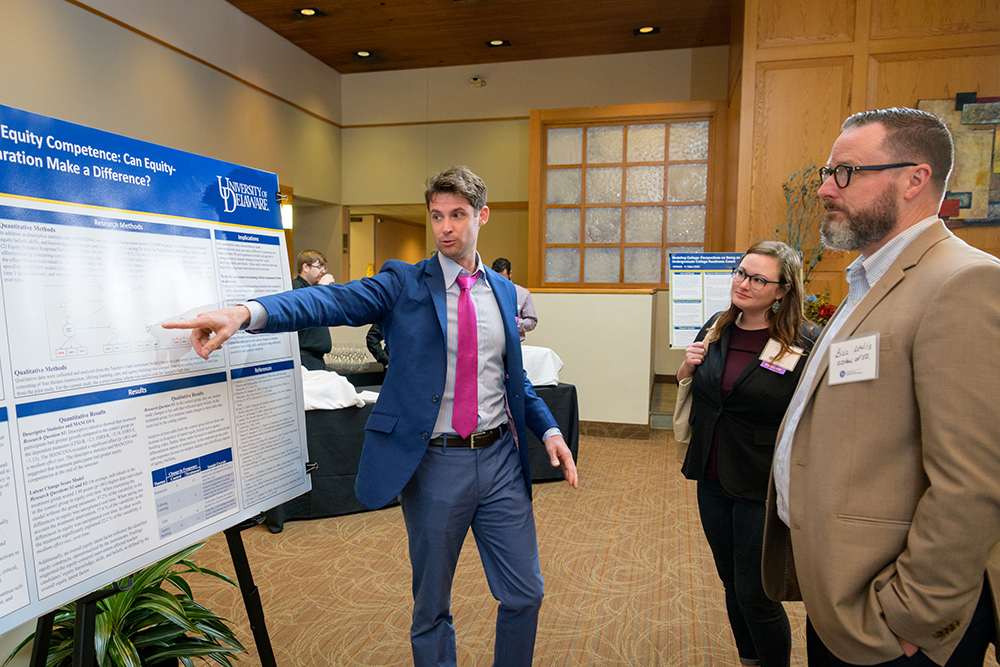 Graduate student research impresses at the 34th annual Marion H. Steele Research Symposium
Ask any professor, and they'll tell you the groundbreaking research that will guide education policy for the next generation of leaders rarely begins with a lucrative book deal. More often than not, it begins in classrooms as graduate and undergraduate students investigate our society's most urgent, unsolved problems.
How do children learn addition? How do notions of power and identity shape equity and access in the classroom? How does the makeup of a household affect early language development? How can school districts and communities in Delaware support students experiencing housing instability?
These research questions and more were examined during the 34th annual Marion H. Steele Research Symposium on Friday, April 12 in the Clayton Hall Conference Center at the University of Delaware.
Sponsored by UD's College of Education and Human Development (CEHD), and with generous support from the Steele family, the symposium celebrated student scholarship and success with eight panels and a poster session featuring research by 39 doctoral students, as well as two TED-style "CEHDTalks" delivered by graduate students.
Modeled after a professional research conference, the symposium is a valuable opportunity for students to present research completed for coursework, an assistantship or dissertation and discuss their findings with faculty, students and the community.
Our students' work is a great reflection of the college's vision: working to address the challenges encountered by children, adults and families, and the communities in which they live," said Laura Desimone, professor and director of research for the College of Education and Human Development (CEHD). "We are privileged to be mentoring so many talented students whose research promises to reshape our understanding childhood learning and family sciences."
Award Recipients
This year, awards were given to three research papers and two poster presentations. Submissions were evaluated by a panel of CEHD faculty members. Awards were presented to:
John Strong, Ph.D. in education, "A Mixed Methods Experimental Study of a Text Structure Intervention in Grades 4-5," first place – graduate paper.
Ginnie Sawyer Morris, Ph.D. in human development and family sciences, "Examining the effects of maternal binge-drinking and marijuana use on children's mental health trajectories: A latent class growth analysis," second place – graduate paper.
Daniela Avelar, Ph.D. in education, "Giggles and Smiles: Behavioral and Physiological Correlates of Shared Book Reading vs. Independent Tablet Reading," third place – graduate paper.
Ye Shen, Ph.D. in education, "Cognate Awareness as a Longitudinal Predictor of Second Language Reading Comprehension: The Facilitating Effects of Word Identification and Vocabulary," first place – graduate poster.
Scott Sheridan, Ph.D. in education, "The Culture of Technology Use: An Ethnographic Exploration of One Teacher's Classroom," second place – graduate poster.
Strong, who will be finishing his Ph.D. in May, explained what excited him most about this project. "It gave me the opportunity to develop and test a classroom-based intervention with fourth-and fifth-grade teachers and their students that has the potential to improve reading and writing achievement for students from low-income families."
He has accepted a position as assistant professor of literacy education at SUNY Buffalo and is grateful to CEHD faculty, especially his advisor, Dr. Sharon Walpole, for providing him with research opportunities to reach the next stage in his career. "They prepared me to be competitive on the job market by providing me the skills to publish in academic journals, present at conferences and teach courses in the School of Education."
The Steele Symposium is an ideal venue for graduate students who are either embarking on or completing research projects to share their findings with a community of peers, much as they'll be expected to do as professionals after graduation. For Morris, the project served as research for her doctoral thesis.
"I wanted to explore whether children of mothers who binge-drink and/or use marijuana are at a heightened risk of problem behaviors (e.g., anxiety, depression, substance use). Results showed that this type of use is affecting the kids. It's not changing their lives, but it is affecting them to the point where they are demonstrating borderline-clinical levels of behavior problems," said Morris, whose career goal is to use prevention science research to affect positive change for families living with substance use disorder, especially mothers and their children. "As a graduate student in the College of Education and Human Development, I have had the benefit of working in a variety of different research environments through my assistantships and have had the opportunity to work individually and collaboratively with all members of my committee, which proved to be a truly enriching experience for which I am grateful."
Scott Sheridan's poster explained his work integrating technology into classrooms. This research was part of a larger National Science Foundation project led by Chrystalla Mouza, distinguished professor of teacher education, and Lori Pollock, alumni distinguished and professor in computer and information sciences.
"Just like technology has transformed all other aspects of life, I know that it also has the potential to transform teaching and learning," said Sheridan. "However, teachers must first understand why and how to use digital tools to support student learning. I want to be part of discovering effective ways to help teachers bring technology into their classroom so that learning environments will provide more meaningful, authentic and effective learning opportunities for all learners."
About the Steele Symposium
The Marion H. Steele Research Symposium was established by J. Rodman Steele Jr. in memory of his aunt, a 1928 graduate of the University of Delaware. She spent her 41-year career at the American Home Economics Association and served as longtime editor of the Journal of Home Economics(now the Journal of Family and Consumer Sciences), until her retirement in 1969.
Her legacy continues through this symposium, recognizing research that reflects the high standards of scholarly work to which she dedicated her professional efforts. Through the support of the Steele family, students are eligible for financial awards, recognizing excellent student scholarship.