Fontana Financial Literacy Fund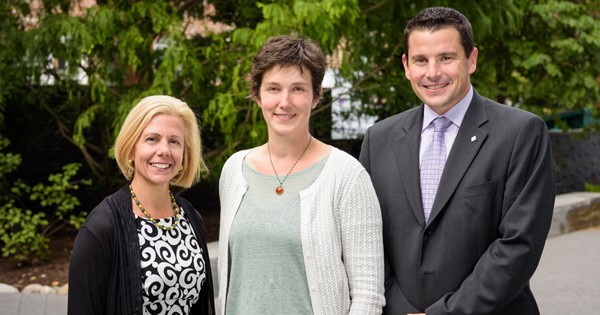 Gift from UD alumna Donna Fontana to impact more than 700 teachers and 80,000 students in Delaware
During her time as an undergraduate finance major at the University of Delaware in the 1980s, alumna Donna M. Fontana took a course with professor emeritus of economics and founder of UD's Center for Economic Education and Entrepreneurship (CEEE) Harry Hutchinson.
"I was overwhelmed by the fact I was being taught by the person who had written the textbook," Fontana said. "I learned so much in the class that I added economics as a double major."
Today, Fontana is a leader in the financial industry, currently serving as a senior vice president for Fidelity Investments. Her formative experiences with Hutchinson, she said, were one of the inspirations behind her recent $250,000 gift to the CEEE.
"When I was told that the center was founded by Professor Hutchinson, it was impossible not to give this gift," said Fontana.
The gift will establish the Fontana Financial Literacy Fund at the CEEE, which will advance research and impact more than 700 teachers and 80,000 students over the next five years in the state of Delaware.
"Donna's gift will be instrumental in helping us increase economic and financial literacy in the state of Delaware via teacher training and student programing," said Carlos Asarta, director of the CEEE. "We are truly thankful for her personal and financial support."
Fontana's gift will support the hiring of personal finance coordinator Gail Colbert as well as a graduate of UD's doctorate in economic education program, Amanda Jennings.
Colbert said that her work includes curriculum training and personal finance workshops for teachers, regular distribution of helpful resources and materials, classroom visits and more.
In the 2018 school year, she said, Colbert will be working on several new programs at the CEEE including the development of new courses, new resources and a new statewide personal finance competition.
Colbert said that she and other CEEE staff members "applaud Donna Fontana's efforts to make financial literacy a priority and greatly appreciate her financial contribution to make this possible."
Fellow new hire Jennings said that she is currently working on two projects, including the development of a second-grade economics curriculum for Delaware students and an evaluation of the CEEE's Master of Arts in Economics and Entrepreneurship for Educators (MAEEE) program.
"I am most excited to be working with [CEEE associate director] Bonnie Meszaros and partnering with local school districts to develop research-based curriculum in economics," Jennings said. "Through economic and financial literacy, we can empower individuals to understand, participate in and affect change in our economic system."
Jennings' research focuses on the importance of understanding children's naive theories as a prerequisite for designing instruction, investigating both how children are thinking about economic concepts before and after instruction and designing lessons that are reflective of and responsive to children's ways of thinking.
"Donations like this are important," Jennings said of Fontana's gift, "because they support the important work at the intersection of research and practice where researchers and educators work together to increase economic literacy starting with the youngest members of our society."
Jennings' message for Fontana: "Thank you for believing in the importance of the mission and vision of the CEEE. I am honored to continue working to increase economic and financial literacy as part of the CEEE."
This is not the first time that Fontana has supported Delaware education through her relationship with UD. In 2011, she established the Fontana Family Education Scholarship to support undergraduate teacher education majors, and in 2013, she established the Fontana Family Graduate Tuition Scholarship in Education.
Fontana agreed with Colbert and Jennings' assertions on the critical role of financial literacy for students, adding that her experiences over the past six years teaching financial literacy to middle school students in East Harlem cemented this opinion.
With much of the students' time being spent on improving test scores, Fontana said, key concepts like budgeting are often "wholly lacking from their curriculum."
"Many parents at the end-of-year student presentations would thank us for explaining the reality of income versus expense to their children," she said. "In order for these pupils to become responsible citizens, financial literacy is an essential factor in their education."
Fontana added that she hopes the long-term impact of this gift includes ripple effects throughout the state of Delaware.
"As the center educates teachers, they will educate their students, and in the long run we lift the general knowledge around personal finances to the citizens of the state," Fontana said. "In this way, everyone will make better financial decisions in the future, thus improving the overall economy."
Fontana graduated from the University in 1985 with a degree in business administration and economics. She joined the University's Board of Trustees in 2017 and has served on the President's Leadership Council since 2012 and on the Lerner NYC Deans Council College and Program Advisory Board since 2014.
Article by Sunny Rosen | Photo by Evan Krape