ETE students share new perspectives on Istanbul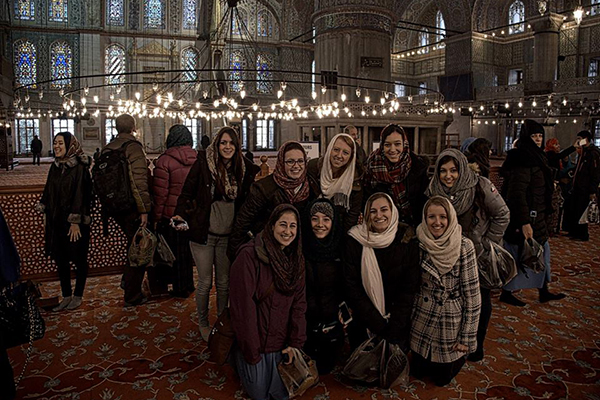 "The most valuable lesson I have learned on this adventure," began University of Delaware study abroad student Christine High, "is that life and events can be seen through an infinite number of lenses. What truly matters is the perspective you choose."
High, a sophomore elementary teacher education major, is one of 12 undergraduate students currently studying in Istanbul as part of the Winter Session 2016 education micro-program.
The program, designed to give education students insight into unique and innovative ways of teaching curricula, uses the architecture, art and historic sites of the ancient region as a living classroom for applying concepts found in elementary and middle school mathematics.
As part of their journey, each student has compiled a portfolio of photos highlighting the "symmetry and geometric characteristics in the world around them," said High, adding that "this interactive, hands-on way of learning math has been really interesting."
It was during the program's second week of exploring the city, on Tuesday, Jan. 12, that a terrorist bombing occurred near the heart of Istanbul's historic Sultanahmet district.
"It is nearly impossible for friends and family at home to have a sense of what the local condition is like based on media reports," said Brad Glass, an assistant professor in the School of Education and faculty director of the program. "The truth is that daily life in a city of almost 17 million people spread over 5,000 square kilometers continues as it has since we arrived 10 days ago."
As the city returned to its usual bustle – mosques filling for afternoon prayers, shop owners peddling trinkets, restaurants serving patrons traditional Turkish tea, and tourists searching for perfect photos of the city's most iconic sites – so, too, did the study abroad program and its students.
On Wednesday, the group embarked on its first of three school visits during the program, digging even deeper into local culture after the attack.
Bahçeşehir Koleji, a private K-8 school in the Levent district, welcomed the group for a day of classroom observations and meetings with local administrators and teachers. Beyond the school's impressive curriculum, including language instruction in Turkish, English and either French, Spanish or German, the group was overwhelmed by a kind and welcoming reception.
"We entered the school and the students began to serenade us with the song 'We Are the World.' Then, they unexpectedly provided us with a huge Turkish breakfast," said High. "We went through the day and met so many lovely and insanely intelligent students."
During their last week in the city, the program also has visits planned with representatives from Bahçeşehir University and the MEF International School to learn about their curricula, interact with faculty and students, and explore additional opportunities for teaching abroad.
In addition, the group will be participating in a workshop with local artists who craft traditional Islamic patterned tiles like those the students have studied as part of the course.
Students will return to the UD campus with a more global perspective on education and an eye for innovative opportunities to use their environment to enhance classroom learning. Beyond this, as a result of the events of Jan. 12 and three short but immersive weeks, participants will have gained a better understanding of Turkish culture, global citizenship, and a shared human spirit.
"The people of Istanbul are strong and have stuck together to bring everything back to normal in the safest way," said Samantha Lester, a sophomore elementary teacher education major. "I never anticipated how comfortable I would have felt here, but it now really feels like my home."
"While Americans may be afraid of Istanbul, being here has taught me that the Turkish people could teach Americans a few lessons about kindness and generosity," added High. "The recent attack on Istanbul has taught me to be more aware and cautious, but also to be resilient in sticky situations. This study abroad pushed all of my boundaries and comfort zones and I couldn't be more thankful for it."
UD's Institute for Global Studies continues to monitor information from both the State Department and International SOS, a leading travel security assistance company.
The group will return to the United States, as expected, on Jan. 24.
To follow the Istanbul program and the rest of UD's study abroad students during their global journeys, follow @UDGlobal on Instagram and Twitter, engage using #UDAbroad, and visit the IGS study abroad blog.
About the Institute for Global Studies
The Institute for Global Studies was created in 2009 to enhance the international dimensions of teaching, research and outreach at the University of Delaware. IGS provides leadership and support for programs and experiences that contribute to the education of informed, skilled, open-minded citizens of the world.
Best known for coordinating the University's study abroad program, IGS also awards scholarships and grants to faculty and students for a number of global opportunities, and administers internationally-recognized State Department-sponsored programs such as the UD Fulbright Initiative, Middle East Partnership Initiative (MEPI) Student Leaders Institute, Mandela Washington Fellowship Program for Young African Leaders, and most recently the Study of the U.S. Institutes for Student Leaders on Women's Leadership (SUSI-WL) program.
IGS sponsors such signature events as Global Month each fall and country-specific celebrations each spring.
IGS collaborates with other global partners on campus, including the Office for International Students and Scholars, the Confucius Institute and the Center for Global and Area Studies. In addition, IGS partners with Enrollment Management to coordinate the UD World Scholars Program.
Article by Nikki Laws
Photos courtesy of Brad Glass