Study Abroad Faculty Director of the Year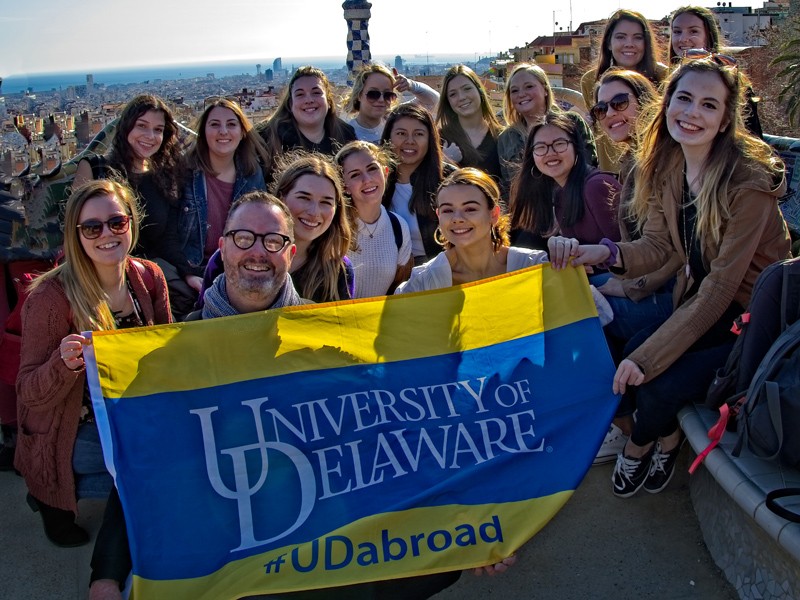 Associate Professor Bill Lewis honored by the Institute for Global Studies
William (Bill) Lewis, associate professor in the School of Education, has been named the 2020 University of Delaware Study Abroad Faculty Director of the Year.
"Of the nearly 80 UD faculty who directed or co-directed domestic and international programs in the 2019-20 academic year, students nominated 28 of them for this award. Not only did Bill receive by far the largest number of nominations, but they were so persuasive that the award selection committee's decision was unanimous," said Lisa Chieffo, the Institute for Global Studies' interim director.
Since leading his first study abroad program in 2011, Lewis has guided students throughout Europe — to Budapest, London, Vienna and, most recently, Barcelona.
In Spain, Lewis helps future educators gain new perspectives on classroom management, a topic he said is integral to their careers. "Novice teachers almost always struggle with classroom management. In this class, we learn to design instruction and instructional spaces in ways that encourage students to actively participate."
In addition, the program prepares Blue Hens to incorporate social and emotional learning into their curricula. "Yes, we teach reading and mathematics," he said. "But, as educators, we also aid our students as they develop important life skills."
Lewis partners with Barcelona's St. Peters School, where UD students shadow local teachers and participate in classroom instruction throughout their three-week micro program. "St. Peter's has been so great about actually allowing our students to fully engage in those classes," he reflected. "These are not just observations. Our students do interactive read-alouds, run morning meetings and work with students when they are in assemblies."
After immersing themselves in the Spanish context, Lewis said he thinks his students are uniquely poised to succeed in their U.S. classrooms. "Seeing the similarities and differences between education in the U.S. and Spain allows our students to be actively aware of the kinds of choices that they can make as teachers," he said. "Participants leave the program as reflective practitioners, and are better equipped to question their own instructional choices."
Among the students who anonymously nominated Lewis for the award, a resounding message came through — many said that the program helped them grow personally.
One wrote, "One of the most important things that I learned during this program was independence. Instead of having every minute of every day scheduled, we were free to explore on our own (with at least one other person). We were responsible for meals, getting to school on time, and making our way around the city safely. Dr. Lewis treated us like adults and gave us the freedom to do what we please."
Another added, "Dr. Lewis helped me to become confident in who I am as a person by taking risks and trying new things."
A mutually beneficial experience 
Lewis, who began his career at UD after 20 years in Pennsylvania high schools, said study abroad allows him to forge meaningful connections with students.
"When I start thinking about my experiences, I realize that one of the reasons I got into study abroad in the first place was the desire to be able to actually see students on a daily basis, and to interact with them in ways that you can't always do in a class here at UD," Lewis said. "It's just so fun being with undergrads who make me hopeful that our society is going to be okay because it will be in their hands."
The program also challenges him to continually think about his teaching in new ways, balancing the use of both experiential learning and virtual content. "I've learned that it's not about what works best for me," Lewis said. "Instead, it's about the message that I need to deliver and the best way to do that in a particular environment. Directing study abroad programs has helped me a lot, especially as we had to quickly adapt to online learning for the spring semester."
For his success, Lewis thanked his peers at the School of Education, who laid the foundations for the EDUC390 course and advised him as he developed his program. The School of Education is part of the College of Education and Human Development.
For Future travelers
The Barcelona EDUC micro study abroad program will run again in Winter Session 2021 and has already enrolled an eager group of 16 students.
All UD faculty interested in leading a Summer Session 2021 study abroad program should submit a proposal by July 1, 2020. Prior to submitting a proposal, faculty should review information on the Institute for Global Studies website and consult with their department chair and Lisa Chieffo.
About the Institute for Global Studies
The Institute for Global Studies (IGS) inspires and facilitates the pursuit of global understanding by developing innovative and inclusive programs of study, opportunities for experiential learning and strategic partnerships.
Perhaps best known for leading the nation's first study abroad program, IGS is also home to the first-of-its-kind UD World Scholars Program and the Delaware Diplomats Scholarship Program. IGS supports student success through advisement for prestigious awards, including Fulbright, Boren, Gilman and Critical Language Scholarships, as well as sponsorship of the International House (iHouse) Living Learning Community.
The Institute annually administers internationally-recognized State Department public diplomacy programs, bringing 75-plus young leaders from around the world to our Newark campus.
IGS provides faculty funding for research and collaboration abroad, manages the University's global partnerships and agreements process and sponsors signature events, such as UD Global Month and the Spring Fulbright Lecture Series.
Article by Nikki Laws
Photo courtesy of Bill Lewis