National Teaching Honor for UD Grad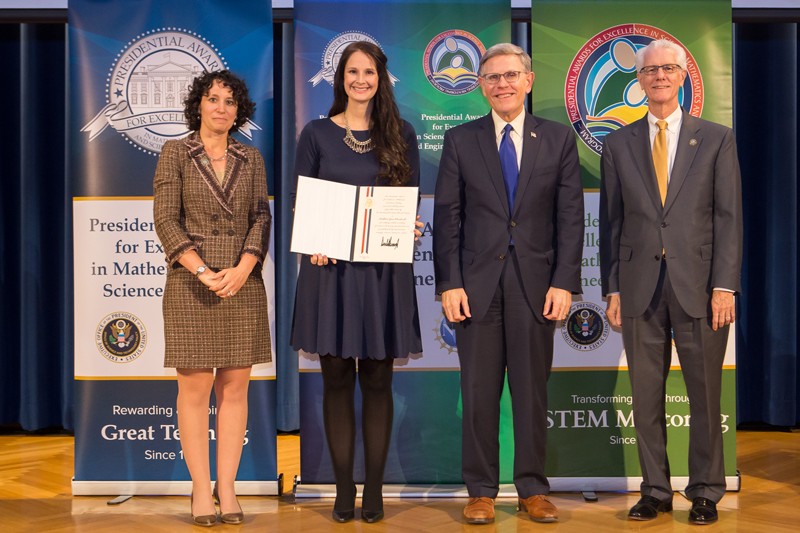 Alumna Kathleen Olenderski wins Presidential Award for Excellence in Mathematics and Science Teaching
University of Delaware alumna Kathleen Olenderski has won the Presidential Award for Excellence in Mathematics and Science Teaching (PAEMST). Established by Congress in 1983 and administered for the White House by the National Science Foundation, the PAEMST is the highest recognition bestowed upon K-12 educators in the United States.
Olenderski is a 12-year veteran educator, teaching eighth and ninth-grade mathematics at Alfred G. Waters Middle School in Middletown, Delaware. She graduated from the elementary teacher education program in the School of Education (SOE) in 2007 and returned for the master's in teacher leadership, which she completed in 2017.
"What's most important to me as a teacher is not only providing quality instruction but also being a role model for my students in and out of the classroom," said Olenderski. "I want students to leave my classroom with the skills to problem-solve, to see connections between the content and the real world, to communicate effectively about their understanding or misunderstandings, and most importantly, to be more confident in their abilities."
Olenderski helps students reach these learning goals through multimodal mathematics lessons.
"Recognizing that some students learn more effectively through visual, read-write, auditory, and kinesthetic means, I incorporate manipulatives, videos, discussions, and technology apps into my lessons," said Olenderski. "In keeping with this theme, I design my projects so that students have the freedom to choose the format of their final work product, such as a video, PowerPoint presentation, poster, brochure, or written report."
Encouraging students to discuss the classroom content, ask questions, and seek help is also central to Olenderski's teaching philosophy.
"By opening math problems up and giving students time to discuss their ideas, they can become leaders in the classroom, allowing the teacher to be a facilitator rather than the sole source of information," said Olenderski. "When I first started teaching, I thought my job was to share all that I know and love about mathematics. What I have learned over the past 10 years in education is that my role is to create opportunities for students to develop and master mathematical concepts for themselves."
Olenderski credits her degrees from the University of Delaware for her professional development as a teacher, as well as Jamila Riser, executive director of the Delaware Math Coalition, who nominated her for the PAEMST award.
"My undergraduate degree allowed me to find my strengths in teaching and pushed me to explore areas of improvement. My student teaching advisor, Stephanie Kotch-Jester, believed in me and gave me the confidence I needed as I was putting my dreams to reality in the classroom," said Olenderski. "Through the teacher leadership program, I better understand that teachers are the most important leaders schools possess, and I look forward to using the skills I have learned to help shape learning experiences, not only for my students, but for students across my district."
Olenderski has also served as a member of the Rodel Teacher Council, which advises the Rodel Foundation on critical education reform initiatives, meets with education stakeholders, visits innovate or exemplary schools, and shares best practices with other teachers throughout the state.
Recipients from all 50 states, the District of Columbia, Puerty Rico, and the U.S. Territories were celebrated at an Oct. 17, gala held in their honor at the Sidney Yates Auditorium in Washington, D.C.
About the Award
The PAEMST is awarded each year to outstanding K-12 science and mathematics teachers from across the country. The winners are selected by a panel of distinguished scientists, mathematicians, and educators following an initial selection process at the state level. Olenderski was named as a finalist for the award in 2017, but the award presentation did not take place until October of this year.
Awardees receive a certificate signed by the President of the United States, a trip to Washington D.C. to attend a series of recognition and professional development events, and a $10,000 award from the National Science Foundation, which administers the PAEMST on behalf of the White House Office of Science and Technology Policy.
Previous UD recipients have included Denise Griffiths, Stacie Ann Broden, JoAnne Deshon, Karen Helen Fredricks, Anne Marie Magaha, Mary Pinkston, Tim Dalby, Jeanine Moore, and John Scali.
Article by Jessica Henderson.
Photos by Andrew Harris Photography.