Alumna Carries UD Experience into Teaching Career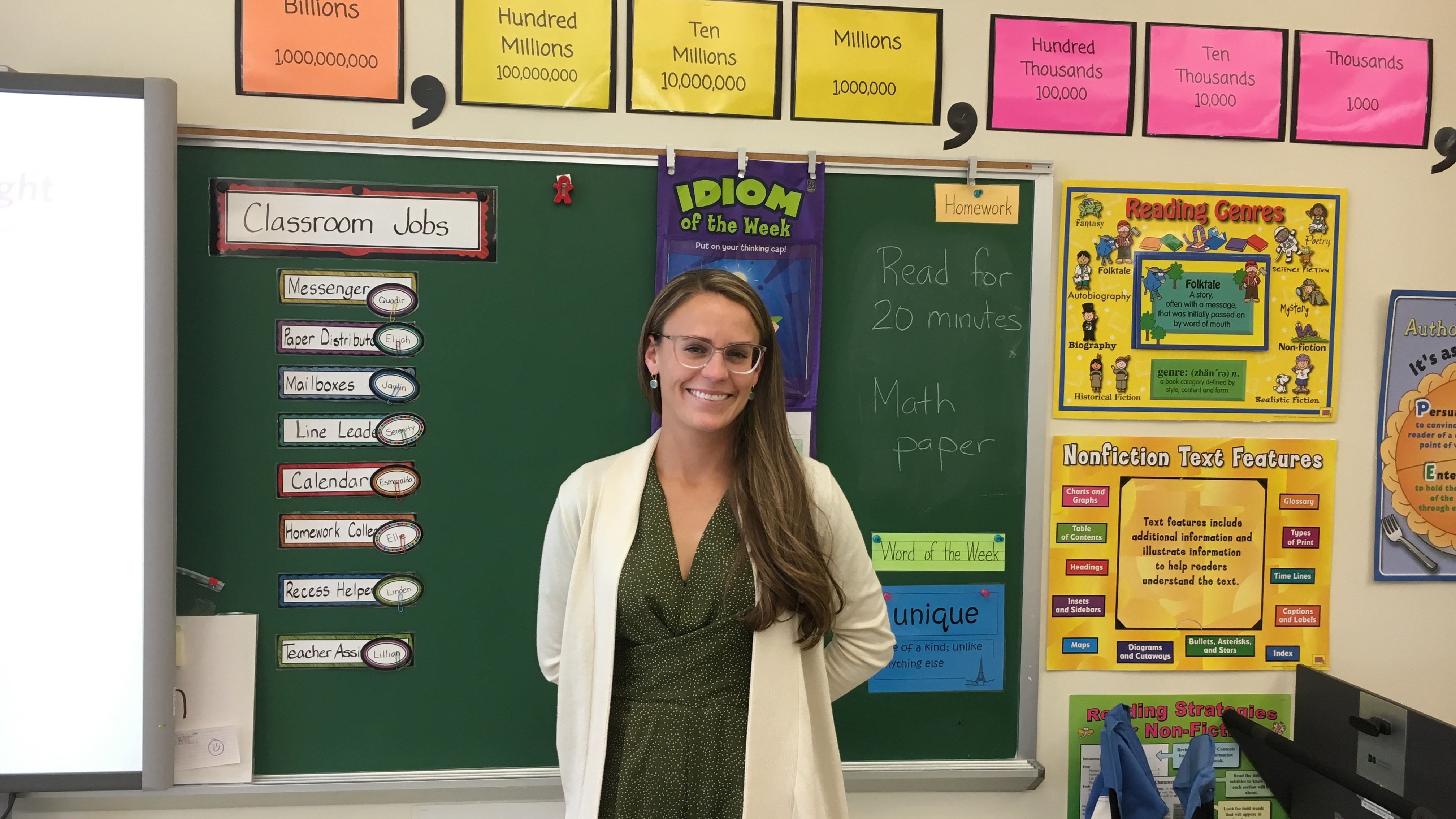 UD field hockey player Casey Shelor moved into teaching elementary school
Papers were strewn about the desks, with pencils and pens stored in cups and a poem from the day's English lesson displayed on the projector screen. With Casey Shelor's (formerly Casey Howard) fourth grade students at lunch, her classroom held a quiet calm, a brief respite in the otherwise chaotic routine of a school day.
Sitting at a table in the corner of the room, Shelor, in her tenth year as an elementary school teacher, looked as comfortable in the classroom as she did on the field hockey turf a decade ago.
"No two days are alike. I've really grown as a person in the past ten years. Not only as a teacher, but it's also helped me with my parenting as well," Shelor said. "Just coming in here every day and being that role model that these kids deserve is my ultimate goal while I'm in education."
Before she was shaping young minds at Nellie Stokes Elementary School in Camden, Del., Shelor was one of the most prolific goal scorers in the history of University of Delaware field hockey. Now, she's a member of the Delaware Athletics Hall of Fame Class of 2019.
Field hockey and education have been a part of Shelor's life since she was in about fourth grade herself. The granddaughter of a history teacher, she knew as a little girl, in the back of her mind she wanted to be a teacher too. The first time Shelor picked up a stick was when her older sister, Bridget, started playing in junior high and her father brought home additional sticks for the younger siblings to play with.
The first time Shelor was on the University of Delaware's campus, she was playing in the USA Field Hockey Futures Program inside the Delaware Field House.
"I knew my first time stepping on the campus that I wanted to be a part of that culture and that atmosphere that the University of Delaware promotes," Shelor said.
With Delaware's stellar elementary education program and its proximity to her hometown of Camden, Shelor's college choice became a no-brainer.
The forward made an immediate impact on Delaware field hockey. In her first collegiate game, at a tournament in California, Shelor scored the opening goal against Pacific and later netted the game-winner in a 3-2 overtime triumph over the Tigers.
"As a freshman, I'm not even expecting to make an impact of anything," Shelor said. "I knew then that I had an opportunity to be something for the University of Delaware."
Shelor would quickly become one of the best players in program history in an illustrious career from 2005-09. Her five goals against Brown on Sept. 6, 2009 remain a Delaware record for the most goals in a single game. Her 22 goals in 2009 are the third most in a single Delaware season, and her 51 career goals are the fourth most by a Blue Hen. On two separate occasions, it took Shelor less than a minute of game time to get on the scoresheet.
While the individual accomplishments are impressive, the team moments are the memories that stand out for Shelor. From the grueling conditioning sessions, to the culmination of the 2009 campaign in winning the Colonial Athletic Association championship, especially after Shelor redshirted the 2008 season as the Blue Hens went 3-15.
"Sitting out an entire season, I was ready to play," Shelor said. "As soon as I stepped foot on the field, that momentum of watching all those games and being on the sideline really pushed me to do my absolute best and not taking any time for granted."
In addition to excelling on the field of competition, Shelor was able to balance a demanding major with the support of her family and friends.
"Thinking back to one spring season in particular, I had a 9 o'clock class so I would drive to our morning practices, then one of my teammates would drop me off in front of Willard Hall and I would scurry out with my backpack," Shelor said. "She would drive my car back to the Towers and park it, just so I could stay the entire practice in the morning."
All the hard work of balancing life as a student-athlete paid off.
"I completely felt prepared as soon as I stepped foot into the professional world with my experiences at the University of Delaware," Shelor said. "It was honestly easy once I got my own classroom and roster. In a classroom every single semester, having those experiences, I carry them with me every single day. I'm able to apply what I learned continuously to help kids."
Shelor coached for several years after graduating, and is still able to stay connected to the game, playing in local adult leagues with former teammates Jessica Cortellino and Kim Schlezes. And even though her Delaware career ended just 10 years ago, being inducted into the Hall of Fame still holds massive significance to her.
"I am truly so honored. I really am grateful and thankful for all the people that invested in me along the way," Shelor said, pausing to hold back a tear. "To get to this point, I really didn't do it by myself. So it means a lot."
Article by Andy Lohman.