UD Doctoral Student Named Miss Delaware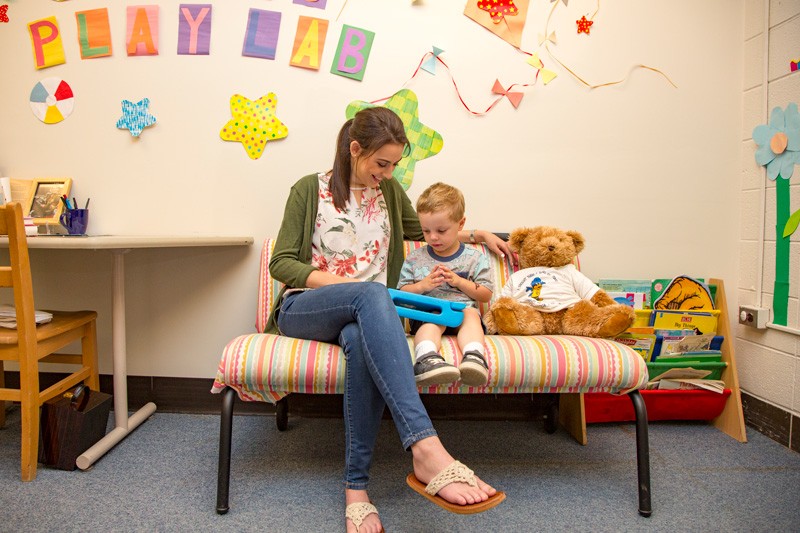 Hillary May aims to destigmatize mental illness, prevent suicides
University of Delaware doctoral student Hillary May was recently crowned Miss Delaware 2019 and will advance to the 2020 Miss America competition.
May ran on a platform to destigmatize mental illness and raise awareness of resources for suicide prevention, especially among adolescents and teenagers. In 2016, the U.S. Centers for Disease Control and Prevention reported that suicide rates among girls aged 10 to 14 tripled from 1999 through 2014 and is the third leading cause of death — after accidents and homicide — in young people aged 10 to 24. Youth who are experiencing major life changes (bullying, divorce, housing instability) are at greatest risk.
Ever since her own struggles with depression as a teenager, May has become a vocal advocate for improving access to mental health.
"America's youth are in the midst of a mental health crisis," she said. "They need to know that resources are available to help them choose life."
May, who grew up in Indiana and got her undergraduate degree at Butler University, volunteers with the American Foundation for Suicide Prevention, as well as a local organization, Supporting Kidds, Delaware's only grief center for children. In that program she is a facilitator for a group therapy series for children ages 5 through 16 who have lost a parent or a sibling.
As if she weren't busy enough, May will also be entering the second year of working toward her doctoral degree in education in the College of Education and Human Development, with a specialization in learning sciences.
"To pursue her doctoral studies at the same time she has become a statewide advocate for mental health as Miss Delaware, is a noteworthy accomplishment," said Roberta Golinkoff, the Unidel H. Rodney Sharp professor of education, psychological and brain sciences, and linguistics and cognitive science and director of the Child's Play, Learning, and Development Lab, where May also works as a graduate research assistant.
During her time as Miss Delaware, May will travel across the state helping to raise awareness among young people who might be suffering from mental illness or suicidal thoughts.
Q: What do young people need to know about coping with depression or other mental illness?
May: First and foremost, you're not alone. There are so many resources out there, you just need to look for them. If you have people to help you — that's great. But if not, or you're not comfortable sharing your information yet, go online, to websites like the American Foundation for Suicide Prevention. It's designed to help people who are currently struggling, and also to support people who know someone else who is struggling. It's incredibly important to get to take those first steps.
Q: Why should people be aware of this even if they or those they know are not currently afflicted with a mental illness?
May: One-in-five people will suffer from a mental illness, but five-in-five people have mental health. Our society right now is consumed by productivity, but it's important to put yourself before the work, to take care of your mental health. As a graduate student, I can tell you that's very hard to do, but it's something that we all need to focus on.
Q: Why did you choose this as your platform? 
May: I've been passionate about mental health for a long time. Growing up, I had a very close family friend whose father passed away due to suicide. I saw how that impacted their family, and how they benefited from the resources provided through the American Foundation for Suicide Prevention, which is why I started working with them. But also, in general, suicide rates for young people — as in kids under the age of 12 — are skyrocketing.
Q: What do you think is causing this? 
May: I strongly believe that there's a lack of information available to young people because no one talks about it with them. When a child has a stomach ache, or just doesn't feel right, that child will go to a parent and say, 'I don't feel good.' Parents take it from there. But nobody really talks to kids, especially young kids, about how to deal with things that hurt mentally.
Q: Is there a place for these discussions to be happening in schools?
May: Yes. I think everybody should also have this conversation at home because it's something that almost everyone deals with at some point in their life, but at the very least, I think having it in health class is a good starting point. And it will at least get these kids talking, and hopefully they'll bring that conversation home with them. Which is why I'm going to be partnering with multiple high schools over the next year to introduce these concepts in health class.
Q: If children are talking about mental health in school, then hopefully that will help to reduce the stigma, correct? 
May: Exactly. And they can be in an environment surrounded by their peers instead of talking about it behind closed doors, which is what usually happens.
Q: How does this all relate to your doctoral studies in education at UD?
May: Ultimately, my goal is to work with young children. My doctoral studies in education mostly focus on brain development, so psychology and neuroscience. But more broadly, I'm interested in researching the range of skills, both social and academic, this children develop to better understand and cope with the world around them.
If you or anyone you know may be contemplating suicide, click this link to be connected to the National Suicide Prevention Lifeline.
Support and assistance
For UD students in need of support or assistance, the Division of Student Life provides a variety of resources.
Students in need are encouraged to reach out to the Center for Counseling and Student Development, which is located in the Perkins Student Center and is open from 8 a.m. to 5 p.m., Mondays through Fridays. The center provides students with a safe and confidential environment to process their reactions with a counselor. To make an appointment, call 302-831-2141. Emergency appointments are available.
The Center for Counseling and Student Development also provides the UD Helpline, which is available at any time, day or night, for students feeling anxious, overwhelmed, depressed or otherwise in need of counseling. By calling 302-831-1001, live counseling assistance is available 24 hours a day, seven days a week, 365 days a year.
In addition, staff members in the Office of the Dean of Students are available to meet with any student who wishes to talk. Call 302-831-8939 to schedule an appointment or stop by Room 101 of Hullihen Hall.
Students also are encouraged to reach out to their resident assistants, mentors and advisers throughout the division, such as staff within the Center for Black Culture, University Student Centers, Student Wellness and Health Promotion, Student Health Services, Student Services for Athletes and other units.
Article by Jordan Howell.
Photos by Maria Errico and courtesy of the Miss Delaware Scholarship Organization.