UD Grad Students Share Broad Range of Research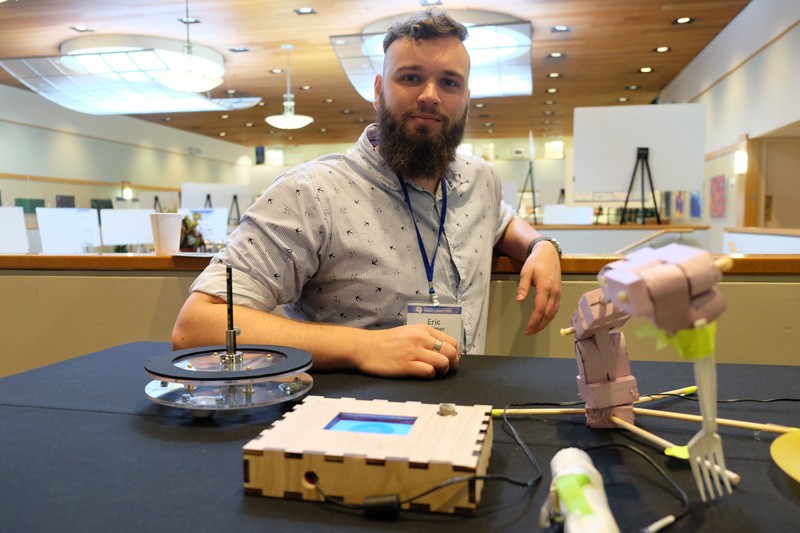 More than 90 present details of their investigations during ninth annual forum
To learn more about the wide range of research University of Delaware graduate students are doing in UD's 51 doctoral programs and 131 master's degree programs, you could go from lab to lab asking questions or try to catch up with these researchers over coffee.
A much more efficient approach is to attend the annual Graduate Students' Forum, which puts a good deal of that work out on public display under one roof, with the investigators themselves on hand to answer your questions.
About 200 people attended this year's forum, the ninth annual event, which this year was titled "Better Together: Mobilizing a Community of Scholars." Ninety-three students presented details of their research.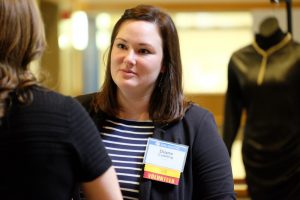 Diane Codding, a doctoral student in education, didn't present her research, which focuses on two things: after-school computer science programs that are culturally responsive; and racial literacy, especially how white teachers are learning to talk about race in their classrooms.
Instead, she chaired the forum, working it into an already jammed semester that included teaching a course, working as a research assistant and presenting at several conferences. That's how valuable she believes the forum is.
"Even knowing it would be an overwhelming semester full of work, it's something I thought would be really important," she said. "Too often we're kind of siloed in our own departments. It was really nice to see the turnout and to hear the research and see the rooms filled with people to hear about this research. People asked amazing questions throughout the day, too, and showed how they are working across disciplines to address issues like inequity and global warming."
There were many projects to explore, with oral presentations grouped around 16 themes, including (to name a few): climate change, bone and joint health, niche uses for polymers, international politics, history, technology, the arts, smart cities, addressing inequities, emergency services, cancer treatment and public health. The event also provided an opportunity for participants to network and connect with other students conducting interdisciplinary, and sometimes complementary, work to their own.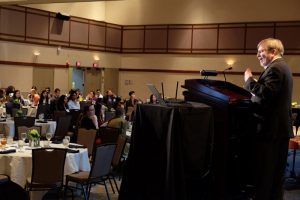 Over lunch, they heard from keynote speaker David Redlawsk, James R. Soles Professor and Chair of the Department of Political Science and International Relations at UD, who talked about his study of how voters respond when politicians trespass on moral foundations, including care, fairness, loyalty, authority and sanctity. Results were published in March in the journal Political Psychology.
Redlawsk and collaborator Annemarie Walter, a research fellow at the University of Nottingham (England), studied whether moral foundations or partisanship would have greater sway with American voters. Overall, they found that partisan loyalty ultimately had greater influence than morality on voters' responses.
Artistic vigor added colorful accents to the day, with an exhibit of the popular "Art in Science" images drawn from student research using microscopy and a brief-but-exquisite lunchtime performance by the Chinese Traditional Ensemble, which includes Fangyu Cai, Fangjun Yan, Nanqing Zhou, Yifan Lu, Xuyue Geng, Zheyuan Yu and Yu Yao.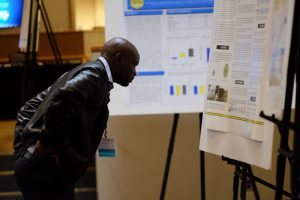 "This is something we want to do more of — featuring students' art work and musical performance," Codding said. "Not everyone is doing independent research. A lot are mastering skills in different areas."
A few snippets from the presentations:
Doctoral student Jacob Capin's (physical therapy) study of the incidence of osteoarthritis after surgery for anterior cruciate knee ligament injury. His research suggests that putting appropriate loads on the knee joint produces better outcomes for patients than protecting it from such force. "Probably too much load bearing is bad, and too little is bad — but very few people overload the joint after surgery. Loading ultimately is a good thing," promoting healthier cartilage.
Doctoral student Sean Lovitt's (English) study of the influence of anarchism on the Black Arts Movement in the 1960s. "I complicate the political commitments of the Black Arts Movement by mapping their network composed of poets, playwrights, rifle clubs, rogue Black Muslim sects, activist organizers, and bank robbers with no single authority to unify their ideology."
Doctoral student Andrea Kelley's (sociology) study of families with a transitioning transgender parent, especially examining young adults' experiences with their parents and the effect of their empathy.
Doctoral student Israt Jahan's (geography) study of rapid urbanization in Bangladesh and how land use change has created urban heat islands, threatening humans and the environment in three major cities — Dhaka, Chittagong and Sylhet.
Master's student Elias Gross' (music) study of conductor Leopold Stokowski's inaugural season of the New York City Center Symphony in 1943. Stokowski was determined to compose an orchestra free of "racial or any other kind of prejudice" and provide the "best music for the most people at the least cost." Gross studied how that opened doors for some, but not all.
The event, which closed with a reception open to all graduate students, was sponsored by the Graduate Student Government (GSG) and the Office of Graduate and Professional Education.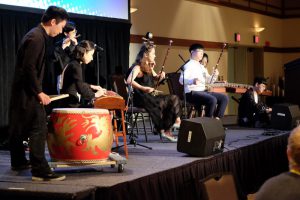 Article by Beth Miller
Photos by David Barczak