CEHD Alumni Win NYC Excellence in Education Awards
Four University of Delaware alumni, Cori Breindel ('17), Alexis Holzmann ('17), Carleigh Antico ('18), and Kelsey Shallow ('18), have been recognized as recipients of Success Academy's Excellence in Education Awards. Every year, Success Academy, New York City's largest and highest performing public charter school network, honors educators in its schools who have demonstrated exceptional talent and commitment.
Cori Breindel
Cori Breindel ('17) is a first-grade ICT teacher at Success Academy Harlem 2 (ICT stands for Integrated Co-Teaching Class, which mixes general and special education students). Cori earned an Excellence Award for Growth, which recognizes educators who have exhibited exceptional progress in achieving excellence since the start of the school year. As a Human Services major at the University of Delaware, Cori combined her passion for public service with practical, hands-on teaching experience.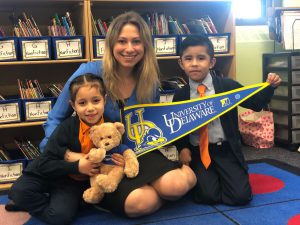 "From a young age, I have always enjoyed helping others. At times, school was a struggle for me, and I always appreciated those teachers who were patient and nurturing. They were an inspiration to me, and I wanted to be that person for others in the future. In my senior year of college, I gained real teaching experience as an intern at a school that was run in a hospital, where I taught students with chronic illnesses."
Alexis Holzmann
Alexis Holzmann ('17) , third-grade ICT teacher at Success Academy Crown Heights, won an Excellence Award for ETHOS, which recognizes school staff who have exemplified our organizational values of Excellence, Teamwork, Humor, Ownership, and Scholars. Alexis majored in International Relations, but her Urban Education minor had the greatest impact on her career trajectory.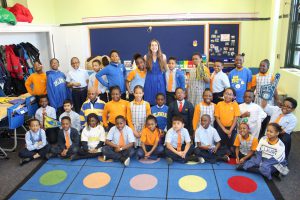 "For my minor I took a wide range of courses about the history of education, contemporary issues in education, inequity within the education system, and pedagogy. With guidance from professors including Dr. Matusov, Dr. Hampel, and Dr. Rolon-Dow, my lifelong interest in education blossomed into a full-scale passion. I went on to work at both The College School as an art teacher and at the University of Delaware Laboratory Preschool, where I completed my honors undergraduate thesis about the implementation of a social and emotional learning curriculum in an inclusive classroom setting."
Carleigh Antico
Carleigh Antico ('18), first-grade teacher at Success Academy Hudson Yards, won an Excellence Award in the Rookie of the Year category, which recognizes first-year teachers who have embraced the challenge and demonstrated exceptional growth. Carleigh's major—Elementary Education with a concentration in Special Education—and extracurricular activities set her up for success as an educator.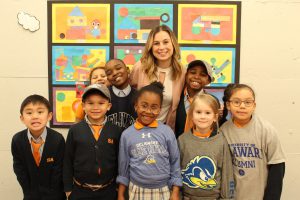 "After completing the winter session of junior year in Barbados, where I participated in service learning in primary classrooms, I started looking at myself as a future educator. I was also a hip-hop choreographer for the Delaware Dance Fever team all four years. It was my experience educating and my passion for teaching dance that led me to believe I could be a great teacher."
Kelsey Shallow
Kelsey Shallow ('18), third-grade teacher at Success Academy Harlem 4, received a Rookie of the Year Excellence Award. Kelsey attributes her achievements as a first-year educator largely to the stellar education she received at the University of Delaware.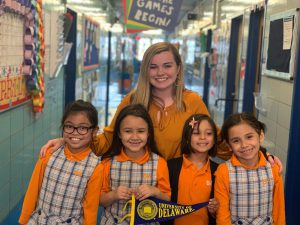 "As an education major at the University of Delaware, I felt fully prepared to pursue a career in education. The education program at UD provided hands-on experience working in a classroom beginning freshman year. The best experience I had was student teaching for 12 weeks in an inclusion classroom. I had the opportunity to teach and lead lessons in a third grade class, which thoroughly prepared me for a career in education."
About Success Academy
Founded in 2006, Success Academy Charter Schools are free public K-12 schools open to all children in New York state. With 46 schools across Brooklyn, the Bronx, Manhattan, and Queens, Success Academy enrolls 17,000 students, primarily children of color from low-income households in underserved neighborhoods: 75% receive free or reduced-price lunch, 93% are students of color, 16% have disabilities, 8% are English language learners, and 9% live in temporary housing. Despite these challenges, Success Academy students are beating the odds: On this year's state exams, 100% of Success scholars passed science, 98% passed math, and 91% passed ELA — Success Academy outperformed all other districts in the state, including affluent suburbs like Chappaqua and Scarsdale. For more information about working at Success Academy, visit successcareers.org.