Feb. 21: Teacher of the Year Event with UD Alumni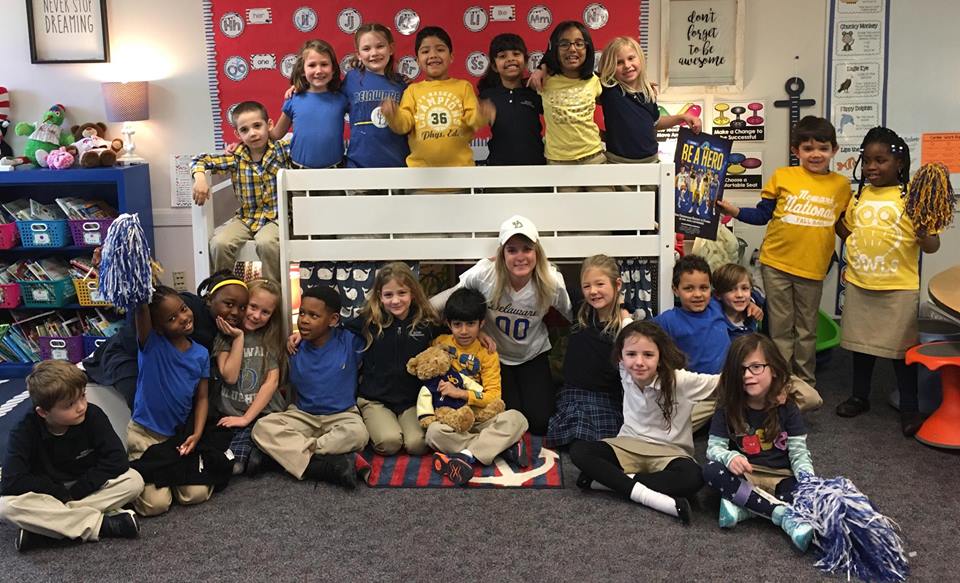 "During one of my education classes at the University of Delaware," reflected UD School of Education alumna Tory Curtis, "I worked with children in the Latin American Community Center in Wilmington. It was there that I began to get a glimpse into the educational struggles that many Wilmington students faced on a daily basis. I watched the children interact with adults and took note of how influential those adults were in their lives. I came to realize that I wanted to be one of those adults!"
Now a fifth-grade teacher at William Cooke Elementary School and a recent nominee for Delaware's Teacher of the Year (TOY) Award, Curtis draws on these early experiences to plan projects for her classroom. Through her "Passion Project," Curtis's fifth-graders fulfill their passion for helping others by creating food bags and summer fun kits for children living in poverty in Wilmington.
Curtis and other nominees will share their experiences with the UD community at the Teacher of the Year Appreciation Event on February 21. Hosted by UD's Delaware Center for Teacher Education (DCTE), the event will run from 5:30 to 7:30 pm in Clayton Hall, room 128.
"The beauty of this project lay in the fact that our passion focused on helping others, but each student in my class had an opportunity to explore a personal passion. Web design, social media postings, data collection, artistic talents, and communication were all necessary to launch the idea," said Curtis. "For example, one team of students focused on creating a webpage that outlined the data we collected on the number of children who live in poverty in our community."
Virginia Forcucci, Delaware's 2018 Teacher of the Year, and a panel of TOY nominees, many of whom graduated from UD education programs, will also attend Wednesday's event. The panelists will discuss their professional journeys as teachers and share their experiences from the classroom.
"I am so excited to meet with pre-service teachers to discuss this incredibly noble profession," said Forcucci, an English teacher at Sussex Technical High School and graduate of UD's English education program. "I base my humanities classroom on academic discourse that requires empathy and listening from my students, and I create projects related to timely social issues that promote awareness and require problem-solving and critical thinking skills."
Corbin Bean, a graduate of UD's elementary teacher education (ETE) program, and Kimberly Marquis, currently enrolled in UD's ACE program, are looking forward to sharing their teaching philosophies with current education students.
As a middle school science teacher at Mariner Middle School, Bean emphasizes the importance of building relationships with students and creating a welcoming, friendly, and respectful classroom environment.
Marquis, a teacher at Blades Elementary School, similarly encourages relationship-building among her students.
"We sing songs, recite poems, and discuss tone, body language, and demeanor. Through our greeting, sharing, and morning message, the students learn how to support the learning of their peers and have a chance to share things that are important in their lives," said Marquis. "Students greet each other in other languages, snap, clap, and make up their own actions to bond with each other, and they share ideas on how they can make good choices that day."
Many of the panelists agree that their UD education provided them with a valuable foundation for their teaching success.
"I am thankful that UD gave us the opportunity to be dual-certified and to participate in field experiences in schools starting freshman year," said Kelly Krajewski, a first-grade teacher at Odyssey Charter School and an ETE alumna. "I felt a sense of community when I joined the ETE family at UD. I had two very supportive supervisors along the way, Dede Lilly and Chris Jadach, who went above and beyond to provide us with feedback to strengthen our teaching."
Additional panelists will include Kyle Hill (Star Hill Elementary), Alexis Huttie (South Dover Elementary), Sarah O'Toole (Lake Forest North Elementary), Michele David (Lulu Ross Elementary), Leona Williams (Forwood Elementary), Casey Montigney (Shue-Medill Middle), Lakeya Nova (Eisenberg Elementary), and Lindsey Tietze (Howard High School of Technology).
The event is open to students, staff, and faculty within the teacher preparation community. Please RSVP to Debbie Ziomek at dziomek@udel.edu.
About the award
The Delaware Teacher of the Year Award is administered by the Delaware Department of Education and honors a Delaware teacher who exemplifies fine teaching in the state and represents the positive contributions of all teachers statewide. The award winner becomes the state's candidate for the National Teacher of the Year Award.
Article by Jessica Henderson.
Photo courtesy of Kelly Krajewski.