Enhance teaching career online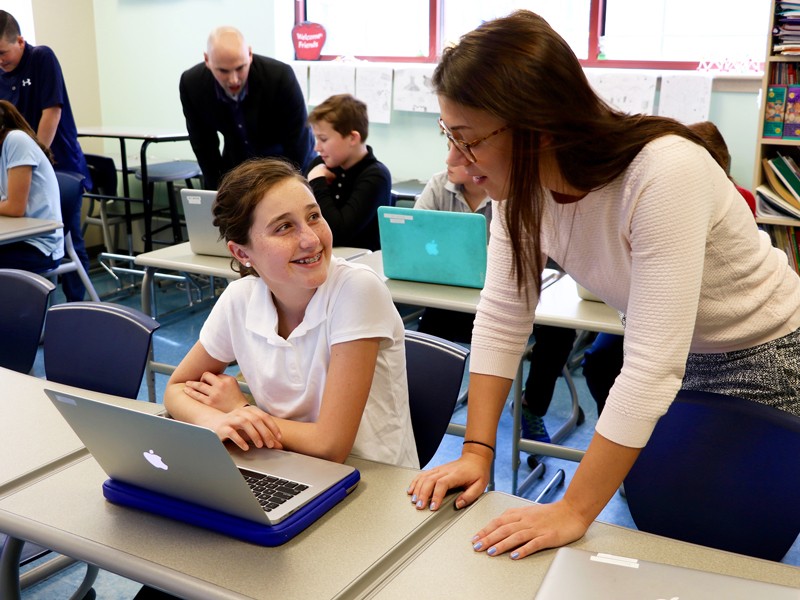 Being a successful classroom teacher requires an ever-expanding skill set.
To help educators better meet the needs of their students — while juggling their already hectic schedule — the University of Delaware's School of Education is now offering three online master's degrees.
In addition to the existing M.Ed. in teacher leadership, students can pursue a master's degree in literacy or exceptional children and youth (special education).
"There is a growing demand for teachers who can successfully navigate today's more diverse classrooms," said Rachel Karchmer-Klein, coordinator of the M.Ed. in teacher leadership and literacy programs. "In order for our renowned faculty to reach a wider audience, we decided to expand their reach through online programs in these three highly sought-after subjects."
By taking classes using this flexible 100 percent online format, students can learn on their own schedule, from the convenience of their home or office.
UD's full-time faculty of researchers and career educators introduce practical solutions to issues found in classrooms, schools, and districts. Weekly assignments allow students to immediately apply content learned in coursework into their professional settings and then engage in interactive discussions with fellow students.
Associate professor William Lewis, who teaches writing courses for both the teacher leadership and literacy programs, has found that UD's online format keeps students actively engaged.
"Our faculty provide extensive, personalized feedback that is responsive to students' instructional context, helping them to develop into competent and knowledgeable education professionals and leaders," said Lewis. "Also, the students form a cohesive cohort, and their enthusiasm for the program builds because of these strong relationships."
M.Ed. in Literacy
The University's fully online and flexible M.Ed. in literacy will prepare current teachers and educators for certification as a reading/literacy specialist.
Designed by a team of award-winning faculty, students will develop knowledge of the theoretical and evidenced foundations of reading and writing development, plan culturally and linguistically relevant literacy instruction for all students, and support students and teachers in the use of digital literacy tools.
• Learn more about the M.Ed. in literacy program by joining a virtual information session on May 17 at 7 p.m. Click here to register.
• Thirty credits over two years.
• Application deadline for fall 2017 is Aug. 1.
M.Ed. in Exceptional Children and Youth
The M.Ed. in exceptional children and youth (special education) is designed for educators with a teaching certificate in either general or special education who wish to develop advanced knowledge and skills to teach children, youth and adults with disabilities.
The program may also be appropriate for individuals who are not teachers but have other experience in the disability field and wish to pursue an advanced degree only.
The program has two concentrations to choose from — K-12 special education and autism/severe disabilities — both of which can be a path to a second certificate in special education.
Delaware teachers who meet the criteria also have the option of pursuing a five-course path to certification.
• Thirty-three credits over two years for M.Ed. program.
• Fifteen credits over one year (spring, summer, fall) for courses of study in K-12 or autism/severe disabilities.
• Application deadline for fall 2017 is July 1.
M.Ed. in Teacher Leadership
The M.Ed. in teacher leadership program is designed for teachers who would like to assume additional leadership roles within their schools and districts such as department chair, curriculum coordinator, teacher mentor, instructional coach or community liaison.
Candidates will develop the insights needed to better manage their classrooms, improve student outcomes, and take the initiative to lead peers to do the same.
"The confidence in myself and in the knowledge I have gained through these courses have allowed me to take on two new roles," said Chelsey Merkel, a 2016 master's graduate. "The first role was the lead teacher on the special education committee. The second role I have been given by the administration is grade level facilitator."
• Thirty credits over two years.
• Students can begin classes during any of the five terms (fall A/B, spring A/B or summer).
• Application deadline for fall 2017 is Aug. 15.
Learn more by visiting the School of Education's online master's program.
Article by Alison Burris