Breakthrough internship: UD education student works as teaching fellow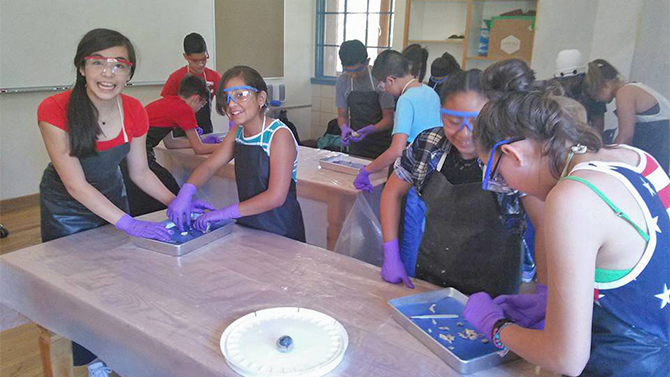 After spending the summer working as a teaching fellow with Breakthrough Santa Fe in New Mexico, University of Delaware student Nicole Mejia is even more determined to become a teacher.
"The experience had a significant impact on me, and really enhanced my desire to work with underrepresented populations, especially with Latino students," said Mejia, a sophomore majoring in elementary teacher education (ETE) with a concentration in English as a second language (ESL).
Mejia accepted the position as a teaching fellow when she found out about the opportunity through UD's portal, Handshake, after searching for summer opportunities within education.
Breakthrough Santa Fe is a college access program for students from underserved public schools. It is available to the students in the summer before seventh grade up until their senior year of high school.
The students learn over the summer to prepare for their upcoming school year, attend Saturday sessions once a month and get access to tutoring in the subjects they need.
UD's Santa Fe teaching fellow taught seventh grade science as her core class and a dance-based elective called "Breakthrough in Motion." In addition, she was a part of the public relations committee within the program.
At Breakthrough, Mejia taught three science classes in total, each with six students. In her free period, she met with other teachers in the department and the instructional coach to plan and prepare for the classes. She developed lesson plans, activities, assessments, guided notes and homework for the class.
With other teaching fellows, she also led an activity called Your Opportunity, which included Latino Dance Party — together with students, they danced everything from bachata to cumbia to zapateado.
The experience inspired Mejia to become involved with Summer Collaborative in Wilmington. They too look to close the achievement gap and offer enriching experiences for underserved students.
"The commitment to learning and academic excellence at Breakthrough is incredible. Its spirit and dedication to the students makes it stand out. I want to see the same commitment to summer education and student excellence here in Delaware," Mejia said.
But even prior to working with Breakthrough, Mejia said she knew she wanted to teach English as a second language.
"I am from New Castle, Delaware, and was an ESL student in elementary school. I am a first generation, low income student of Mexican immigrants and attending a school close to home with in-state tuition, financial aid and scholarships made my dream of going to college a reality," she said.
Mejia had always heard that UD had an excellent ETE program. When she found out that an ESL certification was available, she knew it was the major she wanted to be in.
"I've found UD to be very welcoming, with so many interesting opportunities. In addition to my courses, I'm president of HOLA, the largest Hispanic-Latino organization at the University, I'm a member of ASPIRE, and this winter I'll be studying with the ETE program in Vienna and Budapest."
Upon graduation, Mejia wants to study education policy. She would like to work with Teach for America or go abroad to teach in an international school. However, her ultimate goal is to teach at a public elementary school in Delaware with students from low-income, minority populations.
In April 2015, Mejia was also featured in the Delaware News Journal.
Article by Harpreet Kaur
Photo courtesy of Nicole Mejia