Alumna Jennifer Nauman named National Distinguished Principal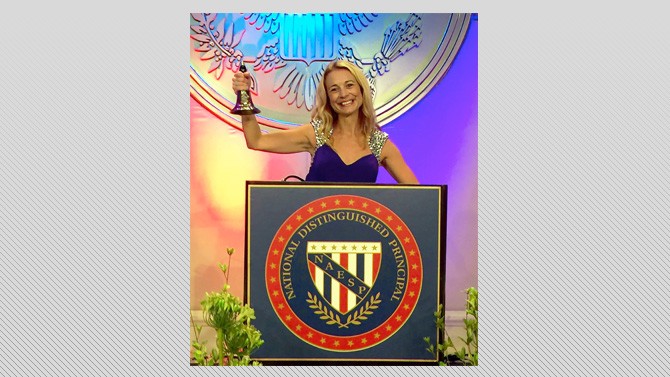 In her six years as principal at the Richard A. Shields Elementary School in Lewes, Delaware, University of Delaware alumna Jennifer Nauman has led her school to several national awards. Shields was named a National Blue Ribbon School in 2013, and Nauman was the first principal in Delaware to receive a Bell Award for Outstanding Leadership.
On Oct. 6, Nauman, who graduated from UD in 1999 with a degree in elementary teacher education, received the 2016 National Distinguished Principals (NDP) award.
Nauman is among 58 outstanding elementary and middle school principals from across the nation and abroad who were honored with the NDP recognition in Washington, D.C.
An exceptional leader, Nauman follows a collaborative leadership style to create a highly-motivated and efficient team. Always willing to listen to her stakeholders, her open-minded approach has helped her build trust and lasting relationships.
An accomplished educator herself, Nauman encourages teachers to take risks and be innovative. In fact, she models this for the teachers.
"I like to work alongside the teachers and be in our classrooms as much as I can," said Nauman. "I have such an amazing staff that when an idea is presented or created, I simply chat about it and then get out of their way to allow them to run with it."
For example, when the math specialist suggested introducing the concept of Number Talks to the math curriculum, Nauman agreed. Students now spend 10-15 minutes in every math class solving a problem, sharing their strategy and defending their thinking. This new strategy has resulted in a dramatic increase in student achievement.
"We always focus on what is best for the students and how we can help every student achieve," said Nauman.
This award recipient wears many hats and truly enjoys each experience. She is president of the Delaware Association of School Administrators and an adjunct professor at Delaware Technical Community College who teaches children's literature, and serves as a mentor to a principal in UD's Principal Preparation Program.
Nauman said she believes UD prepared her well for her career and she is happy to give back.
"The education that I received as a pre-service teacher was paramount in my success as a teacher and now as a principal," she said. "Phenomenal instructors and great hands-on experience gave me the knowledge and confidence to become the leader that I am today."
About the award
Established in 1984, the National Distinguished Principals program recognizes public and private school principals who make superior contributions to their schools and communities. The 58 principal honorees are selected by National Association of Elementary School Principals (NAESP) state affiliates and by committees representing private and overseas schools.
October is National Principals Month, established to recognize and honor the contributions of school principals and assistant principals toward the success of the nation's students, and encourage awareness of their significance.
Article by Harpreet Kaur