SOE students exceed expectations in the classroom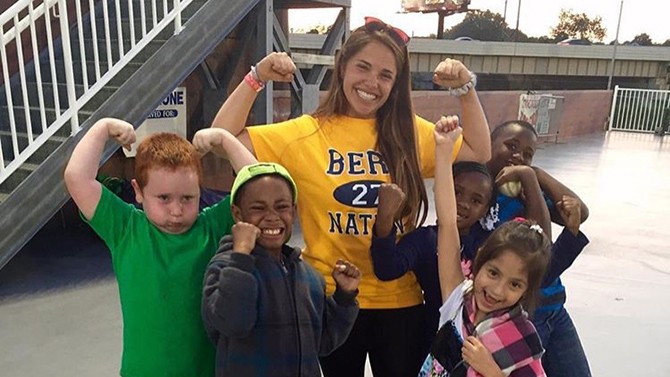 Lakeya Nova admitted to being a little nervous when she was asked to implement the co-teaching model in her classroom at Eisenberg Elementary School in New Castle, Delaware.
Unlike traditional student teaching, co-teaching is more of a partnership between the classroom teacher, known as a clinical educator, and the education student, as they share teaching responsibilities. It has proven to be more successful model for both the participating teachers as well the students in the classroom.
Because of this, all elementary teacher education (ETE) and early childhood education (ECE) students at the University of Delaware serve placements using the co-teaching model.
Naomi Franko, a senior ETE major, was assigned to student teach in Nova's first grade class.
"I'd had student teachers in my classroom before, but it was structured as a traditional placement," said Nova. "I was worried how Naomi and I would balance our teaching/instruction time together."
Her concerns disappeared during Franko's first assignment.
"I wanted her to teach an English Language Arts (ELA) small group using Walpole's Bookworms curriculum," said Nova. "I remember sitting with her, thinking 'OK, I'll probably have to explain a lot because she will not be familiar with this program.'"
But because Sharon Walpole is a professor in UD's School of Education, Franko had studied her curriculum during an education course. Therefore, she was able to take over the daily lessons with relative ease, teaching two ELA groups.
Initially she worked with Nova to design her lessons, but Nova said, "By the end of her placement she was planning her groups independently and implementing her own ideas."
At the end of the school year, Nova analyzed her students' data in reading and was thrilled with the results.
Every student in Franko's ELA groups showed significant improvement from the mid-year to the end-of-the-year benchmarks. "It was a teacher's dream. Most of her students were near or met their Oral Reading Fluency Goal and two of our students surpassed the goal for first and second grade."
Franko credited the co-teaching structure. "Since we had two teachers in the room, we had time to differentiate and provide small group instruction, which students benefit from tremendously."
She also took great satisfaction applying her coursework to her teaching. "Not only did we learn specific math, social studies and English content, we also learned how to implement these ideas into the classroom. My students had a lot of 'ah ha' moments, specifically in science. We were working with terrariums, bugs, and fish, and they were able to facilitate the unit by growing the plants and keeping the animals alive. They learned a lot from this unit and really enjoyed it."
"I loved how Miss Franko would let the children discover the answer. You would hear such insightful answers and explanations of their strategies used to problem solve," said Nova.
To help Nova prepare to serve as a clinical educator, she attended a Launch workshop hosted by UD's College of Education and Human Development.
"The workshop was very beneficial because it gave me insight in what to expect, what the teacher candidate is expecting and ways to support them in the classroom," she said.
Nova said she found being a clinical educator for UD students to be an amazing experience. "This semester I have Corinne Mooney as a student teacher. Just like Miss Franko, Miss Mooney comes with a strong skill set and has jumped right in. I am so proud to have a part in such a quality program that is cultivating strong teachers to empower today's and tomorrow youth."
Article by Harpreet Kaur.