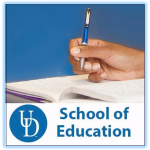 Please join the School of Education in congratulating its faculty, students, and SOE colleagues in affiliated centers on their achievements over March 2016.
The School of Education monthly achievements is a regular feature of the news section of the SOE website. Please consider sharing recent awards or grants, publications, presentations, and collaborations across campus or in schools.
School of Education shares March 2016 achievements
Awards
Allison Karpyn has been named a Fulbright Scholar. Her research will focus on global food inequity as she works to develop a measure for assessing child hunger in schools in the Bahamas.
Stephanie Morrison, a graduate student in the M.Ed. in Children and Youth program and preschool teacher of students with autism, has won Building Teacher of the Year at John S. Charlton School and is a finalist for the district Teacher of the Year award.
Sharon Walpole has received a University Excellence in Teaching award.
Grants
Kathleen Minke and Jordana Woodford, PhD student specializing in school psychology, received a $6,012 UD General University Research (GUR) grant for a project titled "School Resource Officers in Delaware: Roles, Responsibilities, and Risks."
Publications
Laura Eisenman and Marisa Kofke, a PhD student specializing in sociocultural and community-based approaches, are expecting the publication "Questions, questions: Using problem-based learning to infuse disability studies into an introductory secondary special education course" in Review of Disability Studies.
Roberta Golinkoff is awaiting the publication of the following articles:
Hassinger-Das, B., Ridge, K., Parker, A., Golinkoff, R. M., Hirsh-Pasek, K. & Dickinson, D. (In press). "Building vocabulary knowledge in preschoolers through shared book-reading and game-play." Mind, Brain, and Education.
Konishi, H., Stahl, A., Golinkoff, R. M., & Hirsh-Pasek, K. (In press). "Individual differences in non-linguistic event categorization predict later motion verb comprehension." Journal of Experimental Child Psychology.
Roberta Golinkoff has published the following articles and blog posts:
Hirsh-Pasek, K. & Golinkoff, R. M. (2016). "The preschool paradox. A review of E. Christakis's 'The importance of being little: What preschoolers really need from grownups.'" Science, 15, 1158.
Zosh, J. M., Hassinger-Das, B., Toub, T. S., Hirsh-Pasek, K., & Golinkoff, R. M. (2016). "Playing with mathematics: How play supports learning and the Common Core State Standards." Journal of Mathematics Education at Teachers College, 7, 43-47.
Hirsh-Pasek, K., Gustafson-Wright, E., Golinkoff, R. M., Barnett, W.S., & McAlpin, R. "High quality preschools make good sense (cents): A response to Farran." Brookings Institution blog, March 18.
Charles Hohensee has published the following the articles:
Park, J., Flores, A., & Hohensee, C. (2016). "Fractions as numbers and extensions of the number system: Developing activities based on research." Ohio Journal of School Mathematics, 73, 13-21.
Charles Hohensee and Amanda Jansen are awaiting the publication of a book chapter titled "Why Teach Mathematics?: Values Underlying Mathematics Teaching in Feature Films" in Exploring Teachers in Fiction and Film, edited by Melanie Shoffner.
Sharon Walpole, along with others, coauthored a white paper titled "Frameworks for literacy education reform," released by International Literacy Association. 
 Presentations
Doug Archbald and learning sciences doctoral students Andrew Hurwitz and Felicia Hurwitz presented "Charter schools, parent choice, and segregation: A longitudinal study of the growth of charters and changing enrollment patterns in five school districts over thirteen years" at the Midwest Sociological Society/North Central Sociological Association Joint Meeting, Chicago.
Rebecca Dore, an Institute of Education Sciences postdoctoral fellow and Marcia Shirilla, a doctoral student specializing in the learning sciences, presented their work during a roundtable session with collaborators from Temple University. The full citation for their presentation follows:
Tamara Spiewak Toub Rebecca Dore Brenna Hassinger-Das Jacob Schatz Molly Scott Marcia Shirilla, "Playing with words: Designing a toolkit of games, music, and sociodramatic play to promote preschoolers' vocabulary development," 42nd Annual International Conference for The Association for the Study of Play (TASP) and 27th Conference of The American Association for the Child's Right to Play (IPA/USA), March 17, 2016.
Charles Hohensee was interviewed on The Mathematics Education Podcast where he discussed his recent article on teachers' awareness of the relationship between prior knowledge and new learning.
Charles Hohensee delivered an invited talk on "Backward transfer: The influence from new learning on prior ways of reasoning" at Temple University on March 30.
Amanda Jansen gave a presentation on "Exploratory ('rough draft') talk: engaging students in classroom discourse and engaging teachers in online study groups" at the Teachers Development Group's 2016 Leadership Seminar on Mathematics Professional Development in Portland, OR on March 17 and 19.
Latoya Watson, a doctoral student in the Ed.D. program, presented "Diversity Matters: Allies in Higher Education" at the Delaware ACE Women's Network Leadership Summit with Jennifer Daniels.
Service
Regan Beem, Megan Case, Clare Gonzales, Angelia Kowalyzck, and Jen Lane, teacher candidates in the ETE program, participated in Colonial School District's STEAM Showcase and managed the "Hands on Science" table.
Roberta Golinkoff attended the Latin American School for Education, Cognition, and Neural Sciences Institute in Buenos Aires, Argentina and presented two papers.
Roberta Golinkoff was a consultant for M. Callanan, C. Legare, and D. Sobel on a grant project to facilitate learning in children's museums in Austin, TX.
Roberta Golinkoff has been elected treasurer of International Congress on Infant Studies.
Professional development
Amanda Jansen led professional development for secondary mathematics teacher leaders throughout the state of Delaware, in collaboration with the Delaware Mathematics Coalition. The session examined features of mathematical tasks that promote exploratory (rough draft) talk.
Professional Development Center for Educators (PDCE)
Grants
Kim Wagner received a $15,000 Delaware Writing Project 2016-2017 SEED Invitational Leadership Institute grant to support her work in literacy with Pre-K-12 educators.
Presentations
Jon Manon and John Jungck presented "Interdisciplinary STEM Education with an Emphasis on Quantitative Reasoning in Problem-Based Learning Contexts" at the Mathematics and Science Partnerships Program Conference in Baltimore, MD on March 1, 2016.
Amy Trauth-Nare gave the following presentations:
 Service
 The Library of Congress Teaching with Primary Sources (TPS) Regional Program has identified Fran O'Malley's grant-funded project "Teaching civics with primary sources" as one of the "exemplary projects" to be included in a Gallup evaluation. This evaluation will determine the potential of the regional program. The Teaching Civics with Primary Sources project developed ten lessons that engage grades 4-12 students in analyses of primary sources from the Library of Congress's collection. The lessons are now part of the Delaware Recommended Curriculum.
Professional development and partnerships
Sharon Brittingham
Facilitated the Step Up Program for Assistant Principals in Milford, Seaford, and Capital School Districts. Step-Up is a signature program designed and delivered by school leadership associates at PDCE to develop the skills and knowledge of assistant principals in readiness for moving into a principal position.
Responded to a Delaware Department of Education request for proposals with John Kreitzer, T. Croce, S. Dutton, and D. Denson for statewide professional development and coaching for DPAS II for Delaware educators. They have been notified that they are one of three finalists for the funding.
Assisted Ed Burton, a development coach, in delivering professional development related to providing actionable feedback to teachers in the Indian River School District.
Shadowed PDCE development coaches this month to provide feedback and support regarding their work with principals. The development coaches work with over 100 DE principals to provide support on teacher evaluation using the Delaware Performance Appraisal System (DPAS-II).
Coached three teachers in Red Clay priority schools and coached two principals on writing improvement plans for their assistant principals.
Amy Trauth-Nare
Facilitated professional development on Next Generation Science Standards (NGSS) alignment at Laurel Middle/High School and Sussex Tech High School.
Kim Wagner
Facilitated professional development workshops and engaged in coaching for elementary and middle school teachers in Laurel school district, Seaford school district, Family Foundations Charter School, EastSide Charter School, Thomas Edison Charter School, Saint Edmonds Academy, and Immaculate Heart of Mary School.
Jackie Wilson
Participated the New York Leadership Academy meeting in New York City. During the meeting, 125 educators from 14 urban school districts made site visits to NYC schools as the guest of NYC Chancellor or Education, Dr. Carmen Farrina. The purpose of the site visits was to observe the role of the principal and the principal supervisor working with teachers on instructional leadership and school improvement.
Co-led a workgroup of 20 principal supervisors with author, Gary Bloom on the topic of "Training and development of principal supervisors."  This group was convened by the Wallace Foundation and the New York City Leadership Academy on March 15.
Facilitated a National Principal Professional Learning Community with Alison Dubinski in Reston, Virginia with 100 principals from 14 urban school districts on behalf of National Association of Secondary School Principals (NASSP) on March 7-8, 2016.