ETE alumna becomes 2015 National Geographic Grosvenor Teacher Fellow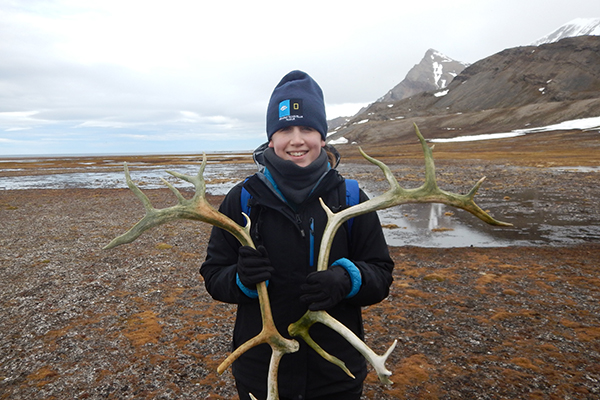 The sights and stories University of Delaware alumna Teagan Thomas experienced this summer seem straight out of a magazine.
Thomas, a 2013 graduate with a bachelor's degree in elementary teacher education from UD's College of Education and Human Development, traveled to Oslo, Norway, before boarding the National Geographic Explorer, a research ship and icebreaker, to voyage around the archipelago of Svalbard in the Arctic Ocean.
Thomas, a sixth grade science teacher and instructional leader at Las Americas ASPIRA Academy in Newark, was one of 35 teachers selected nationwide for the 2015 National Geographic Grosvenor Teacher Fellow Program.
The program, designed to give hands-on experiences to teachers to help them bring geographic awareness to their classrooms, received more than 2,700 applications.
"This amazing, once in a life time experience will greatly benefit my teaching in numerous ways," said Thomas. "Most students do not get the chance to travel the world and see such remote places, so bringing this back to them will allow them to see and understand what the world can offer."
Thomas is a lead teacher for the Next Generation Science Standards and a member of MADE CLEAR Climate Science Academy, the goal of which is to bring the subject of climate change into the classroom.
Having the opportunity to immerse herself in research and observation through the National Geographic fellowship served to further fuel her passion for climate change research and global environmental issues.
Thomas, along with other fellows, world-renowned naturalists and photographers, spent 10 days in June surrounded by a remarkable variety of ice, glaciers, plants and animals.
The vibrant colors of the purple saxifrage, in bloom during Thomas's travels, provided a striking contrast to the darker hues of the rocks and white of the snow. She said she found it both remarkable and beautiful how the native mosses, flowers and grasses persevered though the cold climate.
Among the animals she observed were walruses, whales, reindeer, birds, arctic foxes and 12 polar bears. On the seventh day of the expedition, a young female polar bear even walked up to the bow of the ship.
Although the scenery was awe-inspiring, Thomas was also witness to the troubling consequences of climate change. The higher temperatures have resulted in a decrease in ice, receding glaciers and diminishing food sources for polar bears, information that she considers is critical to share with her students.
Thomas said she believes the research and hands-on experience of the fellowship, which included many thought provoking conversations, will help her shape stimulating lessons for her students.
"Now with having been to the Arctic region and having seen evidence of climate change firsthand, I can enrich my teaching so much more," said Thomas.
To see photos for her expedition, visit Teagan Thomas' blog.
For more information, see the UDaily article here.
Article by Elizabeth Adams
Photo by Teagan Thomas