New Named Professor in Teacher Education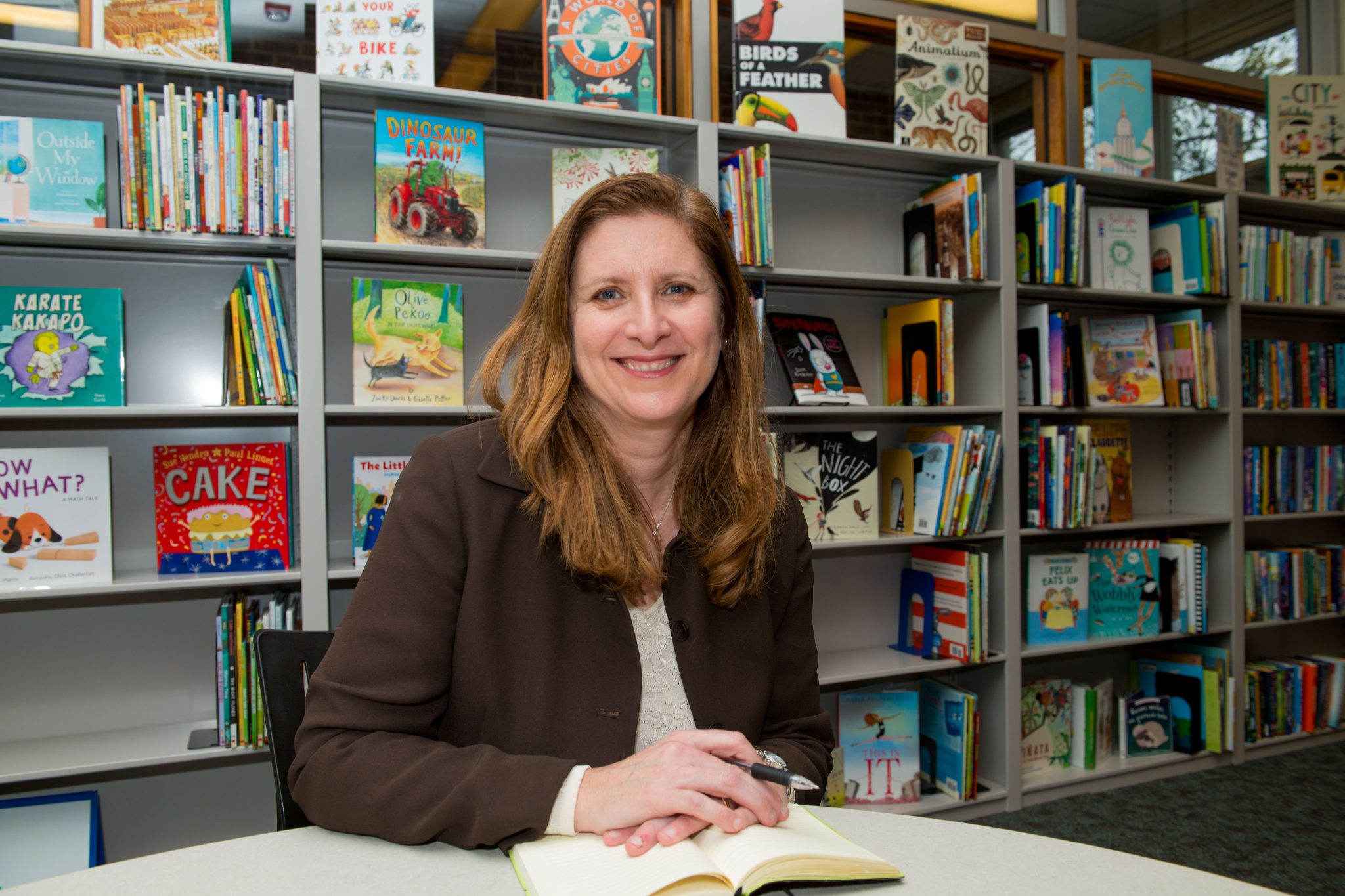 Laura Desimone Appointed New L. Sandra and Bruce L. Hammonds Professor in Teacher Education
Laura Desimone, a national expert in designing meaningful and effective opportunities for teacher learning, has been named the L. Sandra and Bruce L. Hammonds Professor in Teacher Education at the University of Delaware for excellence in scholarship, teaching and service.
Endowed by L. Sandra and Bruce L. Hammonds, this named professorship honors a commitment to teacher education and professional learning within the field of education. Through this professorship, L. Sandra Hammonds said that she and her husband, Bruce, wanted to support a "teacher of teachers."
Desimone, director of research in UD's College of Education and Human Development (CEHD) and professor in the School of Education (SOE) with a secondary appointment in the Joseph R. Biden, Jr. School of Public Policy and Administration, received this honor on September 1. She is the second UD professor to hold this appointment.
"Since joining our College in 2018, Laura has continued to achieve excellence in her research, teaching and service with a demonstrated commitment to teacher learning," said Gary T. Henry, dean of CEHD. "Her research provides critical insight on why teaching learning initiatives succeed or fail and guides school leaders and educational policy-makers as they consider new opportunities for their teachers' professional development. I consider myself very fortunate to have Laura as a colleague, and I'm grateful for her leadership and her dedication to the success of our faculty and students."
Excellence in teacher education scholarship 
Desimone's research focuses on the role of teacher learning in state, district and school-level reforms designed to improve instruction and student learning. Her work, for which she has garnered nearly $40 million in funding from organizations such as the National Science Foundation, the Institute for Education Sciences (IES), the Spencer Foundation and the Bill and Melinda Gates Foundation, has centered on identifying the policy conditions and features that make teacher professional learning effective. With more than 32,000 research citations, she is guiding the field with her studies of coaching, mentoring, induction, standards-based reform and STEM interventions that focus on teacher learning as the primary mechanism for improving instruction and student learning. Desimone frequently partners and collaborates with school districts throughout the region to conduct this work.
For example, in a recent IES-funded study, Desimone investigated how K-12 teachers' beliefs about culturally responsive (CR) teaching and professional learning influenced their teaching practices. CR teaching integrates students' cultural identities into classroom instruction in order to support their academic success.Though many schools have adopted CR instructional practices, school leaders may not have considered how teacher beliefs about their own self efficacy or capacity may influence their CR teaching.
With Meghan Comstock of the University of Pennsylvania, SOE Associate Professor Erica Litke and Kirsten Lee Hill of Kirsten Lee Hill Education Consulting, Desimone examined the relationship between teachers' beliefs about, self-efficacy for and engagement in professional learning on CR teaching and their CR teaching practices. They found that teachers who believed in their ability to use CR teaching practices and who engaged in CR professional learning used CR practices more frequently than those who did not. They also found that teachers who held personal beliefs aligned with CR teaching—such as valuing cultural diversity—demonstrated an ever greater belief in their self-efficacy and practiced CR teaching even more frequently.
"Our work builds on previous work that has shown how impactful CR teaching can be for students," said Desimone. "Following that work, we wanted to better understand how to support teachers in developing and using CR strategies that work for them and their students. Instructional leaders must build teachers' capacity for CR teaching and give them an opportunity to shift or deepen their beliefs about issues of race or cultural diversity."
Throughout her career, Desimone has earned recognition for her contributions to teacher learning and education. For example, in 2015, she received the Association of Teacher Educators' Distinguished Research in Teacher Education Award for her 2014 article, "Formal and informal mentoring: Compensatory, complementary, or consistent?," published in the Journal of Teacher Education. This award recognizes outstanding investigations of teacher education and/or student learning.
In 2019, Desimone won the SAGE 10-Year Impact award, given to authors of articles published in a SAGE journal that received the most citations over the span of a decade. She received this award for her article, "Improving Impact Studies of Teachers' Professional Development: Toward Better Conceptualizations and Measures," published in Educational Researcher. In the same year, Desimone was also named an American Educational Research Association (AERA) Fellow, an honor that recognizes excellence in education research and interdisciplinary scholarship. This past spring, at AERA's 2023 conference, Desimone delivered the Helen DeVitt Jones Teacher Education Lecture, an annual event that features an eminent scholar in the field of teacher education.
"Laura has a distinctive ability to understand the needs of district and academic audiences, and can find a way for a project to provide meaningful information to both," said Joy Lesnick, deputy chief of research, evaluation and academic partnerships in the School District of Philadelphia. "She is always willing to respond to an urgent call or text, join a meeting, contribute to a brainstorming session, or help make sense of findings during a results conversation so that the research can be used as quickly as possible to inform decision-making. When working with Laura, I always felt that the district's work was most important, and that her primary goal was that the research she was doing would directly support the hard work of educational leaders and decision makers."
Excellence in teaching and service 
In addition to her research, Desimone teaches in CEHD's graduate programs, directs UD's interdisciplinary Ph.D. in Education and Social Policy, and was instrumental in launching both this program and UD's new M.S. in Interdisciplinary Evaluation Sciences program. She has mentored many graduate students as they prepared for teaching and research careers in education.
"Laura has given me the opportunity to work with data on one of her projects and pursue a research question in my area of interest, which I greatly appreciate," said Samantha Akridge, a Ph.D. in Education student in the SOE. "In working on this project, she has helped me navigate some of my first experiences with writing a proposal for and subsequently presenting at a national conference, as well as beginning to navigate the writing and publication process."
In addition to valuing her mentorship, graduate students and recent alumni consistently praise Desimone's own disposition toward continued learning.
"I was Laura's first Ed.D. in Educational Leadership student, and her willingness to engage in a mutual learning process was amazing," said Deandra Taylor, now academic program manager in CEHD's Center for Excellence and Equity in Teacher Preparation. "Together, we embraced the opportunity and challenges of navigating the complex educational leadership portfolio, the capstone project for my degree. Throughout my journey, Laura has also remained a strong supporter of my endeavors to enhance access and equity for underrepresented students."
Ethan P. Smith, now an assistant professor of mathematics education at Washington State University Tri-Cities, similarly expressed appreciation for Desimone's intellectual curiosity and interest in collaboration.
"Laura pushed me to pursue compelling lines of research and form productive partnerships, but also created an inclusive atmosphere for me and the other students and faculty working on her projects," said Smith. "I also found Laura to be consistently curious and collaborative in our conversations. Her willingness to foster ideas from different voices in these spaces, while still leaning on her expertise to guide and support our shared work, is one of the many reasons why I believe Laura to be an exemplary leader."
Through her work as director of research, Desimone has also mentored and supported many faculty colleagues. She has supported colleagues in the grant writing process, established forums for sharing research and served on several university committees to facilitate faculty and student success, among many other initiatives.
"I've learned so much about how to write a solid grant proposal from Laura," said Joshua Wilson, associate professor in the SOE. "Laura's feedback is second-to-none, and she gives it quickly and in abundance. I just submitted a proposal to the IES, which is absolutely so competitive, and Laura's feedback identified all the major gaps that needed filling and the areas of opportunity to be emphasized. She pushes you to raise your ideas, and your writing, up to the highest level."
During the 2023-24 academic year, Desimone will further support her colleagues in the SOE, as well as its undergraduate and graduate students, as interim director of the department.
Article by Jessica Henderson. Photo by Lane McLaughlin.