Bringing Spanish Culture to the Classroom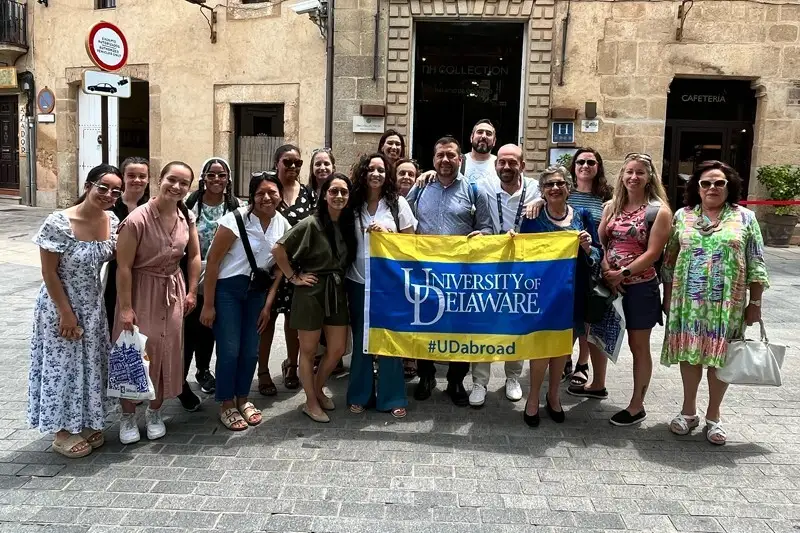 In collaboration with Delaware Department of Education, UD leads study abroad trip to Spain for Delaware K-12 language teachers
Angela Trani, a Spanish teacher at Olive B. Loss Elementary School in Bear, Delaware, has taught at every level — elementary through college — during her career as a Spanish and Italian language teacher. But until recently, she didn't know much about the culture of Spain.
As an undergraduate student at the University of Delaware, she spent a semester in Italy but didn't have the opportunity to travel to Spain or South America. So when she learned that UD, in collaboration with the Delaware Department of Education, was leading a study abroad program to Cáceres, Spain, for Delaware K-12 Spanish language teachers, Trani knew she couldn't pass up the opportunity.
She said being able to study abroad in Spain — where she enjoyed taking a paella cooking class, seeing an authentic flamenco show and visiting art museums, among many other cultural activities — was a dream come true.
"I was able to live the culture, and now I can bring that culture to life in my classroom," she said. "It was an excellent opportunity for us to learn as teachers. I want to be the best possible teacher and give as much as I can to my students and keep things fresh and new and exciting. We learned so much, and that is something that our students can benefit from. I was very excited for this experience, personally and professionally, but I was most excited for how this would impact my students and how they would benefit from this experience."
Trani was one of 11 Spanish language teachers from throughout the state of Delaware who went on the two-week-long trip in late June, earning three graduate credits from UD and increasing language proficiency, cultural knowledge and intercultural competence. A grant from the Delaware Department of Education funded the trip, and UD Spanish professors Julia Dominguez and Basia Moltchanov planned the curriculum and itinerary.
"Going to Spain for two weeks and learning from university professors that are able to give you an entire scope of literature, art, bullfighting — everything that is related to the culture of Spain — I think it was an extremely enriching experience for the teachers both personally and professionally," Dominguez said.
The focus of the trip, Moltchanov and Dominguez said, was on learning culture and learning how to teach culture. In the mornings, teachers took classes with professors from the University of Extremadura, while afternoons and evenings were dedicated to cultural activities like visiting museums and going to restaurants.
"It was such an amazing experience," said Carlynn Rodriguez, a Spanish teacher at Sussex Central High School. "It was only two weeks, but within those two weeks I learned so much about Spanish culture and so much about resources that I can bring back into the classroom. And on top of that, I've made so many connections and relationships with everyone who was involved in the trip."
The trip was part of a five-week course during which teachers designed a unit that they can share with other teachers in their district.
"A trip like this sort of recharges you as a professional," Moltchanov said. "It can reignite your passion for teaching. You're helping these teachers really rediscover why they went into the field in the first place, and I think that's great because we all can grow and learn, and so to be evolving and changing and to see how things are done in another country — it was inspiring."
Suhey Matamoros, a fifth grade Spanish immersion teacher at Lulu M. Ross Elementary School in the Milford School District, said that something she got out of the trip that she wasn't expecting was the network she was able to build with other Spanish teachers in the state.
"It was just really cool to be able to meet Spanish teachers from across the state and to be able to ask each other questions and learn from each other," she said. "We have a group chat, and the school year hasn't even started and we're already sharing lesson ideas and resources. That has just been really cool to see and to experience."
Rodriguez said the thing she loves most about teaching is getting her students excited about the language and culture. She said she was interested in going on the trip so that she could learn how to bring culture into not only her advanced placement classes, but also her introductory courses.
"Making the culture real, showing them pictures and getting them excited about it is what I love about teaching Spanish," Rodriguez said. "Obviously, I do want them to learn the language and learn how to speak it, but for me the most important thing is that they learn to appreciate it. Whether they want to continue learning the language in the future or not, at least they have that appreciation of the language and culture."
Trani agreed that teaching culture is just as important as teaching grammar and vocabulary.
"Culture is the most exciting part of learning another language," Trani said. "It's important to bring the language to life, and the way to do that is by bringing the culture to the classroom. At the end of the day, we want to promote global citizenship. Yes, we want to teach the language, but we want our students to also have an appreciation and understanding — and hopefully a celebration — of other languages, people, countries and cultures."
Study abroad
Students who would like to learn more and explore study abroad options for 2024 Winter Session and beyond should attend the Study Abroad Fair, from 2 p.m. to 4 p.m. on Wednesday, Sept. 6, in Trabant University Center's multipurpose room (with free UDairy). The Center for Global Programs and Services includes more information about the application process, scholarships and financing. Please also visit the UD Abroad Blog for student perspectives on the study abroad experience.
From Delaware to the world
2023 marks the 100-year anniversary of study abroad, pioneered at the University of Delaware in 1923 when UD language professor and World War I veteran Raymond Kirkbride took eight students to France for their junior year. Today, UD boasts more than 100 study abroad programs in 40-plus countries and has an international student population that hails from over 100 countries.
Read this story on UDaily.
Article by Amy Wolf. Photos courtesy of Basia Moltchanov, Carlynn Rodriguez and Suhey Matamoros.