CEHD Online Graduate Programs Advance to Top 6% in Nation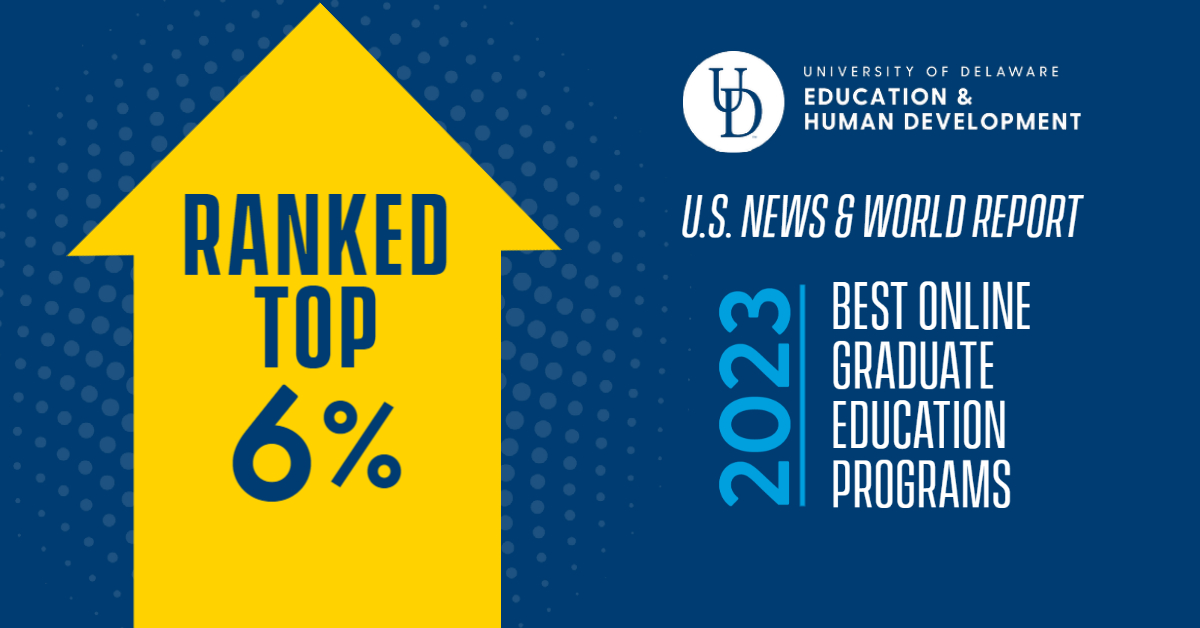 US News and World Report identifies online graduate programs among best in nation
The online graduate education programs offered by the University of Delaware College of Education and Human Development (CEHD) have advanced eight places in US News and World Report's 2023 rankings, placing them in the top 6% of all online graduate programs in education. Housed within CEHD's School of Education (SOE), the online graduate programs are now ranked 20th, firmly seated among the best in the nation.
"This year, our College jumped eight places in US News and World Report's online graduate education rankings, which places our programs within the top 20 of more than 330 programs across the nation," said Gary T. Henry, dean of CEHD and professor in the SOE and the Joseph R. Biden, Jr. School of Public Policy and Administration. "Unlike many online programs, our programs are designed and primarily taught by full-time faculty. Many of these faculty members are recognized as leading experts in online education and the substantive field of the program, committed to delivering programs that are both engaging and responsive to our students' needs as education professionals. Each semester, they continue to improve our online offerings, drawing from best practices in online education, research in their respective fields and feedback from students and alumni."
CEHD offers four online master's degrees in literacy, teacher leadership, educational technology and exceptional children and youth. Across all programs, full-time faculty renowned for both teaching and research designed the curriculum to meet the needs of aspiring educational professionals and certified teachers within a flexible and engaging format. Courses run for five, seven or 14 weeks, depending on the program.
Students and alumni of CEHD's online programs consistently praise the flexible schedule, strong relationships with faculty and real-world curricula, often immediately applicable to their educational contexts.
"I have learned so much in the Teacher Leadership program from the School of Education faculty," said Jameelah Wright Howard, assistant director and head teacher at Three Stages Learning Center in New Jersey. "For example, I was inspired by the Fostering Technology-based Collaboration course with Dr. Elizabeth Soslau to create a group on Facebook for my colleagues as a space where we could post about and discuss monthly readings. My school has multiple locations, so this one Facebook group will be our professional learning network, and it will hopefully help us to see each other as resources."
To learn more about our online programs, visit our website.
Article by Jessica Henderson | Graphic by Shelly Silva
Read about all UD program rankings in UDaily.