Teacher Retention Challenge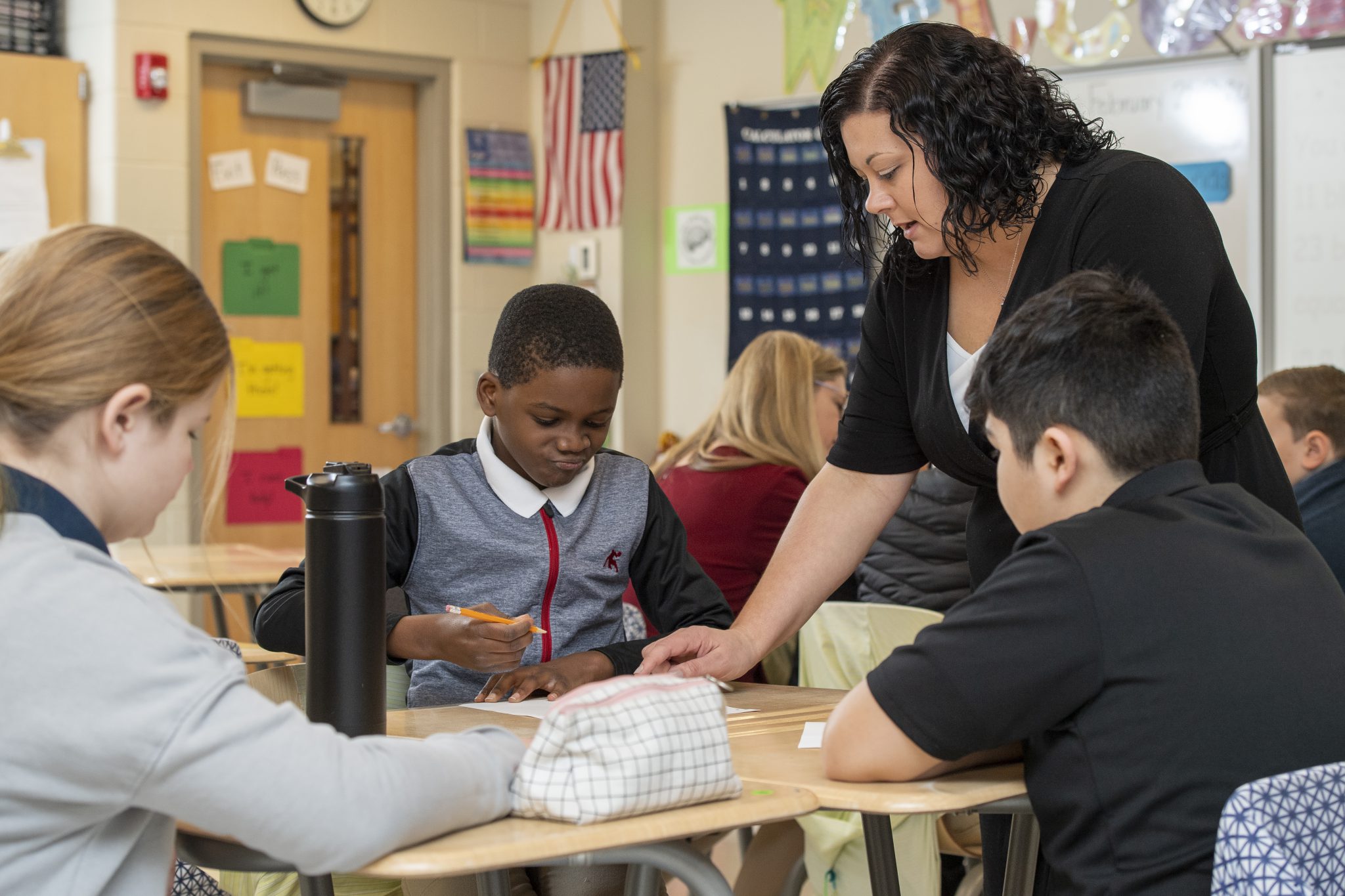 UD's Lauren Bailes finds that certification process and early teaching experience influence how long teachers stay in the field
Many schools and districts across the nation have grappled with a shortage of teachers and have struggled to retain their staff after five years. Unsurprisingly, the COVID-19 pandemic exacerbated this shortage as teachers and school leaders struggled with school closures, virtual learning, health concerns and a shortage of substitute teachers once they returned to in-person learning. 
The University of Delaware's Lauren Bailes, assistant professor in the College of Education and Human Development (CEHD)'s School of Education (SOE), works to understand the complex factors that influence this shortage and offer suggestions for teacher retention.
In a recent study, Bailes and co-author Sarah Guthery of Texas A&M University-Commerce found that how teachers enter the profession affects how long they will continue teaching. Specifically, how teachers pursued their certification and the type of school where they first taught influenced how long they would continue teaching.
"Teacher shortage areas have remained consistent for years," Bailes said. "States have developed innovations like alternative routes to certification and charter schools in order to address those shortages and get people into classrooms. However, the combination of certification type and initial school placement influences teachers' likelihood of staying in the profession or turning over and exacerbating shortages."
Patterns of teacher attrition
In the research paper, published in Educational Policy, Guthery and Bailes studied the certification pathways and early teaching experiences of 175,664 new teachers in Texas from 2000 to 2015.
The researchers chose to focus their study on teachers in Texas because Texas has initiated broad policy shifts in an attempt to address the teacher shortage. In order to increase the number of available pathways to the teaching profession, Texas has deregulated teacher licensure and prioritizes routes to certification that do not require a college degree.
Guthery and Bailes studied the career trajectories of new teachers who were prepared for teaching in one of two ways. They either pursued the traditional route to becoming a teacher, preparing for certification through a degree program in a college of education, or they pursued an alternative route. Alternative certification programs, which may be offered by universities, districts and even individual schools, do not typically culminate in teaching degrees and do not include traditional student teaching experiences. As a result, pre-service teachers in these programs often spend less time in the classroom before they receive their certification.
In addition, Guthery and Bailes analyzed the initial teaching experience of these new teachers, noting whether they were placed in a traditional public school or a charter school. In Texas, charter schools are subject to much less regulation than traditional public schools. For example, charter schools are exempt from the state requirements for minimum teacher pay and duty-free lunch. In addition, charter schools often require extended hours and additional duties for teachers.
The researchers found that a traditionally certified teacher had a greater chance of remaining in the field after five years, regardless of where the teacher began teaching. However, the chances of remaining in the field were lower if the teacher began teaching at a charter school.
Traditionally certified teachers had a 67.5% chance of remaining in the field after five years if they began teaching at a public school. They had a 55.9% chance if they began teaching at a charter school.
By contrast, a teacher who completed an alternative certification program had only a 60.6% chance of remaining in the field if they began teaching at a traditional public school. They had only a 48.4% chance if they began teaching at a charter school.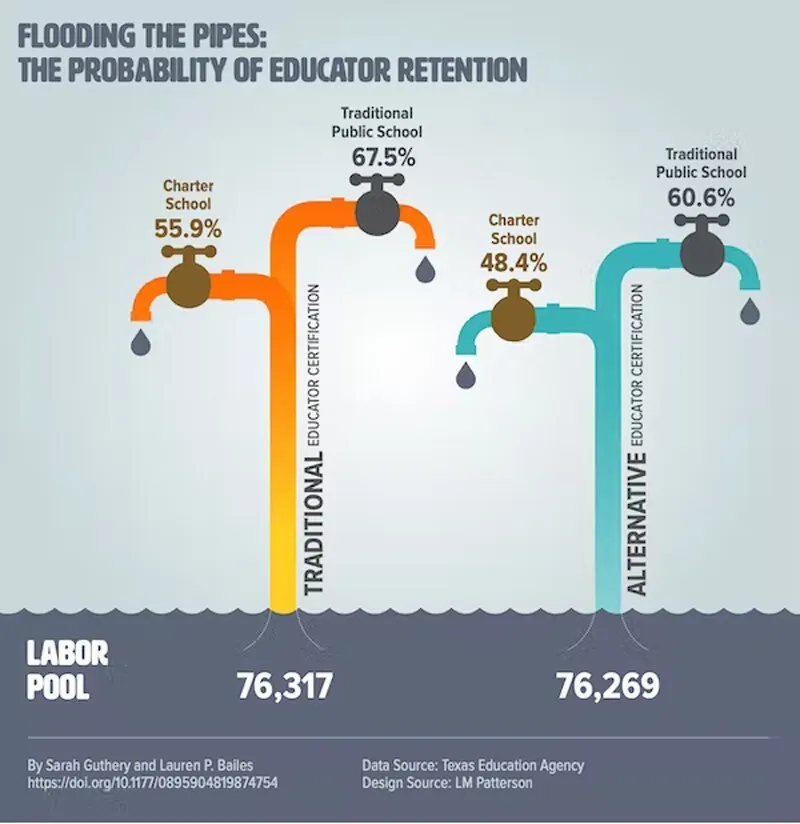 Hidden cost of deregulation
Guthery and Bailes grant that more research is needed on the interaction of the educational policies on charter schools and alternative certification. But, this initial research suggests that the deregulation of teacher certification—which has removed barriers to the teaching profession—and the deregulation of charter schools—which sometimes encourages educational innovations—may come at a cost. Deregulation may inadvertently contribute to the teacher shortage, especially in the first five years of a teacher's career.
"Alternative and traditional certification pathways produce nearly equal numbers of new teacher candidates, but educators who are alternatively certified are far more likely to 'leak' out of the profession," Guthery and Bailes wrote. "Furthermore, those initially placed in charter settings are most likely to be lost to public education altogether within 5 years. Taken together, these findings suggest that deregulation may inadvertently contribute to the teacher shortage — and the cost incurred by that shortage — over the early years of new teachers' careers."
Guthery and Bailes suggest that further research into the interaction of the certification and setting is necessary. However, this early research suggests that shifting resources to expand alternative pathways to certification have not alleviated teacher shortages.
About Lauren Bailes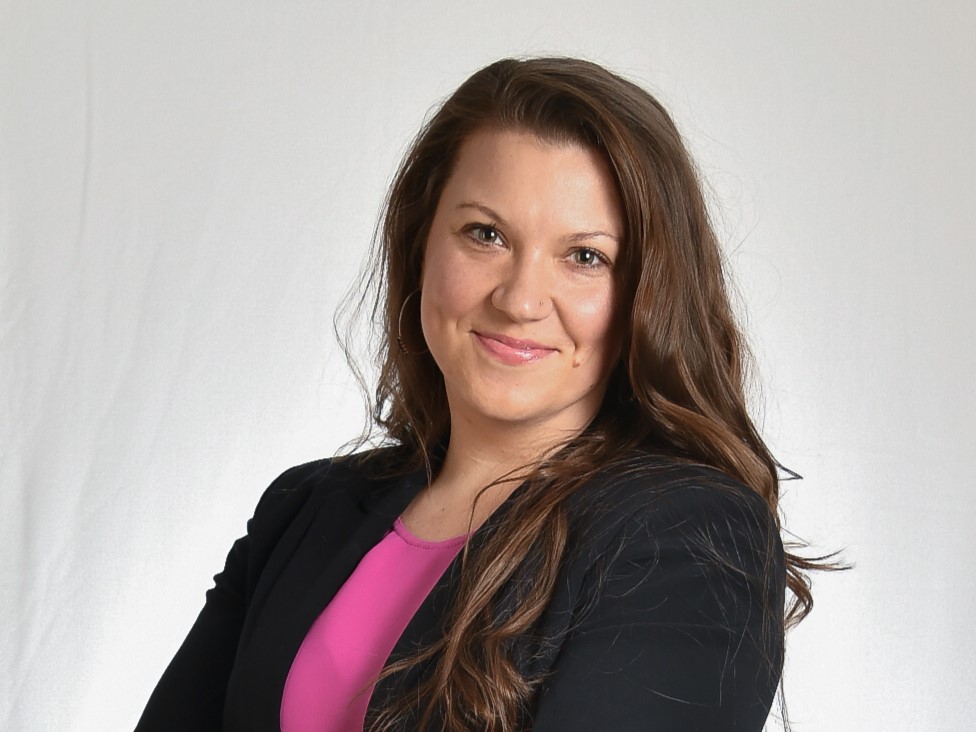 In recognition of her research program, Lauren Bailes recently received the 2022 Emerging Scholar Award from the American Association of Educational Research's Educational Change Special Interest Group. This award recognizes individuals who have demonstrated a strong record of original and significant scholarship related to educational change within the first eight years of their postdoctoral career as an educational scholar.
Bailes specializes in educational leadership and administration, teacher and school leader retention and how factors related to school organization and leadership promote the success of K-12 students. She teaches within the SOE's Ed.D. in Educational Leadership program.
CEHD faculty also specialize in teacher preparation and professional development, engaging in innovative and interdisciplinary research designed to support novice and experienced teachers across content areas, grade levels and educational settings. Supported by grants and partnerships, CEHD faculty study teacher education programs, develop best practices for early childhood and K-12 education, help teachers use emerging technology, design culturally-responsive curricula and evaluate professional development.
CEHD is also home to  several centers for research, education and service in this area, including the Center for Excellence and Equity in Teacher Preparation, the Center for Disability Studies and the School Success Center, which merges the Professional Development Center for Educators and the Delaware Academy for School Leadership.
Article by Jessica Henderson. Photos by Kathy Atkinson. Graphic courtesy of Lauren Bailes and Sarah Guthery.