Racial Equity and Time-Series Methods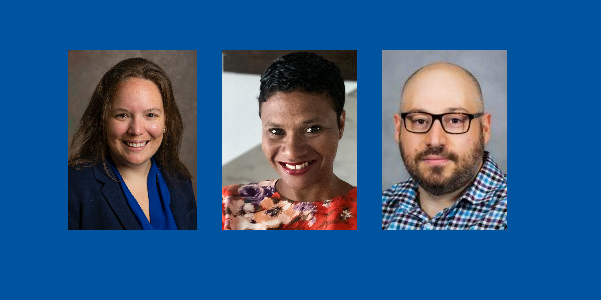 Innovative CEHD conference draws national and international attention
In a recent conference on the "Intersection of Racial Equity and Time-Series Methods," hosted by the University of Delaware College of Education and Human Development (CEHD) and supported by the Spencer Foundation, practitioners and researchers from 22 different fields across the globe gathered to learn how time series and smart technology data can be used to understand and address the opportunities and challenges surrounding racial equity.
Time series analysis refers to specific methods of analyzing a sequence of data points collected over an interval of time. In time series analysis, researchers record data points at consistent intervals over a set period of time rather than recording the data points intermittently or randomly.
Over the course of the five-day conference in July 2021, participants were introduced to a new time-series method in the context of an educational equity issue. This resulted in concrete examples of how time-series could directly address the big questions of racial equity in education. This conference is the first of its kind to integrate the teaching of a research method with racial literacy, rather than considering those areas independently.
Conference activities
In welcoming participants, CEHD Dean Gary Henry recognized the extraordinary response to the week-long conference, thanked the Spencer Foundation for their sponsorship and congratulated conference hosts Stephanie Del Tufo and Janine de Novais, both assistant professors in the CEHD's School of Education (SOE), and Alexander Demos, an associate professor of psychology at the University of Illinois Chicago (UIC).
"It is an honor to welcome the more than 100 conference participants who are here with us today representing more than a dozen fields across five continents and more than 72 institutions," Henry said.
Opening the conference, de Novais reviewed the week-long program and presented an overview of her Brave Community work, a practice she developed for productive teaching and learning about race and racism. De Novais described how the conference would center racial equity in the teaching of time series methods throughout the week. She emphasized the importance of moving toward practices that lead to real action in addressing racial equity.
Throughout the week, attendees participated in more than 30 lectures, case studies, and group project sessions on how time-series methods and smart technologies can be used to address longstanding questions of equity. For example, Zachary Collier, assistant professor in the SOE, discussed machine learning approaches.
Several UD faculty members and graduate students also led conversations about developing research-informed partnerships. For example, Elizabeth Farley-Ripple, director of UD's Partnership for Public Education and associate professor in the SOE, led a presentation on conceptualizing and enacting research-practice partnerships. Laura Wallace, director of the UD Collaborative for Data Driven Action and assistant professor in CEHD's Department of Human Development and Family Sciences (HDFS), spoke about how building integrated data systems can inform educational and social practice and policy.
Participants also heard from experts within and outside of education on the big questions of racial equity. David Blacker, professor in the SOE, provided the legal history of U.S. school desegregation. Jessica Adams, acting associate dean at Kean University at Kean Ocean, showed how foundational, seminal field knowledge is poised for transformation. Ann Aviles, associate professor in HDFS, discussed the importance of critical race theory in her research and practice and how she prioritizes communities' expertise in all of her work.
Responses to the event
Conference participants communicated enthusiasm for the event, noting how the presentations and discussions would help them guide their students in work related to race, racism and racial equity.
"My students will need to understand and use these new tools, and I'm excited for them to have access to technologies like time-series analysis to answer questions about racial disparities that couldn't be answered before," said Diane Hughes, professor of applied psychology at New York University.
Felicia Gutierrez, a doctoral student studying community and prevention psychology at the UIC, also appreciated the interdisciplinary nature of the conference.
"We have a dangerous history of employing implicit bias when correlating data and racial issues," Gutierrez said. "Yet addressing real-life situations with colleagues working across so many disciplines has opened my mind to many new possibilities. It gave someone like me who is early in their career the chance to meet new people in my field, especially others who want to work across disciplines."
Participants representing Delaware's education leadership also expressed appreciation for the conference's focus on educational literacy. Monique Martin, equity education associate in the Delaware Department of Education, considered the conference to be both "eye-opening and ground-shaking."
"The conference shared a welcomed focus on pursuing educational equity, as the time is now to shift our approach from deficit to asset-based approaches and see the positive in all of our students," Martin said.
Dialing in from Sweden, Mathew Abrams, the director of science and training at the International Neuroinformatics Coordinating Facility, also recognized the conference's value.
"In the absence of racial balance in research, we risk misinterpretation of data which can create more problems than those you want to solve. This conference is a winning formula for diversifying our work and I hope UD will continue hosting this event," Abrams said.
Leading the way for future events
Following the conference, Del Tufo shared her perspective.
"We went into this conference in the hope that it would serve as a model for other such events and programming– a concerted, interdisciplinary effort to relate racial equity and statistical methods as a way forward," said Del Tufo. "This effort gives us a way to cultivate scholarly learning that we envision leading to new insights and an enhanced understanding of an important challenge in education. I think what we have achieved has exceeded even my expectations."
Learn more through the conference announcement and program on Del Tufo's Developmental and Aging Neuroscience Education Laboratory website.
Photo caption: Conference hosts Stephanie Del Tufo (left), Janine de Novais (center), both assistant professors in UD's College of Education and Human Development, and Alexander Demos (right), associate professor at the University of Illinois Chicago.
Article by Sara Cakebread. Photos courtesy of the College of Education and Human Development and Alexander Demos.