University of Delaware AERA Participants and Reception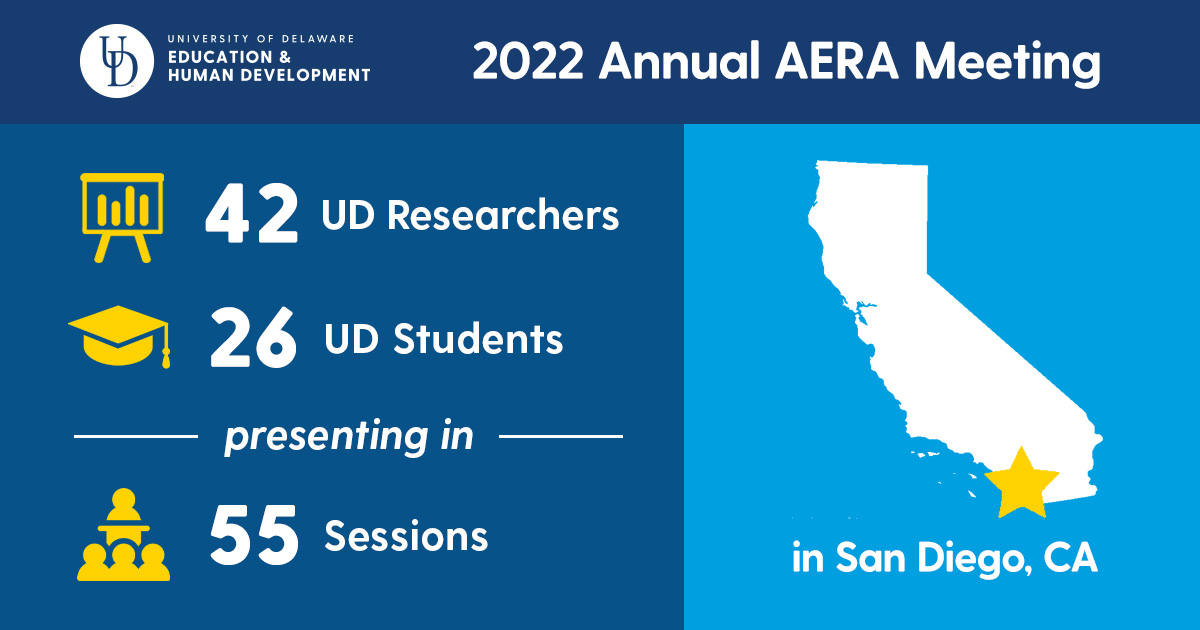 You are invited to attend a special reception hosted by the University of Delaware's College of Education and Human Development as part of this year's AERA Conference in San Diego, California.
AERA Reception
Friday, April 22, 2022
6 to 8 p.m.
Skybox at Diamond View
San Diego, California 
Join Dean Gary T. Henry and members of the CEHD faculty and graduate student body in enjoying a tasting menu of hors d'oeuvres, cocktails and a breathtaking view of San Diego with a baseball game at Petco Park below.
The Skybox at Diamond View overlooks the city's baseball stadium and is located at 350 10th Avenue, San Diego, CA 92101, 0.5 miles from the San Diego Convention Center. The San Diego Padres will play the LA Dodgers beginning at 6:40 p.m.
RSVP is not required for this event, but we'd love to know if you're interested in attending. Thank you for responding by April 8, 2022.
University of Delaware AERA Participants
Holly Abrams
Roderick Carey
Camila Polanco
Mattering During the "Dual Pandemics": Black Boys' Perceived Educational (Un)Importance Throughout Health and Racial Crises
Darren Agboh
Elizabeth Farley-Ripple
Hilary Mead
Katherine Tilley
How Is Evidence Use Policy Enacted in Schools? A Mixed-Methods Multiple-Case Study
Darren Agboh
Henry May
Data Use From a Comparative Perspective: Exploring How Teachers, Schools, and Districts Use Evidence and Research
Seher Ahmad
Lauren Bailes
Increasing Diversity, Equity, and Inclusion in STEM Education
Bataul Alkhateeb
Chrystalla Mouza
Scott Sheridan
Simulations and Immersive Learning Experiences
Rachel Antwi Adjei
Linda Charris
Latrice Marianno
Bryan VanGronigen
External Support Structures: Promoting, Strengthening, and Sustaining Reform Efforts
Ann Aviles
Roderick Carey
Marcia Gail Headley
Allison Karpyn
Kathleen Ann McCallops
Yasser Payne
Design Considerations in Mixed-Methods Research
Ann Aviles
Students Experiencing Homelessness: Key Findings for Practice and Policy Decision Making
Lauren Bailes
Transforming and Shifting Systems to Ameliorate Inequity
Tia Navelene Barnes
Melissa Stoffers
How Did Social and Emotional Learning Support Educators of Students With Learning Differences During the 2020–2021 School Year?
Tia Navelene Barnes
Cara Lynn Kelly
Melissa Stoffers
Anamarie Auger Whitaker
Understanding Parent and Family Factors in Early Learning Settings
Nicholas Steven Bell
Teaching During the COVID-19 Pandemic
Nicholas Steven Bell
Qualitative Meta-Analysis on Overrepresentation in Special Education
Deborah Bieler
Dismantling Racist and Oppressive Systems in Teacher Education for a Multiracial Democracy
Aly Blakeney
Nicole Kennedy
Henry May
Mia Mazal
Pragya Shrestha
Tara Tracy
Reading Recovery: Long-Term Effects and Cost-Effectiveness Under the Investing in Innovation Fund (i3) Scale-Up
Martha Buell
Rachel Fidel
Rena Hallam
Jason Hustedt
Gerilyn Slicker
Exclusionary Policies and Practices in Early Childhood Education Settings

Roderick Carey
The Impact of External Funding on Education Systems
Diane Codding
Minji Kong
Hilary Mead
Chrystalla Mouza
Lori Pollock
Scott Sheridan
A Virtual Professional Development Program for Computational Thinking During COVID-19
Tania Cruz Cordero
Matthew Myers
Andrew Potter
Joshua Wilson
Developing Writing Proficiency Through Goal-Setting and Automated Feedback
Sarah Louise Curtiss
Disability Studies in Special Education Teacher Preparation: An Autoethnography of Course Development
Zoubeida Dagher
William Lewis
Chrystalla Mouza
Preparing Computationally Literate Teacher Educators: A Professional Development Approach
Janine de Novais
Jill Ewing Flynn
Erica Litke
Rosalie Rolon-Dow
Elizabeth Soslau
Leading and Learning About Equity, Diversity, and Social Justice
Janine de Novais
Promoting Student Success in Higher Education
Laura Desimone
Joshua Wilson
Improved Conceptualization of Professional Learning: Lessons From Formative Assessment Research
Laura Desimone
Elizabeth Farley-Ripple
Latrice Marianno
Research, Data, or Experience? Examining the Influences of School Leaders' Decisions When Supporting Teachers
Elizabeth Farley-Ripple
Samantha Jo Shewchuk
Examining Knowledge Mobilization Among District Research Leaders
Elizabeth Farley-Ripple
Thinking Ecologically in Education Policy and Research
Ralph Ferretti
The Design of Collaborative Activities Across Disciplines to Promote Student Learning and Agency
Ralph Ferretti
Using a Trait Model to Characterize Growth Effects in a Writing Intervention
Ralph Ferretti
Writing Disciplinary Arguments: Theoretical and Instructional Considerations
Lynsey Gibbons
Innovations in Coaching and Mentoring: Investigating the Practices of Instructional Coaches and Teacher Mentors
Lynsey Gibbons
Nancy Jordan
The Status Quo Isn't Working: Forging New Paths in Educating Students With Disabilities in General Education
Roberta Michnick Golinkoff
Equitable Science Education for Elementary Schools
Myae Han
Early Childhood Curriculum for the 21st Century: Rethinking Developmentally Appropriate Practices
Myae Han
Early Education and Child Development SIG Business Meeting
Marcia Gail Headley
AERA Division D Business Meeting
Marcia Gail Headley (moderator)
Kathleen Ann McCallops
Mixed Methods Research SIG Business Meeting
James Hiebert
Erica Litke
Kateri Sternberg
Elementary Teachers and Coaches' Experiences of Opportunities to Learn
Jason Hustedt
Gerilyn Slicker
Melissa Stoffers
Issues in Childcare and Early Education in the United States
Hojung Lee
Florence Xiaotao Ran
Education Interventions That Influence Student Success
Chu Yi Lu
Diversity, Equity, and Social Justice in Educational Measurement
Henry May
Retaining Teachers of Color: Major Considerations and Approaches
Chrystalla Mouza
Division C: New Directions in Culture, Learning, and Motivation
Matthew Myers
Joshua Wilson
Evaluating the Construct Validity of an Automated Writing Evaluation System With Manipulations of Masterwork Narratives
Kisha Porcher
Elizabeth Soslau
Multidimensionality of Service-Learning in Pre- and In-Service Teaching
Kisha Porcher
Research Pedagogy for Social Justice
Teomara Rutherford
Motivational and Cognitive Processes in Mathematics Across Secondary School and College
Ye Shen
The Interrelation of Literacy Skills Across Languages: Reading-Writing Connections in Monolinguals and Bilinguals
Samantha Jo Shewchuk
Research Use SIG Business Meeting
Melissa Stoffers
Division E Fireside Chat: Networking in a Virtual World
Katherine Tilley
Looking Through a Variety of Lenses at Research Use
Bryan VanGronigen
Cultivating Resilience, Trust, and Collaboration for Teacher Well-Being and Leadership
Bryan VanGronigen
Leading Powerful Equity-Oriented Instruction
Bryan VanGronigen
Life of a Leader: Race, Gender, and Alternate Perspectives
Hui Yang
Seeking Equity and Excellence Through Technology and Computer Science Education