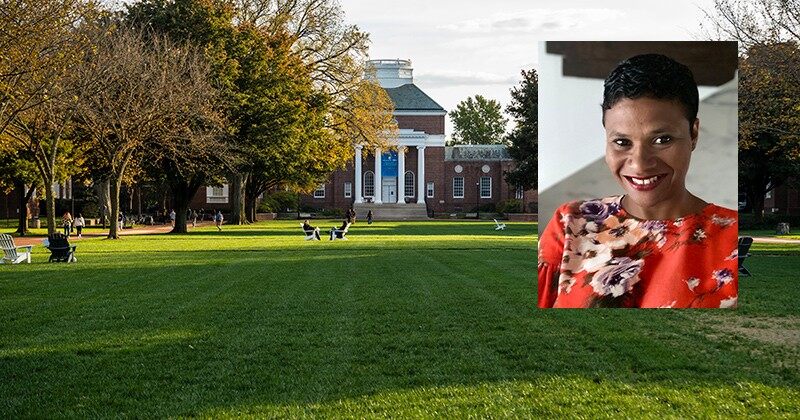 UD professor develops pedagogical framework to address the challenges of teaching about race and racism
In today's political climate, marked by the Black Lives movement and other protests, conversations about race can be difficult to have, especially as social media often fuels racial tensions rather than fostering productive dialogue.
"In lives dominated by the isolation and polarization of social media, classrooms and other learning and cultural spaces are where people can still engage with the complexities of a multicultural, unequal democracy face-to-face," said Janine de Novais, assistant professor in the School of Education (SOE) at the University of Delaware.
In "Brave Community: Teaching and Learning about Racism and College," published in the International Journal of Qualitative Studies in Education, de Novais introduces a pedagogical framework to address the challenge of teaching about race and racism. Within this approach, "brave community" describes a classroom community that allows students to interact with empathy, respect, and intellectual bravery as they engage with difficult content about race and racism.
Building a Brave Community
Through an ethnographic study, de Novais observed a course titled "Writing Slavery" in an elite liberal college with curriculum centered on narratives written by or about Black people who were enslaved. She interviewed students about their experiences engaging race in educational and non-educational contexts, their experiences in these courses, and whether issues or ideas from the courses emerged in their lives outside of the classroom.
Results from the study pointed de Novais to the central importance of academic grounding in building a "brave community." Academic grounding refers to the integration of classroom expectations with the academic content in the course.
For example, de Novais's article highlights how one professor opened his course with a frank acknowledgement that the course material would be intellectually and emotionally challenging. Yet, he expected the students to treat each other with respect, assume good intentions, remain fully engaged, and learn from each other through lively dialogue.
"What I was able to theorize from my investigation is that this academic grounding is a reliable source for students to draw on to be intellectually brave, to ask hard questions and push through uncomfortable moments of inquiry," de Novais said. "They can do that because they know it's expected and allowed."
Since conducting the study featured in her article, de Novais has developed the Brave Community framework through her teaching at UD and through her work with hundreds of educators and practitioners in schools, colleges, and cultural institutions.
Brave Community at UD
At UD, de Novais teaches within the SOE's elementary teacher education program and doctoral programs in education and educational leadership. In her courses, which often address issues of race, diversity, and equity in educational settings, de Novais practices the "brave community" approach.
April Singleton, a recent UD graduate with a degree in entrepreneurship, took de Novais's "Cultural Diversity, Schooling and the Teacher" class in spring 2020. With an interest in youth development, Singleton was especially interested in supporting young Black and Brown children.
Singleton recalled how de Novais established academic grounding by asking her class to name the emotions they typically associate with discussions of race and racism. Many students identified previous experiences with feeling uncomfortable, defensive, and scared to say the wrong thing. de Novais then asked the students to imagine a different, more supportive community and intentionally worked to create that space in her classroom.
"I think building that open community and setting the environment to have these conversations is very important, and Dr. de Novais does that very well. When she opened up the class, she set the culture and the tone that she wanted," said Singleton. "She contrasted those uncomfortable feelings with, 'Well, what do you want it to feel like, or what should it feel like?' We said 'it should be open, it should be free, it should be without judgment,' and I think she set that foundation for the rest of the semester."
Singleton, now the program director for the Delaware Youth Leadership Network, also noted that de Novais's class helped give her the tools to discuss issues of race outside of the classroom. For example, she recalled a conversation she had with a high school teacher about whether or not he allowed his Black students to wear durags in the classroom.
"I had a conversation with a teacher who said 'I don't let my students wear durags to school because it's unprofessional.' And, I said, 'potentially, but based on what standard of professionalism? Your students are saying that it's an expression of themselves. And if the durag is not hindering their learning experience, then wouldn't we want to create a culture where students feel like they can show up to learn as themselves?' " said Singleton.
Though Singleton wasn't able to change the teacher's mind about his policy, she viewed the conversation as a success. Singleton and the teacher were able to talk about the racial context of durags and their interpretation across different cultures, situations, and generations.
"I wouldn't have been able to participate in that conversation if I didn't take Dr. de Novais's class," said Singleton. "I felt myself getting very defensive and the conversation was affecting me emotionally. But because of what we practiced in that class, I could still keep myself grounded in the points I was making and understand the perspectives of others. I believe the conversation is the most important part, not necessarily the outcome, because it's the process of learning and unlearning that drives us forward."
Supporting Teachers in Delaware
In the wake of the Black Lives Matter protests of 2020, de Novais received an unprecedented number of requests for workshops. With the help of virtual conferencing, she worked with nearly 800 educators, most of whom taught in Delaware.
Dominique Brown, a fifth-grade teacher at Silver Lake Elementary, participated in one of de Novais's workshops in 2020. She was surprised to find that she could immediately apply what she learned.
"In the beginning of the school year, teachers participate in various professional developments (PD). However, not every PD session leaves you feeling like you can incorporate the work right away. That wasn't the case with the 'Brave Community' workshop," said Brown. "I've gone through diversity training before and it never seemed easy enough to put the work into action. With 'Brave Community', I was able to develop techniques on how to handle uncomfortable conversations from an educational standpoint as opposed to a reactive one. It made me feel that I had more of an opportunity to be heard and make an impact."
Krissy Patton, a fifth-grade teacher at Milton Elementary School, also participated in one of last year's Brave Community workshops. Like Brown, she shared that she felt well prepared to incorporate the approach in her classroom after the session.
"Children are increasingly aware of what's happening in their communities and they want to talk about it. In my upper elementary classroom, I am often confronted with the challenge of supporting students as they process what they've seen in the news or on social media," said Patton. "Dr. de Novais' framework has helped me develop a classroom culture in which my students and I can have meaningful conversations about sensitive issues while maintaining respect for everyone's voice."
de Novais continues to partner with schools and cultural institutions to create Brave Community-based, localized solutions to challenging issues of racial and cultural diversity and inequality.
"I led a workshop at an elementary school where teachers are struggling because some White parents are challenging content in social studies that addresses our difficult history and reality regarding racism. After my session, the teachers informed me that they felt it would be helpful to have the families sit through what they had sat through," said de Novais. "It was exciting to me to see these wonderful educators, who had been feeling pretty disheartened, reconnect with their sense of expertise and empowerment through the workshop."
With the support of a UD general research grant, de Novais will be conducting in-depth interviews with educators like Brown and Patton to learn how they have continued to use and adapt Brave Community in their context, as well as the additional support they may need.
de Novais's book about this work, titled "Brave Community: Learning that Cultivates a Post-Racist Imagination," is forthcoming from Teachers College Press in 2022.
Article by Jessica Henderson
Photo courtesy of Janine de Novais