Bilingual Special Education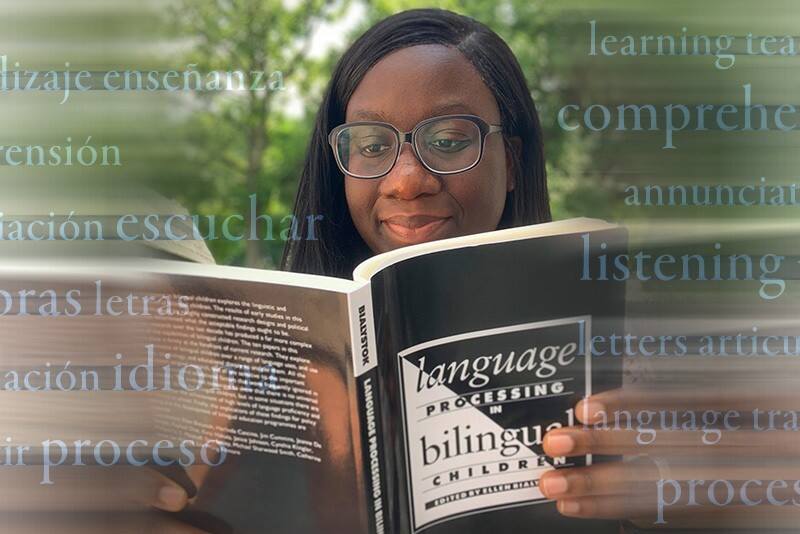 UD undergraduate works to improve instruction options for students with learning differences
Editor's note: This Q&A is one of a series of articles exploring the research University of Delaware students have been pursuing. Though COVID-19 continues to shape some plans, students still can participate in hundreds of remarkable projects, in-person and remotely. Follow our "Frontiers of Discovery" series as UDaily highlights some of these scholars.
Melissa Lewis is an elementary education major with concentrations in English as a second language and special education. Lewis also is pursuing a minor in Spanish. She is from Newark, Delaware, and she plans to continue this research throughout the 2021-2022 academic year. She expects to graduate from the University of Delaware in May 2022.
Q: What are you studying, where and with whom? 
Lewis: With the guidance of Adrian Pasquarella, associate professor of literacy education in the School of Education, my focus is bilingual special education. I am studying culturally and linguistically diverse (CLD) students who have learning differences and difficulties. CLD students include but are not limited to students who speak another language such as Spanish and students from various ethnicities, heritages and traditions. As part of my academic and professional goals, I aim to create curriculum that supports diverse language learners, impact educational policy that supports bilingual and biliteracy education, and work with undergraduate programs that support preservice teacher preparation in this area. Working remotely, I have reviewed literacy and mathematical instruction for bilingual learners as well as special education services for bilingual classrooms and realized that there is little overlap of these themes throughout the history of bilingual education in the United States.
Q: What draws you to research?
Lewis: Too often in education problems tend to follow a surface-level approach, with issues being dealt with as they arise as opposed to preparing for potential needs and instituting preventive measures. Specifically, bilingual special education is an issue that can and should be dealt with now.  Currently, the focus for language learning in elementary schools is geared toward expanding language immersion programs which do not provide equitable opportunities for students with learning differences. One-way immersion programs provide little support for native speakers of other languages. Encouraging a collaborative perspective on bilingualism in the U.S. has played more into the political realm as opposed to doing what's best for the students. For example, the No Child Left Behind Act did not provide any plan of action for language learners and bilingual students, effectively widening the achievement gap for linguistically diverse students.
Q: What motivated you to study this topic? 
Lewis:  I realized sophomore year of college that as our country becomes increasingly multicultural, we inevitably will have students who are linguistically diverse and have a learning difference and or disability. Supporting these learners is an issue of equity, and there aren't enough advocates in the field to push this important topic to the forefront. Underrepresented students who speak another language at home will represent almost 30% of all students enrolled in the U.S. by 2023. Administrators and teachers across elementary, middle and high schools are finding that schools are not equipped to support language learners. On the special education side, the United States has made great strides in stripping away the negative stigmas of special services. However, when questions arise about how to effectively teach students, students with special needs who speak English as a second language rarely come up.
Q: What have you found most surprising about this work so far?
Lewis: Bilingual special education was pioneered in the 1970s by Patricia Medeiros Landurand, considered the "Mother of Bilingual Special Education," who provided frameworks to support CLD students in the classroom. Some of those frameworks include improving the identification process for language learners with special needs and increasing the availability of professionals who can effectively teach these students.
Q: What are the possible real-world applications for your study?
Lewis: The growing presence of multicultural families and communities in urban areas calls for prepared teachers and educators who can meet the needs of these students. This means that curriculum must be reviewed to incorporate appropriate and culturally responsive materials. The state of Delaware, for example, has introduced a few immersion programs and, in some areas, dual language programs. With that, schools need qualified teachers and universities need quality bilingual special education programs to keep a "Delaware First" mindset for teachers to remain in Delaware.
Q: How would you explain your work to a fifth grader or someone's grandparent?
Lewis: My work is to promote and encourage equitable bilingualism and biliteracy programs that serve all kinds of students. The current work will be used to eventually redesign and improve teacher preparation programs that are geared towards serving culturally and linguistically diverse students. In my opinion, the first step would be to have all teacher preparation programs be dual certified with special education because every teacher, regardless of the type of classroom they serve (inclusion, pull out, or regular) can benefit from the knowledge that special education courses provide. From there I believe that we can work toward including and promoting the bilingual and biliteracy component of teacher preparation programs.
Q: How does this experience align with your broader professional goals?
Lewis: Eventually, I would like to be the Secretary of Education for the United States of America. The work that I do now is the foundation that I am laying to influence educational policy, and I expect to be a part of the movement that encourages the U.S. to take a more global approach as it relates to education. Many other countries, such as Germany and Spain, have multilingual populations where students learn other languages as early as the first grade. I would like to assist universities to create effective teacher preparation programs that can support the needs of current and future students of all cultures and capabilities. In the near term, I want to be a bilingual special education teacher for either second or third grade. Bilingualism and biliteracy for Spanish and English is the educational environment that I expect to begin in, but I recognize there is a need for bilingual teachers to support students who speak other languages, such as Filipino Tagalog and Haitian Creole.
Q: What do you do when you are not doing research?
Lewis: When I'm not doing research, I am most definitely singing — at church where I also play piano or at my job at the Stone Balloon where I serve a multitude of customers.
Q: What advice would you give to your fellow students who may be considering or are planning to pursue undergraduate research?
Lewis: Trust what you know about your field. The right people will guide you and encourage you, and you will find yourself. Don't let people who don't see your vision discourage you.
For Future Researchers
Blue Hens with big ideas will find ample opportunity to explore them with the help of the Undergraduate Research Program (URP).
A hallmark of any college experience, research is the process that leads to the creation of knowledge. It begins with a question and ends in a new understanding of the world around us.
Those who participate directly benefit from an enriched learning experience. They enjoy meaningful mentorship and develop critical leadership and communication skills. In addition, undergraduate researchers often earn higher GPAs and have greater success after graduation.
To explore more, attend the virtual Undergraduate Research Symposium on Thursday, Aug. 12 from 9 a.m. to 5 p.m. Then, get started on your own experience by scheduling a consultation with URP staff.
Questions? Contact undergradresearch@udel.edu.
Article by Karen B. Roberts
Photo courtesy of Melissa Lewis
Graphic illustration by Jeffrey C. Chase