From the Struggle to the Summit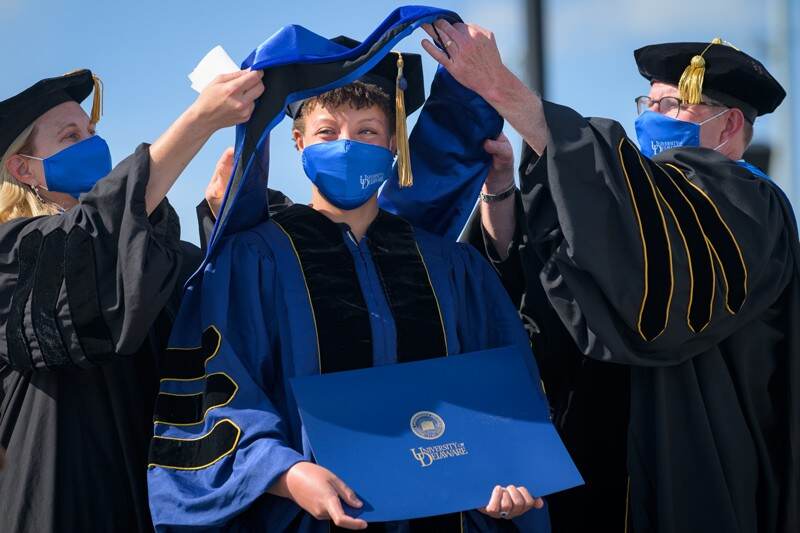 Families, friends, mentors celebrate UD doctoral graduates who prevailed during pandemic
Achieving a doctorate in any discipline requires the most rigorous scholarship and the  steepest of academic climbs. And that's in the best of times.
To reach that goal during a global pandemic, with the grief, loss and struggle we all understand in much more vivid ways now, is something akin to winning Olympic gold. These degrees demanded uncommon determination, resourcefulness and resilience.
Several hundred such scholars were honored Thursday afternoon as the University of Delaware held its 2021 Doctoral Hooding Convocation. The ceremony included those who would have been part of the 2020 program if it had not been canceled by the spread of the deadly COVID-19 virus. And unlike recent convocations, it was held at Delaware Stadium, which allowed for the physical distance that has been one of the hallmarks of the pandemic safety protocols. And this time, the candidates and their mentors all wore face coverings, respecting the University's safety protocols.
Almost 600 doctoral degrees were awarded by UD from the summer of 2019 through this spring, according to the University's Graduate College office. The 2020 class included 295, the 2021 class included 286. Fifty-three more are expected to graduate in August and will be included in the next academic year's total (2021-22).
Lou Rossi, dean of the Graduate College, said the graduates represented 30 nations, from Albania to Uganda. The youngest was 28 years old, the "most experienced" was 59, he said. They have addressed critical issues from how to address climate change, effective ways to help children learn, studying the genetic causes of blindness and developing better cybersecurity methods.
Some were military veterans, and some served on the frontlines of healthcare during the pandemic.
The event included recognition of the challenges of the past year, the rigors of these academic pursuits and the joy of finally being able to celebrate together with family, friends, colleagues and mentors.
"Reaching this moment has required an incredible level of perseverance and dedication to your academic and research commitments, and you did it while the world around you was changing moment by moment," said UD President Dennis Assanis. "It was your indomitable spirit and your drive to succeed that helped you overcome tremendous obstacles."
Provost Robin Morgan noted that completing a doctoral degree requires many of the tools required to endure a global pandemic — flexibility, seeking wisdom from those with expertise in other fields, the search for answers, the need for patience and persistence, grit, determination and the strength to move forward despite seemingly insurmountable problems.
"Given what we've endured as a University, a country, and a global community over the past 15 months, this celebration today has even greater meaning," Morgan said.
"You have faced and overcome obstacles no graduate has ever had to face," said Calvin Keeler, interim dean of the College of Agriculture and Natural Resources. "You did virtual Ph.D. defenses while worrying about the health and safety of your loved ones."
Obstacles appear many times along each person's life path, of course. And many seem truly insurmountable no matter what other contexts they include.
Consider John Wambui, who earned his doctorate at UD's Biden School of Public Policy and Administration.
In written comments, Wambui said he grew up among the 60,000 homeless "street rats" living in the Kibera Slum of Kenya. Who could have guessed that the slum he knew so well at one level would become the focus of his dissertation, which revealed powerful new insights into that community.
"I am no longer a 'street rat,' but Dr. Wambui!" he said.
He thrust his hands into the air in joyful triumph after receiving his doctoral hood from Prof. Minion K.C. Morrison.
"It's a wonderful occasion for him," Morrison said. "This really does happen to people. He did get it done."
"It was a long journey, but there was very good support here," Wambui said.
For some graduates, the climb included work in healthcare settings, where the pandemic taxed and changed just about every resource and system.
Leigh Ann DiFusco, a clinical nurse specialist in the Cardiac Care Unit of Children's Hospital of Philadelphia, worked full-time while earning her doctorate in nursing science. She was mentored by Jennifer Saylor, associate dean of the School of Nursing in UD's College of Health Sciences.
"The uncertainty of the pandemic certainly changed how we approached caring for patients and families," DiFusco said. "Being able to continue to practice in-house allowed me to keep a part of my pre-pandemic routine, which most people could not do. And in that way, it was a relief to be able to go in and work. The workload changed. It became more intense, more focused. We learned a lot about some of the systems in place to support clinical care, and it changed how we do things now. And, yes, it was really scary and stressful and emotional. But it's all part of the package. You know these things are possible and no amount of information or simulated exercise really can prepare you for the psychosocial aspect of practice during a pandemic. There are many providers out there that experienced far worse than me."
DiFusco's dissertation focused on the risky behaviors taken by some adolescents with congenital heart disease.
"My immediate plan is to 'get on the bus' (a term I borrowed from a new collaborator) and hone my practice as a nurse scientist alongside other scientists and providers who have similar interests," she said. "I can't tell you where I'm going to land right this second, but wherever it is will be one for the books."
Many graduates already are working in new positions — some as new faculty members in higher education, some as postdoctoral researchers, some in industry, museums, medical schools, finance, school administration, healthcare and other endeavors.
They have spent years reaching this level of scholarship, and many mentioned their gratitude for the support of family, friends, mentors and other scholars.
Mohammad Afsar, who is from Bangladesh, earned his doctorate in soil science under the mentorship of Yan Jin, professor of plant and soil sciences. He hopes to see his 6-year-old son, Rishad, graduate from kindergarten in a few weeks.
"In the beginning, I was scared," Afsar said. "It was my first time out of the country."
But he found a supportive environment at UD and will continue his work, which focuses on climate change and its impact on soil properties, as a postdoctoral researcher here.
"This is very important to Bangladesh and to most countries in the world," he said.
The challenges of the past year affected much research in significant ways. Labs were closed for a while and reopened during a phase-in process that allowed for physical distancing, careful health monitoring and restrictions on travel. Many plans were canceled, revised and upended.
Nancy Getchell, professor of kinesiology and applied physiology, said the two doctoral students she accompanied Thursday both would have graduated last year if not for the pandemic.
"They were in the thick of data collection and we just adjusted," Getchell said.
New experimental protocols had to be figured out to accommodate COVID restrictions, Getchell said, and students had to cope with many unexpected changes.
"I give them a lot of credit," she said. "You have to have a lot of foresight to see the end when you don't know what's going to happen."
Lindsay Naylor, associate professor of geography and spatial sciences, said she "celebrated in mourning" last year with a student who would have been part of the 2020 ceremony if there had been one.
Naylor, who had served on the student's doctoral committee, said she could not miss the celebration Thursday, remembering how much the doctoral hooding ceremony had meant in her own academic career.
Several family members traveled great distances to be present Thursday, including mothers who traveled from Colombia and Korea and a family who traveled from Russia.
Student comments were read by Mary Martin, associate dean of the Graduate College, and reflected many students' humor, love of caffeine and passion for the work they were doing. A sampling:
Mali Collins, who earned her doctorate in English and will join the faculty of Howard University in the fall, dedicated her thesis on Black feminist archiving and creative revivals of Black mothernhood  "to oppressed people everywhere."
Aviva Heyn, assistant director of digital learning in UD's Division of Professional and Continuing Studies, earned her doctorate in educational leadership. She studied ways to improve online learning. "This topic proved to be very timely in 2020 and 2021," she said.
Kimberly Wagner, who earned her doctorate in educational leadership, recalled that defense of her ELP (Education Leadership Portfolio) on a Zoom session was interrupted when a vicious storm arose and ripped the siding off her house.
Rui Wang, who earned his doctorate in educational statistics and research methods, said he has learned much from his children, including "Always ask why until you understand everything."
Article by Beth Miller.
Photos by Kathy F. Atkinson, Evan Krape and Ashley Barnas