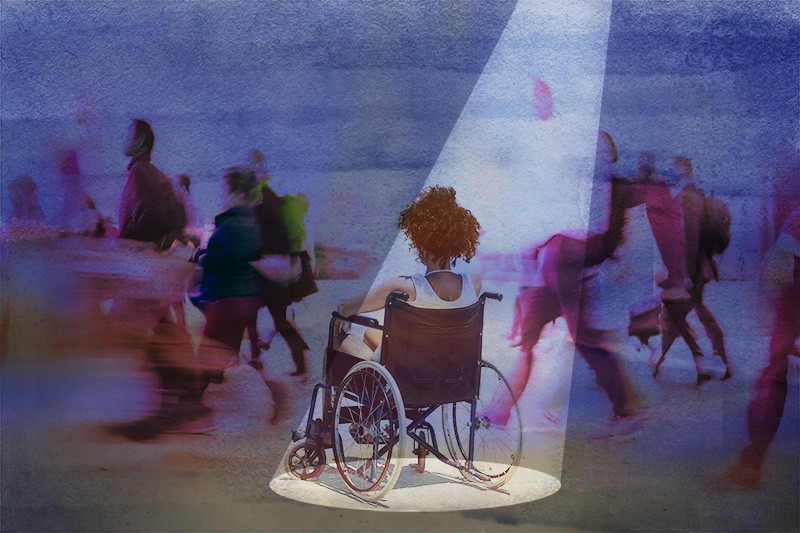 UD professor explains how systemic shortcomings enable sexual assault against disabled individuals
Those living with intellectual and developmental disabilities are seven times more likely to be sexually abused in their lifetimes than people without disabilities, according to U.S. Department of Justice data on sex crimes, and they are more likely to be assaulted by someone they know and trust. Even worse, "safe spaces" meant to protect the vulnerable often become sites of repeated abuse. Despite the prevalence of this problem, there's precious little information available to researchers for developing guidelines for reform.
"Rates of perpetration are not as accurate or as detailed or as current as we would like," says Sarah Curtiss, assistant professor specializing in special education in the College of Education and Human Development at the University of Delaware. Most of the data is curated by state governments and has not been published or peer reviewed. "So a state might release their data on victimization but other states might not, making it very difficult to piece together the picture."
To help researchers, policy makers and healthcare workers who are trying to make decisions based off incomplete data, Curtiss developed a theoretical framework for assessing the risk factors that make sexual abuse more likely, and the results are published in the recent issue of the Journal of Policy and Practice in Intellectual Disabilities.
In an interview with UDaily, Curtiss discusses the implications of her research, as well as potential steps for governments to assess the shortcomings of their healthcare systems that put individuals with developmental and intellectual disabilities at risk for abuse.
Q: What is the focus of your research?
Curtiss: Primarily my research focuses on sex education for individuals with autism and intellectual disabilities. For example, one of the reasons why parents are willing to let their kids learn about sex education is because of their fears about abuse. Sex-ed creates a safe space for victims to disclose abuse, and so sex educators must be aware of these issues.
Q: Are individuals with intellectual or developmental disabilities at higher risk of sexual abuse?
Curtiss: When we think about sexual abuse and disability, often we kind of become myopic and focus on how an individual's impairments expose them to greater risks. So if I'm a person who doesn't use spoken language as my primary form of communication, that makes me inherently vulnerable — to not being able to disclose or resist sexual perpetrators. But that way of thinking isn't really sufficient to understand the root causes of abuse and then also having a plan for addressing abuse.
Q: Why is sexual assault more common among individuals with disabilities?
Curtiss: This is a systemic problem. There are numerous administrative policies that are supposed to help protect individuals with disabilities, but those policies often vary from state to state. For example, most states have a policy that prevents sexual perpetrators from being direct service providers for people with disabilities — so someone can't sexually abuse at one group home, get fired from that job, and then go work at another group home. Two states have undergone evaluations and found that their surveillance systems aren't working. Perpetrators are bouncing around from one group home to another and are not reporting their whereabouts, and watch dogs aren't looking where they're supposed to be looking. This allows perpetrators to learn from their mistakes and continue the cycle of abuse.
Q: What about law enforcement? After all, individuals with disabilities have special legal protections.
Curtiss: Unfortunately, there are a number of obstacles that discourage victims and their families from reaching out for help. The preponderance of evidence needed for a criminal investigation on a sexual abuse allegation is very high, and there is a lot of stigma among criminal investigators, police officers and district attorneys based on the belief that individuals with disabilities don't make very good witnesses. So there are organizations like The Arc that are really trying to advocate amongst in the area of criminal justice to help make sure that individuals with disabilities are properly represented and protected by the police.
Q: What can be done that will help?
Curtiss: There's so much we can do. We need more sex education for people with intellectual and developmental disabilities. There's also the regulatory system and reforms that can be made to improve surveillance of sexual predators. More broadly we also need to focus more on the professionalization of the direct care workforce. Currently, in the United States, we have a major shortage of direct care workers. They're not paid well. The job is emotionally and physically taxing and requires a high level of knowledge about the policies, procedures and routines. But it's also essentially considered unskilled labor, so you don't need any kind of specialized credentials to work in many group homes or adult-care facilities. So this lack of professionalization in the direct care workforce, coupled with the high rates of turnover, add a whole different level of risk.
Article by Jordan Howell
Illustration by Jeffrey C. Chase