Online Learning Sciences Symposium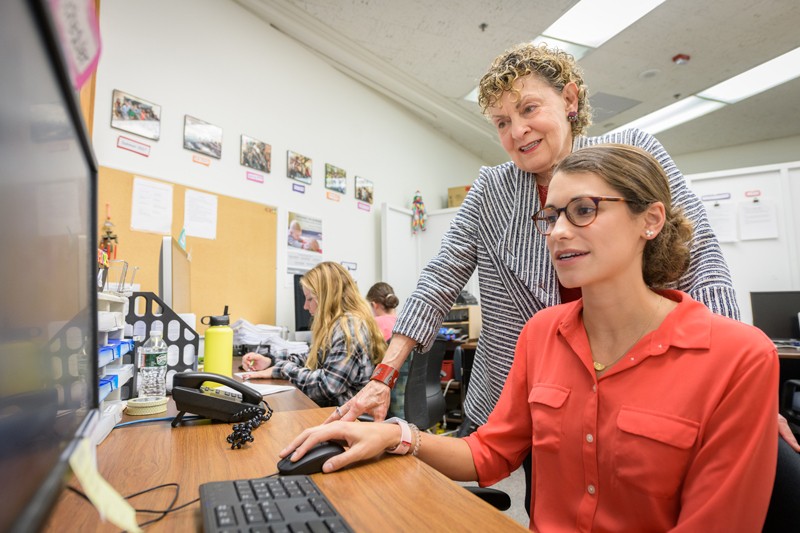 School of Education doctoral students present interdisciplinary research
What cognitive, developmental, and social processes underlie learning? How can we use this science to improve educational practices in our schools and communities? On May 29, the University of Delaware School of Education (SOE) Learning Sciences subgroup of faculty and graduate students investigated these questions through an online symposium.
Organized by SOE faculty Roberta Michnick Golinkoff, Unidel H. Rodney Sharp Chair and professor, and Teomara (Teya) Rutherford, assistant professor, the symposium welcomed thirty-one faculty, students, and guests to an engaging and interactive afternoon of keynote remarks and research presentations.
Using Zoom, an online meeting platform, Golinkoff and Rutherford facilitated a common meeting space, where all attendants could meet for a presentation, and individual breakout rooms, where students could present their research projects to smaller groups.
Nora Newcombe, Laura H. Carnell Professor of Psychology at Temple University, gave the symposium's keynote presentation, "Putting the Pieces Together: Mind, Brain, and Education." With expertise in cognition, development, spatial thinking, memory, and STEM education, Newcombe served as the principal investigator at the Spatial Intelligence and Learning Center (SILC), headquartered at Temple University in partnership with Northwestern University, the University of Chicago, and the University of Pennsylvania.
Ten Ph.D. in Education students specializing in the Learning Sciences then presented their first-authored research posters after enticing the audience with brief "elevator speeches" on their interdisciplinary projects. Student research topics included bilingual reading development, pre-K children's understanding of number partners, and the effect of parents' cell phone use on their children's information-seeking behaviors.
Learn more about this symposium through the online program.
About the Learning Sciences at the University of Delaware
 The Learning Sciences is an interdisciplinary specialization area within the SOE's Ph.D. in Education program that focuses on the systematic study of learning, teaching, human development, and educational technology. The specialization also emphasizes the application of research to design educational innovations and interventions.
The specialization draws from faculty expertise in developmental psychology, educational psychology, cognitive science, educational technology, science education, and special education to examine pressing educational and developmental challenges in our twenty-first century landscape.
Post by Jessica Henderson
Photo by Evan Krape