Lessons Learned in School and Life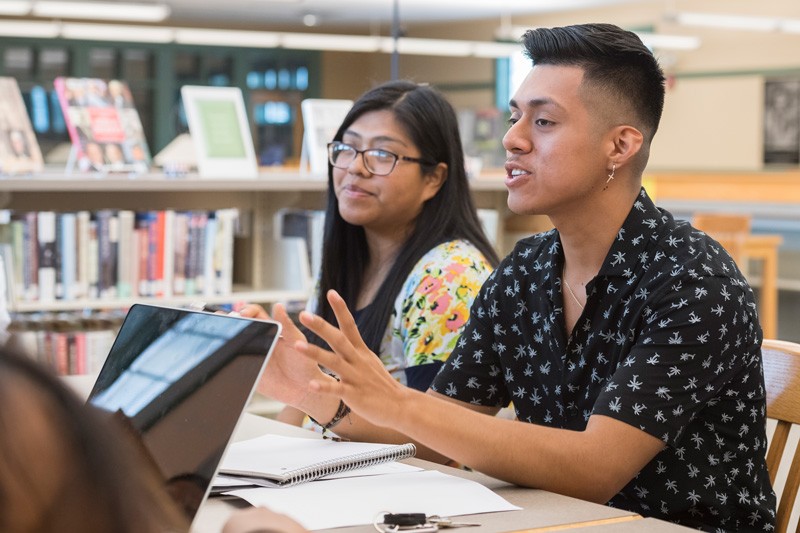 UD students spend summer gathering stories from Latinx families in Sussex County
There is power in storytelling. It gives a voice to the individual storyteller and to communities whose stories may have previously gone unnoticed or unheard.
During the summer of 2019, three University of Delaware undergraduate students are inviting members of their own community tell their stories as a way of acknowledging their shared histories and honoring their separate experiences.
Lindsey Perez-Perez, Iris Perez-Mazariegos, and Johnny Perez-Gonzalez are spending their summer at home in Sussex County, Delaware talking to immigrant parents and their U.S. educated children. They are gathering stories about growing up and going to school in very different geographical contexts to compare and contrast educational systems and formative experiences from multiple perspectives.
The project, Lessons Learned in School and Life, is a collaboration between the UD student team and the Hispanic Student Parent Mentor Association in Sussex County. It is being supervised by April Veness, associate professor in geography in the College of Earth, Ocean and Environment. A recent recipient of UD's Faculty Excellence in Scholarly Community Engagement Award, her work downstate was supported by the Community Engagement Initiative.
Community Engagement 101 
The storytelling project is the outgrowth of three previous community engagement efforts Veness helped orchestrate with the Latinx community in Sussex County since the fall of 2017.
It started with the launching of the Hispanic Student Parent Mentor Association (HSPMA) in 2017-2018.
From there, several of Veness' UD mentees, including Perez-Perez, received Blue Hen Community Engagement Fellowships to conduct research and outreach for their Pathways to Higher Education project. In partnership with La Esperanza community center, congregants from several Latinx churches and the HSPMA, Veness and her students approached members of the Latinx community in Sussex County to find out what they knew about going to college.
"It quickly became apparent from our focus group sessions that sharing useful information about pathways into college was not enough," Veness said. "We needed to try to create a bigger conversation around college going at the family and community level."
The "Yes, We're Going to College" initiative was launched last fall to have that bigger conversation. Spearheaded by Veness as a class project, Sussex Central and Sussex Academy high school college-readiness clubs, DTCC human services interns, TeenSHARP, La Colectiva and members of the HSPMA collaborated in this initiative.
Telling Stories
This summer, students want to shine a light on the lessons members of these immigrant families have learned inside and outside a formal classroom.
Perez-Mazariegos, a rising junior majoring in Environmental Studies in CEOE and a Blue Hen Community Engagement Fellow, said, "This way, we can provide encouragement and a few ideas to immigrant families who may or may not understand what's involved in going to college, or may simply believe that college is not something they can do."
Perez-Gonzalez, a rising sophomore hoping to major in communications and also a Blue Hen Community Engagement Fellow, said it is important to get these stories into the public consciousness.
"Most of the immigrant parents we are talking to have never been asked to share their story. No one has asked them questions about where they grew up and went to school, or how their educational system worked," said Perez-Gonzalez. "We wanted to tell their stories so they would know that other people care about their experiences and value their life lessons."
Different Educational Systems and Experiences
Perez-Perez, a rising junior majoring in elementary teacher education and McNair Scholar, said the children of Latinx immigrant parents in Sussex County typically have 12 years of experience going to school in the American school system. Their parents, who are predominantly from parts of rural Mexico and Guatemala, often have limited classroom education.
One parent storyteller, who began school when he was 10 years old and left after third grade, said, "I felt ashamed for being bigger than my classmates who were younger than me. I also felt less accomplished, so I dropped out and went to work."
Another parent in the project had only two years of school, and they were interrupted when her father pulled her from school during the planting season to accompany him to cultivate land some distance from their home.
Another parent attended only primary school because the middle school was a two-hour walk away. Initially she did not know how to speak Spanish, for her family was indigenous Maya and spoke Mam.
"Having a limited formal education doesn't mean these parents are not educated," said Perez-Perez. "It just means that a lot of their education was acquired outside of a classroom. It is practical knowledge — knowledge they need to know in their everyday lives."
The student storytellers told a different type of story, one in which the U.S. educational system sometimes collided with family knowledge and student expectations to create mistakes and missed opportunities.
One student spoke about her young cousin who stopped going to elementary school because she was being bullied and didn't like her teacher. A month later, a truant officer showed up at the house to ask the parents what was going on.
The parents, who do not speak English, didn't fully understand that the child had to be in school and may or may not have received or understood messages left for them by the school. They also did not know they could go to the school to talk about problems their child was having, according to the student storyteller who spoke with Perez-Perez and Veness.
Another student, excited about starting college this fall, regretted she had not taken higher level AP or Honors classes in high school in part because counselors did not mention or encourage her to do so and in part because she did not ask.
Bien Educado
Another topic explored in the project is defining what well educated means.
"A lot of parents think being well educated, or bien educado, is more about being educated through lessons learned in life and how that helps build character," said Perez-Perez. For example, one parent in the project said that a person who is bien educado "has to greet and show regard to people, no matter who they are."
Reinforcing that definition, another parent said "a well-educated person has good manners and does not discriminate against others."
Students interviewed in the project had definitions of well-educated that mirrored their family's values and upheld metrics prevalent in the U.S., said Veness.
One student said a well-educated person is "well-mannered and speaks properly."
Another student suggested that a person can be well educated by "knowing how to do practical things, or by being a successful student and having a high GPA or class rank."
Perez-Perez said that, "In the end, what we really want to do in this project is to recognize and respect important life lessons, whether they happen in a classroom or not."
Article by Adam Thomas
Photos by Kathy F. Atkinson.