Celebrating Excellent Teaching, Advising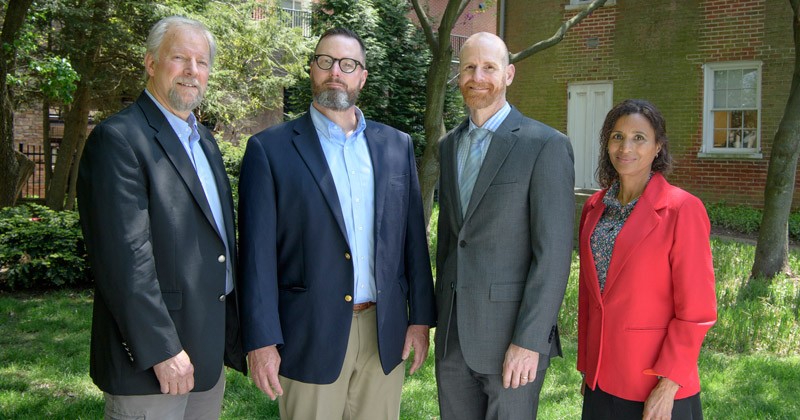 Faculty, graduate students recognized for excellence in teaching, advising
Four members of the University of Delaware faculty have been recognized for outstanding work in teaching and two for excellence in advisement and mentoring. In addition, four doctoral students also have been honored for excellence in teaching.
The honors were announced at the May 13 Faculty Senate meeting. Selected by the Senate's Committee on Student and Faculty Honors, the teaching and advising awards are based primarily on nominations from current and past students
This year's Excellence in Teaching Awards were presented to:
William Lewis, associate professor in the School of Education;
Rob Palkovitz, professor of human development and family sciences;
Flora Poindexter, senior instructor in languages, literatures and cultures; and
Jack Puleo, professor of civil and environmental engineering.
Excellence in Teaching awardees each receive $5,000, have their portraits hung in Morris Library for five years and have bricks inscribed with their names installed in Mentors' Circle between Hullihen Hall and the Morris Library.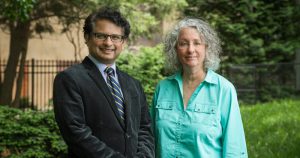 Receiving this year's Excellence in Undergraduate Advising and Mentoring Award were
Susan Groh, associate professor of chemistry and biochemistry; and
Salil Lachke, associate professor of biological sciences.
They each will receive $5,000 and also will have bricks inscribed with their names added to Mentors' Circle.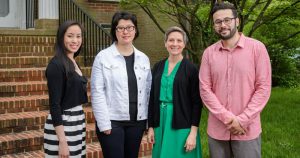 Four Ph.D. students were named recipients of the Excellence in Graduate Student Teaching Award, and each received $1,500.
Honored this year were
Laura Cutler, a doctoral student in human development and family studies;
Peyton Delgorio, a doctoral student in biomedical engineering;
Navid Mohammad Mirzaei, a doctoral student in mathematics; and
Xinxin Qu, a doctoral student in computer science.
This year's honorees were invited to share their thoughts about teaching and advising with UDaily. Excerpts from their responses are printed below.
Excellence in Teaching
William Lewis: As many of my colleagues in the School of Education know, I spent the first 20 years of my career in education teaching high school English language arts in Pennsylvania public schools. The long-term relationship with the schools and students that I served provided me with a reservoir of instructional experiences that I have been able to draw on in my 11 years teaching pre-service and inservice teachers at the University of Delaware. However, one of the key lessons that I learned as a public school teacher–and continue to reinforce to my own teacher-candidates here at the University– is that teaching, at heart, is relational and not just procedural. Although creating challenging, exciting and organized courses and programs of study is crucial, just as important are the interpersonal relationships we build with students and an environment—both inside and outside the classroom—that supports student development. Haim Ginott spoke about the "frightening" power that teachers have to daily "make the weather" for our students, and how profoundly our attitudes and daily interactions impact those we are responsible for teaching. I have been very lucky to have colleagues and mentors in the School of Education who take that responsibility seriously, who have shown me what it means to be a reflective practitioner and who have freely shared their talents and instructional and curricular ideas. I am thankful to my colleagues in the College of Education and Human Development and the University community who support teaching and are serious about instructional improvement. I am also grateful to both my undergraduate and graduate students who continue to challenge and inspire me.
Rob Palkovitz: I am thankful for the opportunity to teach dedicated students who have decided to pursue professional degrees to best prepare them to help others. In the first and last classes of each semester, I sincerely thank them for their commitment to doing good on the behalf of others. I have been fortunate to be able to teach across all levels of the Human Development and Family Sciences curriculum for more than 35 years at UD, from introductory courses with over 200 students to Ph.D. seminars. In doing so, I been able to see students' personal and professional development as they go through their degree programs. Teaching about life and relationships and how to facilitate your own and others' development provides many opportunities to shape students' lives. I have had the opportunity to teach over 13,000 students as they engage in their goal of helping others, facilitating their personal and professional development. Today, most of them are "out in the field" as human service providers, teachers, administrators, social entrepreneurs or health care professionals. Daily, they are influencing the well-being of their clients, students or patients and their families. That's the "impact factor score" that I am most satisfied with as a faculty member!
Flora Poindexter: Teaching is a true passion for me. I enjoy watching my students discover the French language and francophone culture. I try to make my classes as enriching as possible and I am constantly looking for new ways of teaching to different interests and learning styles. As an educator, my own learning is a crucial part of my practice. Every semester, my goal is to keep improving my classes, by incorporating new ideas and activities gained while attending conferences and workshops like the Summer Institute. Another important part of my teaching is going beyond the classroom through study abroad programs. After participating in the Geneva program, I created the Winter Session in Martinique to expose students to a lesser-known region of France. Over the last 25 years, students have been immersed in the rich culture of the island—living with local families and doing small internships. Whether abroad or on campus, it is extremely rewarding to see students go beyond their comfort zones and achieve a level of proficiency they did not expect. I consider myself very fortunate to be part of such a supportive community of colleagues and dynamic students.
Jack Puleo: I am ecstatic to be receiving one of the Excellence in Teaching Awards for 2019. Every year I am amazed at the level of interest and intelligence that students in our program possess. I am fortunate to be able to teach material of personal interest. I strive to create engaging lectures with real-world applications for what is often a difficult topic for civil and environmental engineers. To be rewarded by those students who nominated me, for what I consider my primary responsibility as a professor, is quite humbling.
Excellence in Academic Undergraduate Advising and Mentoring
Susan Groh: I'm grateful for the honor and glad to have been of service. I enjoy interacting with students and just try to help them move forward in their journeys.
Salil Lachke: The key aspects of advising/mentoring that I have found to often work effectively for students is the sharing of experiences/decisions of previous students with similar goals/strengths. Students find inspiration in paths that have led to past successes. I believe in the free sharing of anecdotes, inspiring positive stories and information, in general. Above all, I try to instill in students the notion that any success attains its high value only when it is achieved through the practice of the highest work ethic, and compassion toward others — a notion that I trust (and hope) will help them in life, beyond their college experience.
Excellence in Graduate Student Teaching
Laura Cutler: -I teach a course about developmental disabilities from the family perspective. To help the students really understand what families' experiences are, I bring in guest speakers from the community who talk to the class about having a family member with a disability. Time and time again, the students share with me that hearing from families firsthand has proved to be an invaluable opportunity for them. [Editor's note: Cutler does not serve as the teaching assistant for the course in developmental disabilities; she is the sole instructor for this course that consistently enrolls its maximum of 50 undergraduate students.]
Peyton Delgorio: As a former student in the "Medical Imaging Systems" class, transitioning to a teaching role has been a highlight of my graduate career thus far. This opportunity allowed me to expand my role as an academic mentor by helping students build confidence in understanding complex subject topics. We are told as engineers to create the solutions to the problems we are given. I believe that there are two important factors required in developing valuable solutions: (1) identifying what you know and what you still need to learn and (2) utilizing prior knowledge to effectively research information required for developing the best solution. My goal was to help students understand their potential by building their critical thinking skills. I spent extra time with them working through assignments and explaining more difficult concepts. When describing an approach to a problem, I would give them a starting point and encourage them to use what they had learned in lecture to research a solution. Through this approach, they were able to use what apply their understanding of the course material to develop final solutions to assignment and test problems. Contributing to the education of aspiring engineers was both rewarding and satisfying. I hope the critical thinking skills gained from tackling challenging problems in the classroom aided the students' development as future engineers.
Navid Mohammad Mirzaei: I love and enjoy teaching mathematics. I believe all of my students should feel comfortable enough to express themselves. Through this I can figure out the students' weaknesses as well as my own flaws at conveying the concepts.
Xinxin Qu: I am so honored to receive this award. I want to thank my department for giving me the opportunity to teach. Computer science is such an amazing field, there is so much to learn and to explore. I am incredibly lucky to have worked with so many wonderful people from our department and serve so many talented students. I absolutely love what I learn, and I try to pass it along to my students in teaching. I am incredibly lucky to have taken courses from professors who are willing to accommodate and support a student in need, so I learned and pass it along to my students. Sometimes a student is missing a part of knowledge base and I am willing to help him/her rebuild the base. I am incredibly lucky to have taken courses from professors who have keen eyes and can find what's missing to help a student. Sometimes a student is just missing a critical piece in the knowledge jigsaw puzzle, and I am willing to be the one who find the piece and make the jigsaw puzzle whole. I am also incredibly lucky to have taken courses from professors who taught me computational thinking, critical thinking, independent learning and collaboration when needed, which I also learned and try to pass it along to my students. These wonderful professors set the examples for me and they are the true heroes. It is such a pleasure to have students that are curious and wanting to learn and actually learn what you are trying to teach. If they are not yet curious, convert them to be curious by mixing in your own flavor.
Article by UDaily staff
Photos by Kathy F. Atkinson and Evan Krape