Diversity and Disability in Hawaii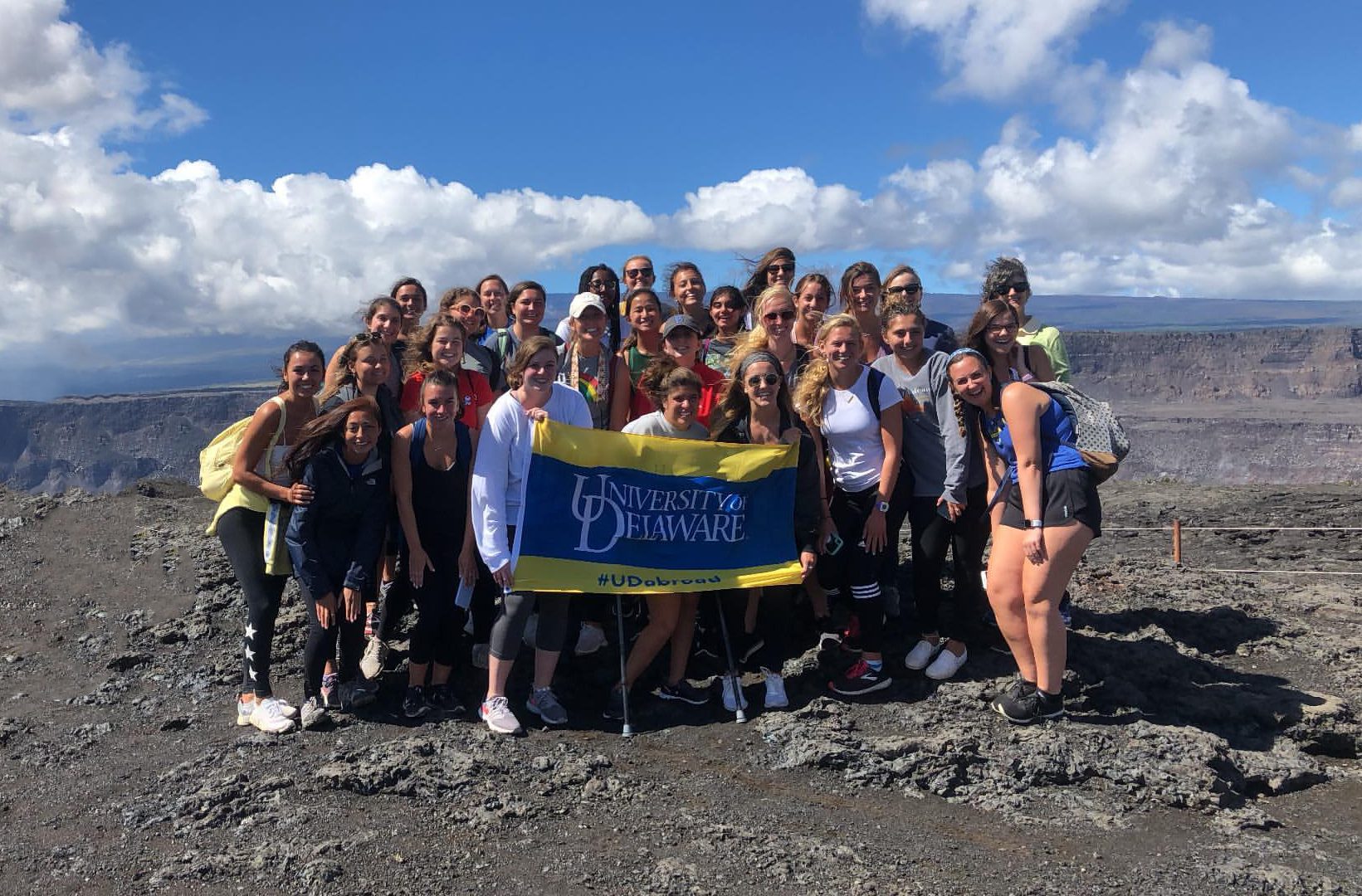 Water, volcanoes and UD's inaugural study abroad to Hawaii
Water and volcanoes are central to Hawaiian culture and society. The islands boast nearly as much coastline as California with beautiful beaches, picturesque mountains and some of the best surfing in the world.
But for 28 undergraduate students attending the College of Education and Human Development's (CEHD) winter session study abroad in Hawaii, water and volcanoes were also a means for learning about accessibility and inclusion for individuals living with cognitive and physical disabilities.
The program was led by Rena Hallam, associate professor in the Department of Human Development and Family Sciences, and Laura Eisenman, professor in the School of Education, in collaboration with the University of Delaware's Center for Disabilities Studies (CDS).
Because the Disabilities Studies minor at UD enrolls 500 students pursuing 36 majors in six of the university's seven colleges, Hallam and Eisenman wanted to ensure that the educational experience transcended academic disciplines and included a blend of classroom instruction and excursions. They studied the accessibility of beaches and national parks, and observed outreach targeting individuals with disabilities at schools, community agencies and a parent advocacy organization. Students attended a luau at the Polynesian Cultural Center and saw the world's largest collection of Polynesian cultural artifacts at the Bishop Museum. Students interested in healthcare even had the opportunity to shadow a developmental pediatrician.
"Disability studies isn't just for students who want to become teachers," said Eisenman, who also serves coordinator for the Disability Studies minor, which ranks among the most popular minors at UD. "It's relevant for all majors. Understanding the importance of accessibility, and the experiences of people with disabilities, is fundamental to the creation of an equitable and inclusive society."
Volcanoes
Volcanoes don't usually figure into academic conversations about accessibility and inclusion. Folks living on the mainland are taught from a young age that volcanoes are to be avoided.
That's not the case in Hawaii, which owes its existence to a volcanic hotspot on the floor of the Pacific Ocean that has been steadily spewing magma and creating new islands for tens of millions of years.
To examine the intersections between disability studies and the role of volcanoes in the natural history and culture of Hawaii, Hallam and Eisenman organized a field trip to Volcanoes National Park, which only recently reopened several months after an eruption at Kilauea released toxic ash clouds and blanketed roughly 14 square miles in lava flows. The focus of the excursion was on emergency preparedness and issues of access for individuals with disabilities.
The excursion also provided students valuable insight into the challenges people with disabilities face. For Julia LiPuma, a human services major pursuing a minor in disability studies, ascending the side of a volcano was more than just a classroom exercise. LiPuma was born with cerebral palsy and gets around using a motorized scooter and canes.
"The views were amazing. It was the best part of the trip," she said, even though some sections of the path were not ADA accessible. Where paved pathways terminated in flights of stairs, LiPuma would use her canes while a couple of classmates carried her scooter up the steps.
"It was very eye-opening for the students to think about how everyone in class was going to get there," said Hallam.
"While in Hawaii, I learned a lot about disabilities and how to adapt different situations to fit each individual's needs," said Brynn Michalcewiz, an elementary teacher education major in UD's School of Education who became good friends with LiPuma during the trip. "It's not about what somebody cannot do. It's about what they can do."
Water
In Hawaiian culture, beaches and surfing are a way of life. So when Ann Yoshida delivered a guest lecture about competing in water sports after a car crash left her paralyzed from the chest down, she emphasized that getting back in the water was never really a choice. It was something she simply had to do.
Yoshida went on to become the first woman of Native Hawaiian descent to compete in paracanoe at the Rio Paralympic Games. Go outside your comfort zone, she told the class. Follow your dreams.
LiPuma took those words to heart when she arrived at the beach for her first surfing lesson.
"It was one of the best experiences I've ever had in my life," said LiPuma. "I'd never done anything like this without my parents, but I learned that it's okay to go outside of my comfort zone."
The surf lessons were organized by AccessSurf, a nonprofit that aims to make water activities accessible for people with disabilities. Guided by instructors who were themselves disabled, students learned how to surf without the use of their legs. With their chests on the board, they paddled out into the sea and rode the waves back to shore.
Article by Jordan Howell