Blue Hens Garner Postseason Accolades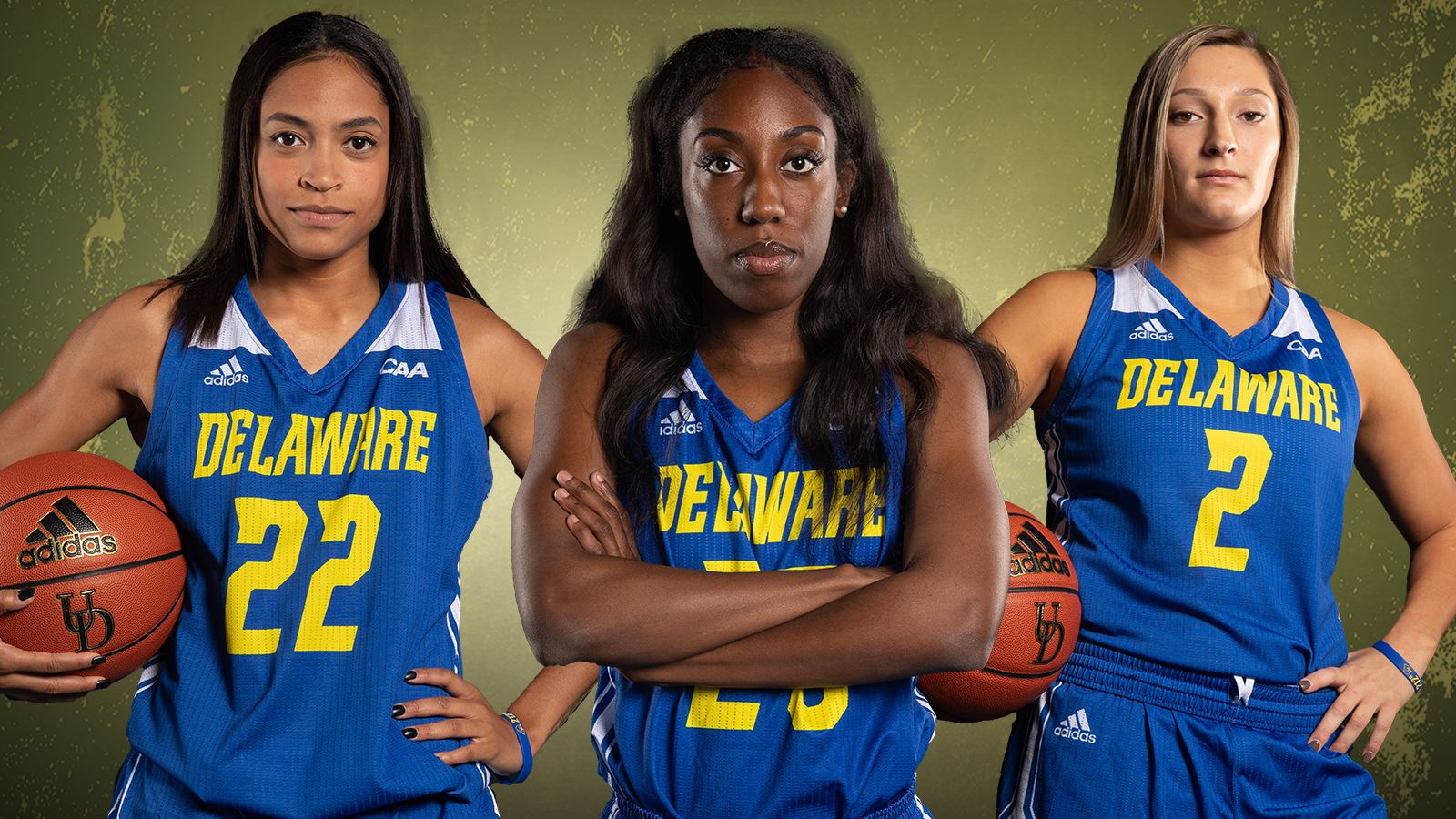 Gonzales Named Dean Ehlers Award Winner
RICHMOND, Va. – Three Blue Hens were recognized by the Colonial Athletic Association for their outstanding performances throughout the regular season.
Junior Samone DeFreese garnered CAA All-Second Team honors while freshman Jasmine Dickey was selected to the CAA All-Rookie Team. Additionally, junior Abby Gonzales earned the league's prestigious Dean Ehlers Leadership and Sport Excellence Award.
DeFreese enters the postseason averaging a team-best 10.8 points per game while shooting .406 from the field and collecting 183 rebounds (64 off., 119 def.). The forward also leads the team in field goals made (113) and free throws made (73). She was tabbed as a Preseason All-CAA honoree and tabbed the CAA Player of the Week on February 18.
Dickey enjoyed a stellar rookie campaign despite missing eight games due to injury. In addition to guiding the Blue Hens, Dickey led all CAA rookies with 8.3 rebounds per game with a total of 118 rebounds. The guard/forward also posted the second-most points for CAA rookies at a clip of 7.9 per.
Dickey was tabbed as the CAA Rookie of the Week an astounding five times, including a streak of three straight. Her five Rookie of the Week nominations are the most by a Blue Hen since Elena Delle Donne's 10 nominations in 2009-10. Dickey is the eighth CAA player since 2002-03 to have at least five Rookie of the Week nominations.
Gonzales is just the second-ever Delaware player to gain recognition from the league for her outstanding leadership on the court and in the classroom through the Dean Ehlers Leadership and Sport Excellence Award.
The annual award is given to a men's and women's basketball student-athlete who "embodies the highest standards of leadership, integrity and sportsmanship in conjunction with his/her academic athletic achievement." Stephanie Leon previously earned the honor following the 2014 season.
Gonzales, who leads the Hens in minutes played (32.3), 3-pointers made (58), free throw percentage (.789), assists (94) and steals (50), has been able to balance her academics and athletics to maintain a 3.56 GPA as an elementary education major. The guard is currently a fourth-grade student-teacher at McVey Elementary and spent the fall semester as a second-grade student-teacher at Newark Charter School.
The University of Delaware will play host to the women's basketball conference tournament this year at the Bob Carpenter Center. Opening round games kick off on Wednesday, March 13. Following their regular season performance, the fifth-seeded Blue Hens (16-14, 11-7 CAA) will face off against the fourth-seed Towson Tigers in the quarterfinals on Thursday, March 14. The two teams split their two regular season matchups. Tip-off is set for 2:30 p.m. Tickets are still available at BlueHens.com.
Article by Zach Bacall, Athletics Communications Student Assistant
Read this article on Blue Hens News.