Inspirational teaching in high school chemistry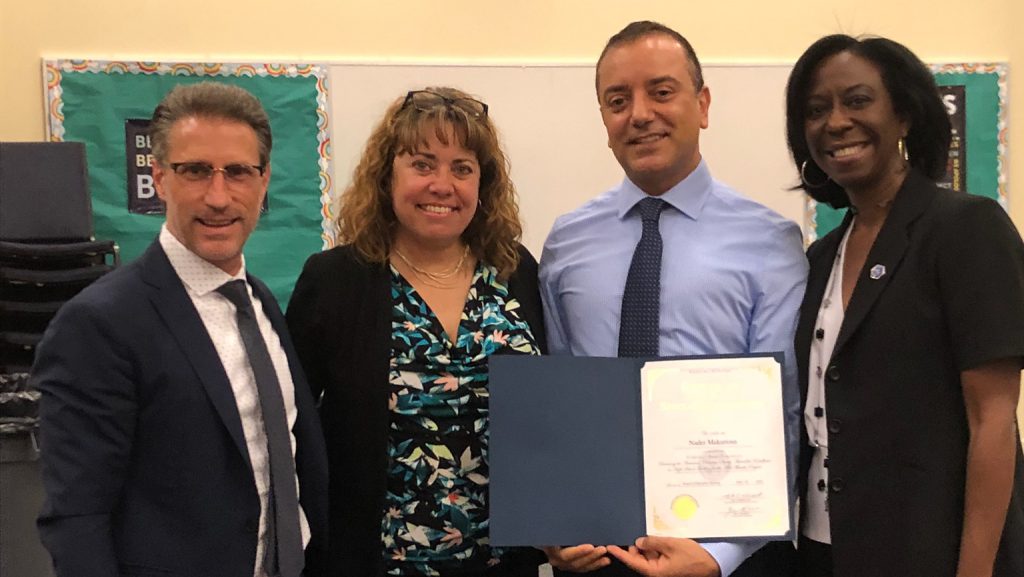 Alumnus Nader Makarious honored with regional chemistry teaching award
When we think of high school chemistry, we don't often think about writing poems, building websites, or designing T-shirts. Yet, Nader Makarious, a University of Delaware alumnus and chemistry teacher at Brandywine High School in Wilmington, Delaware, brings all of those elements together in his science classroom.
"My first exposure to chemistry and environmental engineering came from Dr. Makarious's course at Brandywine High School," said Mark White, a former student of Makarious and 2017 graduate of UD's environmental engineering program. "He challenged us to push our creative bounds by asking us to research EPA standards and criteria pollutants. This opened our eyes to the harmful effects of pollution. But that was not all. He inspired us to help raise awareness about this issue through creative outlets such as haiku poems, websites, bumper stickers, and T-shirt designing."
In recognition of his teaching methods, Makarious was presented the 2018 American Chemistry Society Division of Chemical Education Middle Atlantic Region Award for Excellence in High School Teaching.
This award recognizes outstanding teachers of high school chemistry in the mid-Atlantic region. Recipients demonstrate high quality teaching, an ability to challenge and inspire students, extracurricular work that stimulates the interest of young people in chemistry, a willingness to keep current in the field, and leadership within the profession.
Makarious, who received his doctorate in educational leadership from UD last year, teaches eleventh-grade applied and honors chemistry. His teaching is characterized by student-centric pedagogical approaches, aligned with the Next Generation Science Standards, which promote student to student interaction and classroom discussion.
"A science teacher's job is no longer to deliver content as much as it is to help students develop skills: use argumentation in science, use scientific-based evidence, encourage collaboration with others, and empower logical thinking," said Makarious. "I believe that students have truly learned a concept when they become capable of teaching one another. During classroom discussions, I invest time reflecting on students' answers and their way of thinking to identify how they developed certain misconceptions."
Makarious also uses model-based teaching in the classroom, which was the subject of his doctoral research with Zoubeida Dagher, professor in the UD School of Education. His executive position paper presented a curriculum that helps teachers expand the use of models in the classroom. Students then develop model-based reasoning to predict and explain the behavior of molecules.
His colleagues and former students describe Makarious as an inspirational teacher, one who encourages broad engagement in science and challenges his students in the classroom.
At Brandywine High School, Makarious is an active member of the district science curriculum committee, advanced placement alignment committee, and teacher-of-the-year committee. His passion for extracurricular science activities has led him to coach Odyssey of the Mind and Science Olympiad and to collaborate with other science, math, and technology teachers in his school's STEM team.
Makarious officially received this award at the ACS Middle Atlantic Regional Meeting at Lehigh University in Bethlehem, Pennsylvania, in June. He was also recognized at the June meeting of the Brandywine School District board meeting.
Article by Jessica Henderson
Photo courtesy of Nader Makarious and Brandywine School District