Partnership for Public Education supports public education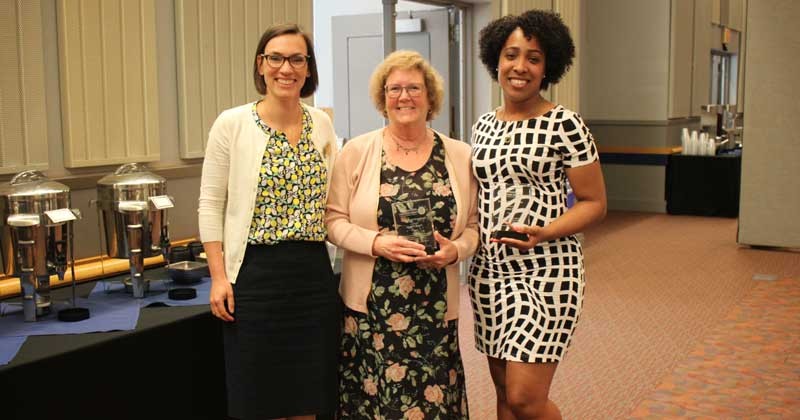 Conference brings together faculty, school and district partners
More than 120 University of Delaware faculty and staff, K-12 school leaders, and district partners attended the University Partnership for Public Education (PPE)'s second annual Education Partnership Academy. The daylong conference on building partnerships to strengthen public education was held May 24.
The event nearly doubled its participants from last year and welcomed 40 panelists and guest speakers. Gloria Boutte, professor in the College of Education at the University of South Carolina and founder of the statewide Center of Excellence for the Education and Equity of African American Students, gave the keynote presentation.
In welcoming the participants, Elizabeth Farley-Ripple, director of PPE and associate director of UD's School of Education (SOE), highlighted the overall goals of the PPE and the purpose of the academy.
"PPE aims to empower partnerships between UD and the education community, build capacity for further partnerships on and off campus, and ultimately support you — UD faculty and staff, school and district leaders, and community partners," Farley-Ripple said. "For our K-12 education partners, we hope that you see UD as a resource. For our UD colleagues, we hope to help you make your work more visible to the education community. We can accomplish more and solve more complex problems together."
Panel sessions and partner conversations
The academy offered panel presentations from UD faculty and K-12 community members about existing partnerships and roundtable conversations where participants could learn about campus resources.
Panelist Lauren Bailes, assistant professor in the SOE and one of the inaugural PPE fellows, spoke about her work with the Wilmington Education Improvement Commission's Parent, Educator and Community Engagement Committee to assess parental involvement in their children's schools and whether they believe the educational system is responsive to their input. Bailes uniquely targets parents who may not attend traditional school activities — like back-to-school nights or parent-teacher conferences — by visiting community events that happen outside of school, such as neighborhood block parties.
Amy Ricketts, instructional specialist in UD's Professional Development Center for Educators (PDCE) and PPE fellow, spoke about her work to engage fifth- and sixth-grade students in scientific discourse at John Basset Moore Intermediate School. Ricketts and her school partners engage in monthly rounds of lesson study to support students in talking and writing about science.
Elizabeth Soslau, associate professor in the SOE and PPE fellow, spoke about her work with the Need in Deed Critical Service Learning Collaborative and its new partnership with Warner Elementary School in Wilmington. The Need in Deed framework connects third- to eighth-grade classrooms to the community by engaging students in a yearlong process of active problem-solving around a community issue identified by the students.
Gloria Boutte's keynote address, "Equity and Excellence in School-University Partnerships," centered on building partnerships in African American communities and culturally responsive pedagogy, reflecting PPE's emphasis on equity in partnership work.
Framing her talk with African proverbs, Boutte shared the work of K-12 teachers who established partnerships with their South Carolina communities and helped their students meet or exceed the academic standards through culturally-relevant curriculum.
For example, one third-grade teacher with an all-male African American class centered his curriculum on the community barbershop. Students read books about the barbershop, interviewed customers, studied the cultural and professional rules of the space and learned about barbershop quartets in music class.
At the end of the year, student academic achievement improved, and the students outperformed other classes in their school.
Awards and recognition
The academy ended with a celebration of outstanding partnership work, recognizing four members of the UD community:
Francis O'Malley, senior associate director in PDCE and policy specialist at the Institute for Public Administration (IPA), received the Leadership Academy Award for his leadership and commitment to supporting public schools.
Faith Muirhead, senior associate director at PDCE, was recognized with the Content Specialist Academy Award in honor of her partnerships across the state in the area of mathematics.
Carol Phipps and Naima Hall, assistant directors of UD's Delaware Center for Teacher Education, were given the Community Engagement Academy Award for their work in building relationships and sustaining partnerships that pave the way for teacher candidates across campus to become part of Delaware schools.
About PPE
UD officially launched PPE at the Vision Coalition of Delaware's ninth annual conference in November 2016. The PPE team includes Farley-Ripple; Kelly Sherretz, assistant director and associate policy scientist at the IPA; Ariana Minella, assistant policy scientist and partnership project coordinator; and Erin Baugher, doctoral student in the School of Urban Affairs and Public Policy.
Carol Vukelich, dean of the College of Education and Human Development, and Doug Doren, associate dean of the College of Arts and Sciences, co-chair the University-wide steering committee.
PPE is housed within the University's larger Community Engagement Initiative, which seeks to expand the University's commitment to civic and community engagement. The Community Engagement Initiative is also home to the Partnership for Healthy Communities, Partnership for Arts and Culture, the Newark/University Partnership and Wilmington Partnership.
Article by Jessica Henderson | Photo by Chris Kelley