May 9: 2018 UD Library Associates Faculty Lecture with Bob Hampel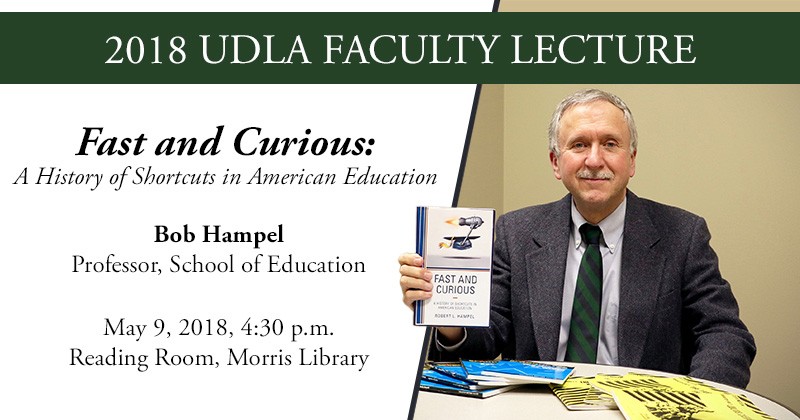 Professor Bob Hampel to speak on the value of shortcuts in education
Whether it's Cliff Notes or a three-year bachelor's degree, efforts to streamline education take many forms. Explore the various types of education shortcuts and whether they offer long-term value during the annual 2018 University of Delaware Library Associates Faculty Lecture on Wednesday, May 9, at 4:30 p.m. in the Morris Library Reading Room. During this event, Bob Hampel, professor in the School of Education, will lead the presentation, "Fast and Curious: A History of Shortcuts in American Education."
According to Hampel, there are two categories of shortcuts. There are "faster and easier" shortcuts—those that, in theory, save time and effort now—and "faster and harder" shortcuts—those that, in theory, require more effort up front but save time and effort later. While some of these options seem risky and others legitimate, the question arises: Are any of them worthwhile? This issue will be at the core of the lecture.
In addition to his work in the School of Education, Hampel serves on the executive board of the UDLA, the friends group of the UD Library, Museums and Press and sponsor of this event. In 2017, Rowman and Littlefield published Hampel's book Fast and Curious: A History of Shortcuts in American Education.
Light refreshments will be served, and Hampel's book will be available on-site for purchase. Tours of the Library's 60 at 60 exhibition will also be available before the lecture at 3:30 p.m.
The lecture is free and open to the public. If you are interested in attending, please RSVP.
Article by UD Library Staff | Graphic by Sean Diffendall