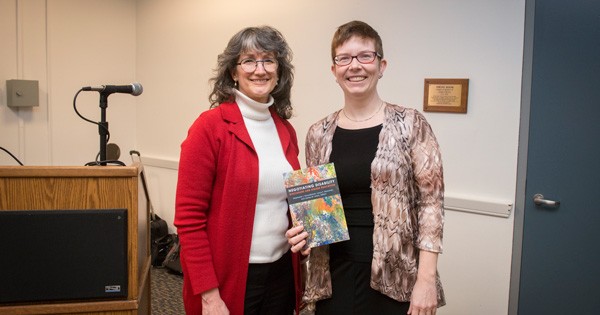 Faculty co-editors discuss new book on higher education
Higher education too often excludes or discriminates against those with disabilities and must find ways to become more accessible, two University of Delaware faculty members said in a recent lecture about a new book they co-edited with a third faculty member.
The March 8 lecture, "Negotiating Disability," was hosted by UD's Center for the Study of Diversity (CSD) and celebrated the launch of the book Negotiating Disability: Disclosure and Higher Education. The book was published in November by the University of Michigan Press.
The lecture was given by Stephanie L. Kerschbaum, associate professor of English, and Laura T. Eisenman, associate professor of education. The other co-editor, James M. Jones, Trustees Distinguished Professor Emeritus of Psychological and Brain Sciences and Africana Studies and director of CSD, was unable to attend.
Kerschbaum began by calling higher education "incredibly ableist," meaning that standards in higher education often exclude or discriminate against students, faculty and staff members with disabilities. She offered examples in the form of tweets, where people with varying disabilities expressed problems with the system, using the hashtag #academicableism.
Kerschbaum described the book as divided into four main themes: identity, which discusses what it means to disclose a disability in higher education; intersectionality, which focuses on the ways disability intersects with other minoritized identities; representation, which examines the ways representations of disabilities matter to lived experiences in higher education; and institutional change and policy, which looks at actual policies and practices.
Eisenman spoke about what the editors themselves learned from the book and what it has to teach others.
She touched on several points, such as thinking about what disclosure represents. Most often, she said, if a disability is not disclosed, people assume it's not there.
Eisenman also mentioned the need to talk about different types of disabilities, stressing the fact that disability can be visible or invisible, temporary or episodic, acquired through injury or aging or a lifelong condition.
Finally, she spoke about the necessity of understanding the experiences of minoritized people with disabilities.
Both speakers emphasized the importance of making higher education more accessible to students, faculty and staff, adding that when classrooms, events and other aspects of college life are more accessible, it is less likely that individuals will need disclose their disability.
When something is already accessible, they said, there is no need to disclose disabilities because the situation no longer requires it.
The book, which is made up of 20 essays from varying authors, originated from the successful "Disability Disclosure in/and Higher Education" conference held at UD in 2013, which brought more than 100 scholars from a broad range of interdisciplinary disability studies fields to campus.
Article by Alaina Taylor | Photo by Wenbo Fan