Launching the Partnership for Healthy Communities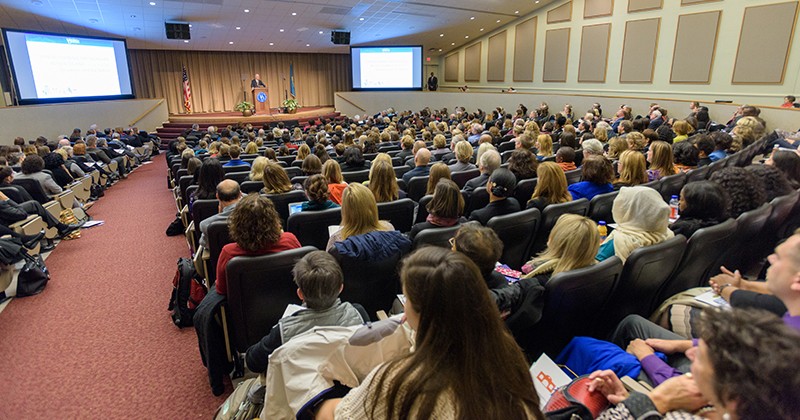 Partnership to mobilize UD's research, education, public service efforts
University of Delaware President Dennis Assanis launched the UD Partnership for Healthy Communities at the 10th annual Vision Coalition Conference, titled: Strengthening Partnerships in Health and Education: Delaware and the Nation.
About 500 people attended the conference held Oct. 30 in Clayton Hall. Joe Biden, 47th vice president of the United States, a UD alumnus and founding chair of UD's Biden Institute, was the morning's keynote speaker, and all three members of Delaware's Congressional delegation helped to kick off the event.
The new partnership Assanis launched during the luncheon portion of the conference is part of the UD Community Engagement Initiative, which is designed to strengthen the contributions of UD as an engaged research university.
"This partnership will mobilize the University's extensive research, education and public service efforts to address the complex health challenges facing communities in Delaware and across the nation, especially those marked by economic and social disadvantages," Assanis said. "By focusing on the social, economic and environmental conditions in our communities, I believe this partnership can promote not only better health policies and systems of care, but true physical, mental and social well-being for our residents."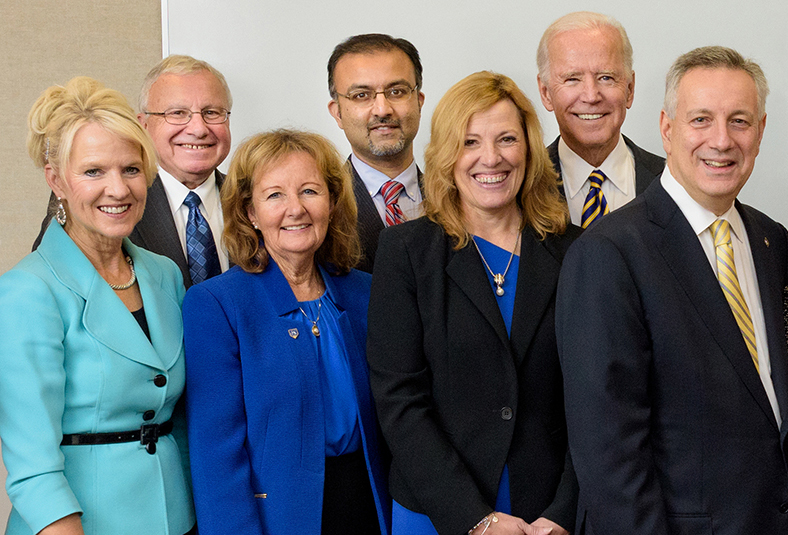 Since its inception in 2016, the Community Engagement Initiative also has launched the Partnership for Public Education, the Newark Partnership and the Wilmington Partnership. Rita Landgraf, former secretary of the Delaware Department of Health and Social Services, is the director of UD's Partnership for Healthy Communities (PHC).
"This partnership is a University-wide initiative inspired by a vision of health equity in which all Delawareans have the resources to support optimal health," Landgraf said. "We know that health is largely shaped outside of the doctor's office and where you live, go to school, work, play and pray have a greater impact on overall well-being and social influence. Our UD Partnership will align and connect University research, experiential teaching and service to communities to support solution-building and sustainability."
Sponsored by the Delaware Health Sciences Alliance, the UD Community Engagement Initiative, the Rodel Foundation of Delaware and the Delaware Business Roundtable, the conference brought together community members, educators, policy makers and students to explore the intersection of education and healthy communities.
The audience enthusiastically welcomed Biden, who focused his remarks on violence toward women and children and its impact on health care and educational outcomes.
"The lifelong implications of abuse are staggering," he said, noting that poverty and lack of opportunity are huge drivers of violence.
He talked about his work on the Violence Against Women Act and the toll that gun violence, domestic violence and sexual assault take on communities, especially women and children. But he praised the people of Delaware as being able to work together to make a difference in health and education.
"One of the greatest things about Delaware … we have the ability when there's a crisis to get everybody in the room," Biden said.
Interim Provost Robin Morgan opened the conference, emphasizing the link between education and health — the two main topics of focus at the event.
"We know high-quality education promotes and sustains good health, not only for individuals but for entire communities," she said.  "And we also know good health for students and those in their communities is critical for positive educational outcomes. … This conference is meant to make these connections more explicit and evidence-based, so we can work more strategically and ultimately have a greater impact."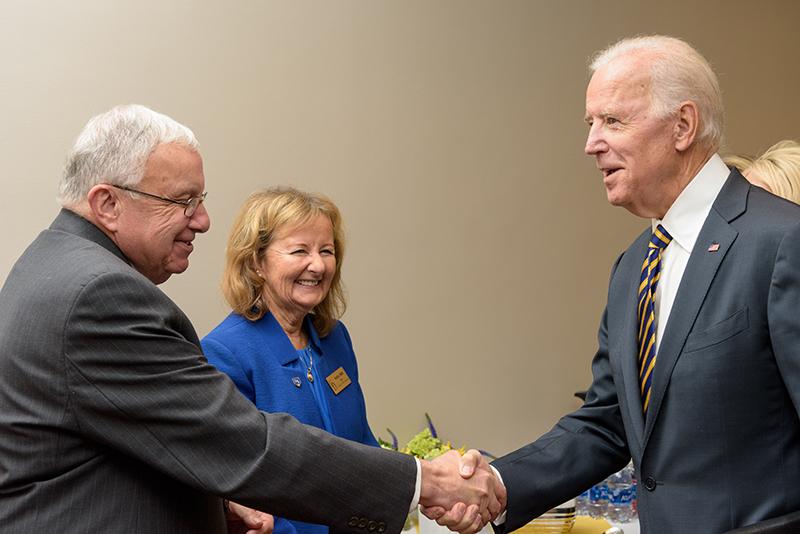 Delaware's Congressional delegation — Sens. Tom Carper and Chris Coons and Rep. Lisa Blunt Rochester — offered a national perspective on health and education, providing insight on the bipartisan work happening in Washington.
"We cannot possibly hope to address the fundamental problems in education without looking at the health problems in our communities," Coons said.
Carper, Coons and Blunt Rochester made special mention during their remarks of Howard High School of Technology senior Kaamilah Diabaté, who recited three inspiring, original poems focused on the struggles of inner-city students and the obstacles they face that ultimately lead to challenges in school.
"The change starts with us," Blunt Rochester said, referencing the last line in one of Diabaté's poems.
Gary Stockbridge, president and CEO of Delmarva Power and chair of the Vision Coalition, and Delaware Secretary of Education Susan Bunting updated attendees on the progress the Vision Coalition has made over the last year, impacting hundreds of students across the state.
Dan Rich, director of the UD Community Engagement Initiative and professor of public policy, moderated the morning panel session, which focused on the Delaware landscape and featured Bunting, Delaware Division of Public Health Director Karyl Rattay, President and CEO of Westside Family Health Lolita Lopez, and Erin Knight, associate director of the UD Partnership for Healthy Communities. The panel talked about the issue of rising rates of poverty affecting children, and discussed the inevitable interconnections of healthy communities on a child's education.
Delaware Lt. Gov. Bethany Hall-Long talked about the importance of working together to solve the challenges related to education and health care, and stressed that children need to have access to medical and mental health care.
And College of Health Sciences Dean Kathy Matt mentioned the importance of getting all the key players together to tackle the issues related to health care and education.
"The topics we are taking on are very difficult and challenging," she said. "It's about designing the solutions and making them happen."
An afternoon seminar and workshop allowed members of the education and health fields to come together to share ideas and offer solutions to the critical challenges facing Delaware communities.
The day concluded with a planning forum for the UD Partnership for Healthy Communities led by Tony Allen, provost and executive vice president for Delaware State University.