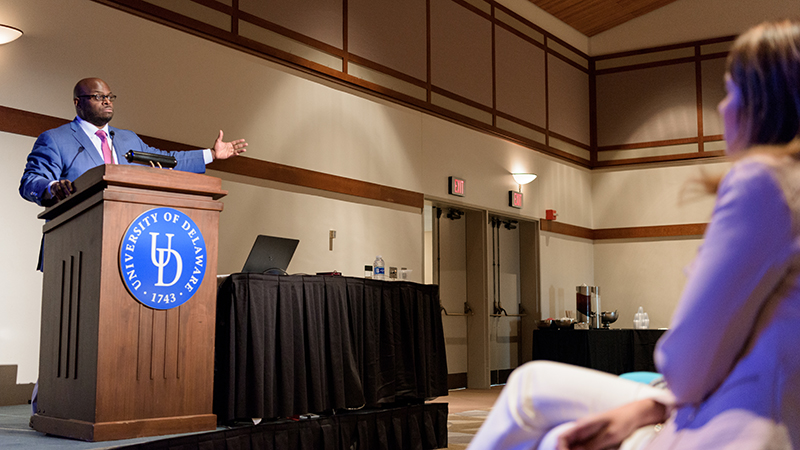 Program explores social justice, ways to work toward inclusive excellence
More than 200 University of Delaware staff members attended the first Diversity Summit at Clayton Hall to talk about social justice and how to continue working toward inclusive excellence.
The event last month, organized by the Office of Equity and Inclusion and the Division of Professional and Continuing Studies, included participation from 75 different offices and departments.
Keynote speaker Tony Allen, a UD alumnus who was recently named provost at Delaware State University, shared some of his personal experiences as a student that highlighted the importance of diversity and inclusion on campus. His remarks energized the summit participants and provided them with a history and personal context for the importance of the work happening at the University and the legacy left by those committed to social justice.
Vice Provost for Diversity Carol Henderson delivered opening remarks, in which she talked about the role that all campus community members can play in achieving the University's inclusive excellence goals.
Lisa Jaremka, assistant professor of psychological and brain sciences, told her own social justice story and encouraged members of the audience to have conversations with their friends and family about diversity and inclusion, even when those conversations are difficult. And Kassra Oskooii, assistant professor of political science and international relations, discussed the nature of discrimination and its implications for the workplace and beyond.
Throughout the summit, participants talked in small groups led by designated facilitators, who were University staff members identified for their knowledge, passion and commitment to social justice. The group discussions allowed staff members to consider the role of discrimination in their own work environments.
Jennifer Daniels and Adam Foley of the Office of Equity and Inclusion closed out the day by leading everyone in the development of their own plans for social action. The success of the Diversity Summit will pave the way for future efforts at the University, and there is another summit planned for next year.
For more information on future programming, check out the Office of Equity and Inclusion and the Division of Professional and Continuing Studies.
Article by UDaily Staff
Photo by Evan Krape