ETE students receive Hearst Foundation Scholarship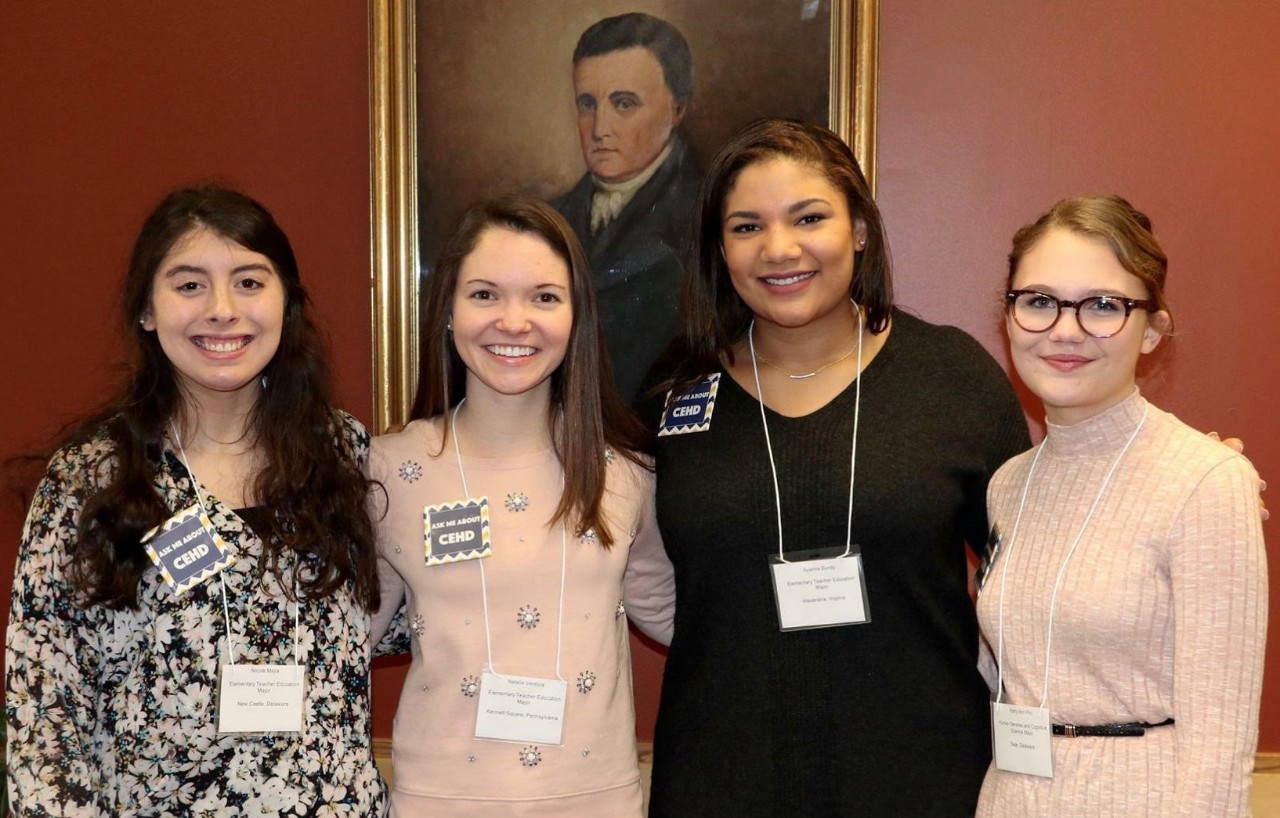 Undergraduates Bundy, Mejia receive Hearst Scholarship for ASPIRE leadership
University of Delaware elementary teacher education (ETE) students Ayanna Bundy and Nicole Mejia are committed to supporting underrepresented students to become teachers and human service providers.
Because of their dedication, Bundy and Mejia were presented with the 2017 Hearst Foundation Scholarship, awarded to an active member of ASPIRE who demonstrates strong leadership skills.
"Both young women are deserving of their awards as they have demonstrated significant leadership and contributions to both the field of education and to ASPIRE as an organization," said Imani Powell, ASPIRE's academic adviser for the College of Education and Human Development (CEHD).
ASPIRE is a student-centered program committed to supporting students from diverse backgrounds through networking events, professional development and academic and social mentoring. Members support each other and look to recruit high schools students to consider the fields of education and human services.
That's how Bundy got involved. She learned about ASPIRE her senior year of high school when she visited UD through the Office of Admissions' Destination Delaware. She said she believes that ASPIRE played a great role in her academic career at UD, providing her a platform that helped her to learn and grow as a student and a leader.
She is a junior, majoring in ETE with a concentration in special education.
Bundy was elected president of ASPIRE her sophomore year. She organized and planned meetings to strengthen professional skills in all members. She also had the opportunity to network and connect with administrators and teachers in Delaware through the annual Dinner with Educators event.
"During my freshman year, I gained important mentors including ASPIRE's graduate assistant, Alexis Bigelow, and alumni members," said Bundy. "They helped me figure out how to manage my time, gave me tips on the education course I would take in the future, and provided overall life advice whenever I needed it."
Bundy's other achievements include serving as vice president of the Mu Pi Chapter of Delta Sigma Theta Sorority Inc., making the Dean's List consecutively each semester since fall 2015, and serving as a Blue Hen Ambassador and Diversity Enrichment Leader in the Office of Admissions.
And Bundy was recently selected as a UD Ronald E. McNair Scholar for the summer of 2017. The Ronald E. McNair Post Baccalaureate Achievement Program (McNair Scholars Program) is one of eight federally funded TRIO programs that offers effective preparation for doctoral study to groups that are underrepresented in graduate education.
Mejia, the Hearst Award's co-recipient, is a sophomore pursuing an ETE degree with a concentration in English as a second language. Her parents are Mexican immigrants and she knew that becoming the first person in her family to go to college would be a challenge.
Fortunately, UD provided the support she needed. She learned about the ASPIRE in her freshman year.
"ASPIRE has provided me the opportunity to meet other students from diverse and underrepresented backgrounds pursuing a career in education," said Mejia. "I have learned a lot from the professional development, workshops, and different events ASPIRE provides."
In addition to her role in ASPIRE, Mejia is president of HOLA, the largest Latino programming board on campus, serves as a Blue Hen Ambassador and a Diversity Enrichment Leader. In the fall semester, she was a teaching assistant for the education freshman seminar.
Gaining experience off campus, she served as a teaching fellow at Breakthrough, Santa Fe, in New Mexico and studied abroad in Austria and Hungary, where she visited and worked in a Hungarian school for several weeks.
"This was an amazing experience I will never forget. I was able to take courses for my major while exploring new countries and cultures," Mejia said. "I am very grateful to be able to purse an education at the University of Delaware and I am thankful for all of the incredible opportunities I have been able to participate in."
In the future, Mejia would like to be an ESL teacher in Delaware, most likely in Wilmington. However, her ultimate goal is to attend graduate school for studies in education policy.
"My learning experiences at the University have inspired me to expand my own educational goals and also my involvement with education," said Mejia. "I would like to be able to influence education policy and be a voice to help end some of the inequalities and challenges we see in education."
Article by Harprett Kaur. |Photo by Lizzy Adams.