Translating research into practice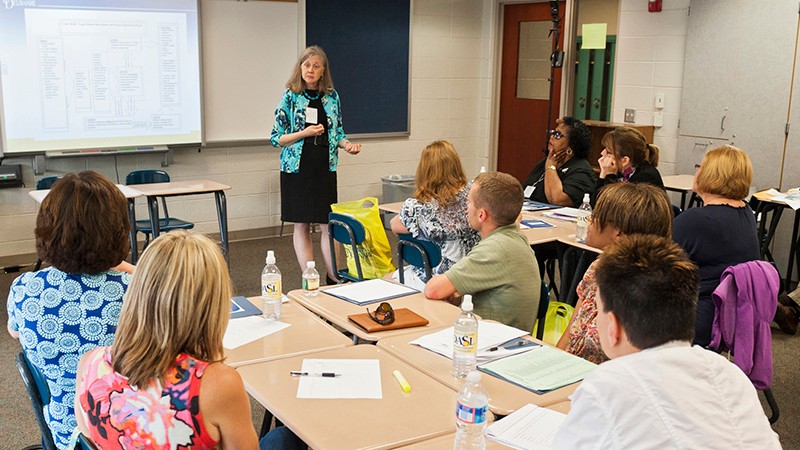 UD to partner in Mid-Atlantic Regional Education Laboratory
The University of Delaware's Delaware Education Research and Development Center (DERDC) will play a lead role in one of 10 regional educational laboratories selected by the U.D. Department of Education's Institute of Education Sciences (IES) to promote continuous improvement of educational practice.
IES is committed to conducting research that develops high quality instructional techniques, and to have an impact on student outcomes, that research needs to be implemented by school districts.
Every five years, IES selects 10 regional educational laboratories, and this year, Mathematica Policy Research was selected as the Mid-Atlantic Regional Educational Laboratory (REL), encompassing Delaware, New Jersey, Maryland, District of Columbia and Pennsylvania. They will collaborate with key stakeholders in the region including policymakers, legislators, state education officials, school district personnel and university researchers.
UD's DERDC will be involved summarizing and disseminating research findings and providing training, coaching and technical support for Delaware agencies and school districts.
The total award is for $25 million for five years. Brian Gill, a senior fellow at Mathematica and national expert on charter schools, educator evaluation, and school accountability, will lead REL Mid-Atlantic.
DERDC Director Joan Buttram will serve as principle investigator for the initial Delaware segment, before transitioning the role to educational researcher Jeff Klein upon her retirement.
"We will be focusing on the development of methodology and criteria for evaluating the quality of instructional plans in personalized learning settings," said Buttram.
Seven Delaware school districts have banded together to develop and share lesson plans for K-12 students, with their focus centering on secondary schools. A critical element will include identifying ways to incorporate technology that will both engage and differentiate individual student's needs.
Chrystalla Mouza, associate professor, UD's School of Education, will share her expertise on integrating technology into classroom instruction in Delaware. Henry May, director, UD's Center for Research in Education and Social Policy (CRESP), is serving as a technical research adviser for the Mid-Atlantic REL research.
This project will examine both research literature and best practices to identify possible procedures and criteria for conducting reviews and assessments of lesson plans. These lessons, aligned with Delaware's Common Core State Standards (CCSS), blend traditional instruction and online learning, and offer students choices on how they work.
"The participating teachers will be developing lessons that can be shared across all of the participating districts," said Buttram. "Naturally, everyone wants to be sure that the lessons are designed well. The issue is — how do we determine that is the case? What standards should be used? What's the research base to support these standards? Who should do the review? That's the focus of this first project."
A recommended set of procedures and criteria will be developed and pilot tested in the seven districts. Based on this pilot test, the initial set of procedures and criteria will be revised and shared with other districts and states engaged in similar projects. Other projects may arise in later years of the five-year contract.
Article by Alison Burris.
Photo by Evan Krape.