Centers from four of UD's colleges enter into Social Studies Partnership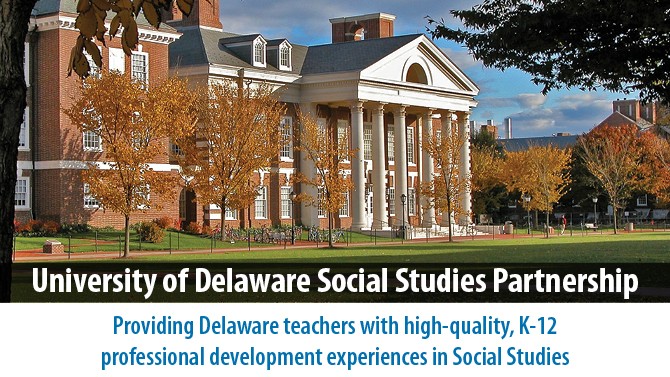 Earlier this year, University of Delaware President Dennis Assanis reviewed his top priorities with UD's Faculty Senate. Among those top priorities were interdisciplinary programs, with Assanis saying, "We need to continue to be innovators in our curriculum."
Answering this call for interdisciplinary innovation are four UD centers from four different colleges, which have joined together to form the UD Social Studies Partnership.
The associated centers include:
• The Democracy Project in the College of Arts and Sciences;
• The Center for Economic Education and Entrepreneurship (CEEE) in the Alfred Lerner College of Business and Economics;
• The Delaware Geographic Alliance in the College of Earth, Ocean, and Environment; and
• The Professional Development Center for Educators in the College of Education and Human Development.
These four centers combine expertise in the social studies areas of civics, economics, geography and history, representing collaboration across multiple UD colleges. This relatively new partnership began two years ago.
CEEE associate director Bonnie Meszaros said that the coalition's goal is to "form a partnership with the four disciplines, and form partnerships with districts." This allows the group to "go out as a team and help teachers in all four areas improve their teaching, improve their pedagogy, and improve how they deliver the content."
Meszaros said that the coalition is training teachers on important strategies and topics that could otherwise go unaddressed.
This training, according to Anne Deinert of the Delaware Geographic Alliance, includes the three central goals of developing content knowledge, guiding curriculum development and providing assessment.
The Delaware Geographic Alliance's Mary Schorse added that the partnership also plays a supporting role in finding solutions to issues with Delaware curricula.
"When districts collectively identify issues related to social studies education, they bring them to the coalition and see how we can help," Schorse said. "For example, social studies education in elementary schools is problematic, and it's very sporadic and spotty. We're working with districts to come up with strategies to address those gaps."
The coalition also produces a newsletter that keeps teachers up to date on the latest happenings in the four disciplines. In the future, they plan to find additional ways to engage with various departments within UD, and to develop training materials that can be produced and shared with teachers statewide.
Article by Sunny Rosen