April 5: Jessica Shiller to speak in diversity and education colloquium
The University of Delaware's School of Education (SOE) colloquium series continues on Wednesday, April 5, with a presentation on "The new reality: How suburban schools are struggling with low income students of color in their schools."
Speaking will be Jessica Shiller, associate professor in the College of Education at Towson University.
The colloquium will begin at 1 p.m. in Room 207 of the Willard Hall Education Building, and a professional dialogue with the speaker will follow at 2 p.m.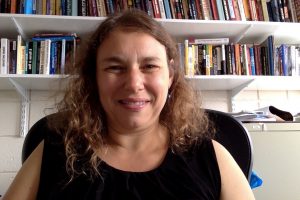 Students, faculty and community members with interests in education, teacher preparation and issues related to diversity, equity and inclusion in schools and universities are encouraged to attend, as well as those interested in educational policy and administration. These event is free, and no advance registration is required.
'The new reality'
Many suburban school struggle to address the demographic changes among students in the classroom when the demographics of the teachers have not changed. In Maryland, for example, an increasing number of African American and Hispanic students attend suburban schools, but the majority of their teachers remain white. These teachers often struggle to connect with their students culturally, which affects their teaching.
Within the broader context of policies that encourage high-stakes testing, punitive responses to students and implicit or explicit racism, many suburban schools struggle to respond to these demographic changes. Shiller will explain some of these dynamics in suburban Maryland schools, where she has conducted research, and will share recommendations for these schools. She will also discuss how research in education can help teachers and schools respond to these challenges.
Framing the conversation
This colloquium is part of a special theme titled "Framing the Conversation Toward Engagement and Transformation: Diversity, Equity and Inclusion in Education and Human Development," facilitated by SOE faculty members Rosalie Rolón-Dow and Elizabeth Soslau.
This theme explores diversity, equity and inclusion in terms of the college's climate, which influences how all members of the community experience the College of Education and Human Development (CEHD), and the curriculum, which prepares students across teacher education programs for an increasingly diverse educational landscape.
The colloquium contributes to ongoing diversity initiatives in CEHD and across UD teacher education programs such as the Collaborative to Diversify Teacher Education, the Success Through Education Conference and the CEHD Dean's Diversity Task Force.
About the speaker
Jessica Shiller is an associate professor in the College of Education at Towson University where her research and teaching has focused on urban school reform policy and practice, culturally relevant instruction, teacher student relationship-building practices, and civic education. Her most recent book, The New Reality for Suburban Schools, discusses how the demographics of suburban schools are changing to resemble those of urban schools.
Shiller is engaged with the Baltimore City Community Schools Initiative as a supervisor to student interns and as a consultant to schools implementing restorative practices through the University of Maryland School of Social Work.
She serves on the advisory board of Loyola University's Center for Innovation in Urban Education and the steering committee for Forest Park High School, and she is working with a statewide advocacy group to see community schools expand statewide.
Prior to joining Towson University, she worked as a high school teacher in New York City, a coach to new teachers, and as a university professor at the City University of New York.
For more information about this series, please visit the School of Education colloquium series webpage.
Article by Jessica Henderson