Register in May: Online special education program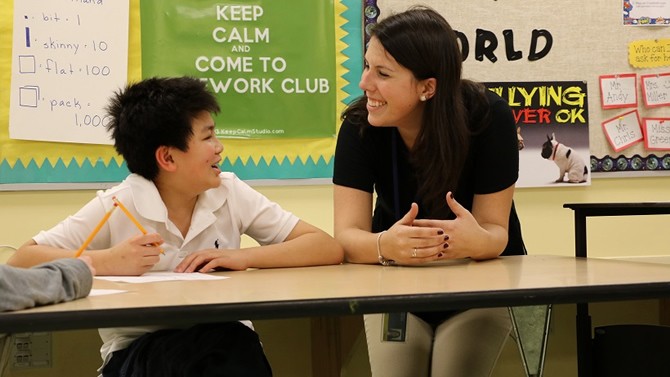 About 6.5 million young people (about 13 percent of all public school students nationwide) receive special education services each year, yet in Delaware and nationwide, special education is perennially listed among teaching specialties experiencing acute teacher shortages.
The University of Delaware's new Online M.Ed. in Exceptional Children and Youth focuses on this need, says UD's Kristen Ritchey, associate professor in the School of Education and program coordinator.
"The goal of this program is to help develop teachers who understand and can meet the academic and social and behavioral needs of students with exceptional learning needs across all grade levels," says Ritchey. The new online program is aimed at teachers and other education professionals who wish to pursue a graduate degree in special education.
"Our established M.Ed. in Exceptional Children and Youth is already one of the largest master's degree programs in the School of Education," adds Ritchey. "This online initiative allows us to take the best of what we offer on campus and make it accessible to teachers across Delaware and even more broadly."
Offered 100 percent online, the program can be completed in two years of part-time study. Two primary concentrations focus on K-12 special education, and autism/severe disabilities. Required and elective courses are available year-round, with seven-week courses offered in fall and spring semesters and five-week courses in winter and summer. Applications are due July 1 for fall 2017 admission. Students can also apply for spring admission.
A second program, the Online Special Education Course of Study, is aimed at Delaware teachers seeking coursework needed for Delaware special education certification, with a five-course path that can be completed in one academic year. Two courses of study are available for teachers interested in coursework as a Delaware Teacher of Exceptional Children Grades K-12 or a Delaware Teacher of Students with Autism or Students with Severe Intellectual Disabilities.
Formal admission to the University of Delaware is not required for enrollment in the Online Special Education Course of Study. Registration for fall courses begins in early May.
Both the M.Ed. program and the Course of Study will be of interest to Delaware teachers who must meet a new Delaware requirement mandating that those seeking additional certification for special education complete a minimum of 15 credits in coursework focused on special education or students with disabilities. In addition, the Course of Study option will be of special interest to Delaware-certified teachers who may already have a master's degree, but who are interested in intensive professional development leading to additional certification. For those, the program may lead to a "plus 15" salary increment in Delaware.
Both online programs aim to expand teachers' accessibility to graduate education and professional development opportunities from UD's nationally-ranked School of Education. Adds Ritchey, "A major goal of the online programs is to better serve teachers all over Delaware who want the option of pursuing a UD degree or coursework, but find it challenging to commute to the Newark campus for evening classes."
UD's School of Education is ranked at No. 32 out of 376 graduate schools of education nationwide in U.S. News and World Report's 2018 list of Best Graduate Schools.
For more information about the new Online M.Ed. in Exceptional Children and Youth, or the Online Special Education Course of Study, contact program coordinator Kristen Ritchey at kritchey@udel.edu or visit the website.