UD to host fourth annual Education Technology Conference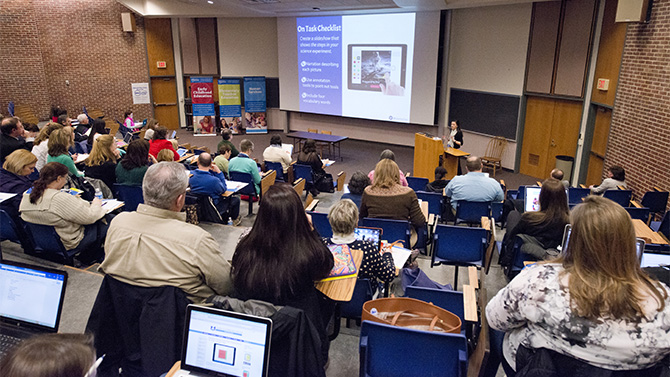 Educational technology has created new possibilities as well as increased expectations and challenges for educators.
Technology allows educators to enhance their curriculum and better engage their students, but finding ways to integrate technology with instruction can also be daunting for many.
The University of Delaware College of Education and Human Development is committed to helping pre-service and in-service teachers keep up with the latest trends in education. With the purpose of bringing educators a wealth of resources and information on the latest technological tools, the University hosts an educational technology conference each year.
The fourth annual University of Delaware Educational Technology Conference (UDETC) will be held March 4 at the Willard Hall Education Building. The day-long conference will run from 8:30 a.m. to 3:30 p.m., and will consist of about 24 concurrent sessions.
The keynote speaker will be Leslie Fisher, director of Fisher Technologies Inc. With an impressive 20-year professional educational technology career, she will share how someone who never really enjoyed school has focused her entire professional career on helping teachers keep their classrooms engaging.
Participants will have an opportunity to learn about:
• Making BreakoutEDU puzzles.
• iPadagogy.
• Personalized professional learning.
• Green Screen tools.
• Movie making on iPads and Chromebooks.
A complete list of conference sessions is available at the UDETC website.
"We created this conference to help educators in all stages of their careers use technology effectively in their classrooms." said Joanne Jennings, director of computing operations in the Office of Educational Technology.
Participants at last year's conference found it very beneficial. One said, "The whole conference was excellent. I learned so many things to bring back to my school and share with teachers. I networked with teachers from other schools and will continue to do so."
Another said, "I appreciated the variety of ideas and the wealth of resources the presenters shared.  I'm recently in a new position that affords me the opportunity, and really begs for me, to use more technology in my instruction."
The conference is hosted by UD's Office of Educational Technology, The College School and the Education Resource Center in the College of Education and Human Development.
Registration is required for the conference. The cost is $60 ($50 for full-time UD faculty, staff and students) and includes conference materials, parking and lunch.
Article by Harpreet Kaur
Photos by Lane McLaughlin