One dozen school leaders graduate from UD's Principal Preparation Program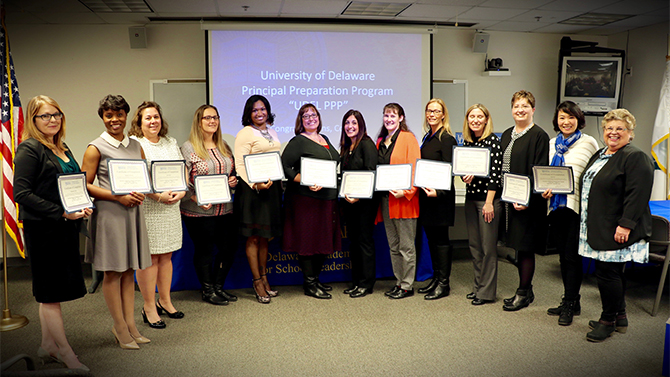 Delaware now has a dozen new aspiring school leaders, graduates of an alternative certification program at the University of Delaware. On Jan. 18, UD's Principal Preparation Program (PPP) celebrated its first cohort in a graduation ceremony at the Paradee Center in Dover.
Launched in summer 2015, PPP is an initiative of the Delaware Academy for School Leadership (DASL), a center in the College of Education and Human Development (CEHD). It is approved as an alternative certification program and partially funded by the Delaware Department of Education (DDOE). The 18-month program combines:
Coursework: Four modules (14-18 weeks each) focus on curriculum, instruction and assessment (two modules), talent management, and early childhood education. According to DASL Director Jackie Wilson, these research-based modules address "real problems that principals face every day." They are co-taught by CEHD faculty and practicing or recently retired educational leaders.
"The delivery of courses by both practitioners and University faculty results in a learning environment that is grounded in the best research-based leadership practices, while asking participants to reflect on how those practices can be put into practice to make an impact on Delaware students and school systems," said Alison Dubinski, PPP program manager.
Internships: Two placements at different school levels, equivalent to 240 hours. Wilson explained, "I want candidates to see that leadership isn't just one way. It depends on the setting." Districts partnering with the PPP agree to provide release time and mentoring for meaningful internship experiences. They also have the option of creating full-time residencies.
Seminars on specific topics in school leadership, such as the federal Every Student Succeeds Act or school finance.
Training and credentialing in Delaware's statewide teacher evaluation system, along with opportunities to practice implementation with feedback.
Leadership coaching for one year after graduates obtain jobs as administrators.
Admission to the PPP is competitive and includes an extensive application and interview process. The program targets experienced teachers (five-plus years in the classroom) who are ready to move into administration. Graduates of the program receive an assistant principal/principal certificate from the state. Because this is a rigorous certification-only program, Wilson said she believes "people who are choosing PPP are doing it for the right reasons. They want to be an administrator."
UD developed the PPP to leverage its strengths in research, policy and professional development and to meet the leadership needs of Delaware's public schools.
As Wilson put it, "UD has to be in the business of preparing principals because no one in the state has a better educational leadership faculty and DASL has a national reputation for leadership work."
The 12 PPP graduates hail from around the state, representing traditional and vocational-technical school districts, charter schools, and the state Department of Education. They now will search for administrative positions for the 2017-18 school year.
Shani Benson, a kindergarten teacher at South Dover Elementary School, is confident. "The PPP allowed me to develop a skill set that will ensure I am marketable as I interview," she said. "I feel ready to hit the ground running."
Graduates praised the program's integrated curriculum. Bethanne Gluck, assistant principal at Las Américas ASPIRA Academy, a K-8 charter school in Newark, said she felt she gained "not only a strong theoretical foundation but also the realistic context of what it takes to be a successful school leader."
"[The PPP] connected me with wonderful educators across our state who have challenged my thinking, confirmed my vision, and who will continue to be a resource of knowledge and experience as we all grow as leaders," said Amanda Ramsey, a fifth-grade teacher at Leasure Elementary School in Newark.
Applications for the third cohort of PPP will be accepted starting in February.
Article by Hilary Mead
Photos by Elizabeth Adams