Jackie Wilson facilitates national networking for women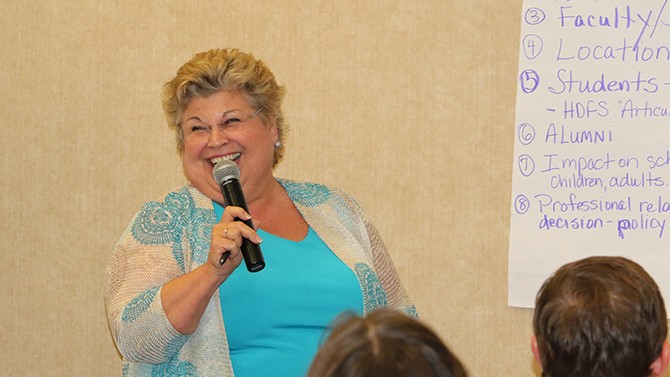 In Delaware, just under a third of the public school districts are led by women.
According to a 2015 study by AASA, the School Superintendents' Association, this is more equitable than the country as a whole, where just 27 percent of superintendents are women.
With support from the Bill and Melinda Gates Foundation, AASA has launched "More Than a Power Lunch: Building Networks to Support and Advance Women in School Leadership," a two-year initiative aimed at changing these statistics.
Jackie Wilson, assistant professor in the University of Delaware School of Education and director of UD's Delaware Academy for School Leadership (DASL), is serving as a facilitator for this national project.
Wilson was tapped for this role by Mary Ann Jobe, director of leadership development services at AASA. Having seen Wilson in action through previous joint projects, Jobe said that "she was the first person I thought of" because of "her personality, her understanding of leadership, her passion to grow women in the field, and the work she had done with school districts and other partners."
Last year AASA appointed a 10-woman Leadership Consortium with senior leaders from K-12 and higher education, as well as business, government and the law, to act as thought partners, identifying barriers and opportunities for women in school leadership, and to mentor aspiring leaders.
From a pool of 106 applicants, AASA also chose 20 aspiring leaders representing urban, suburban and rural school districts nationwide to share their insights, receive individualized mentoring from the consortium and network with school leaders around the country.
Drawing on recent research, Wilson conducted online trainings with both mentors and mentees, providing scenarios for effective mentoring designed to help establish rapport, reduce isolation, draw lessons from the mentors' experiences and support mentees in their individual goals.
In October, Wilson co-facilitated an in-person meeting of the Leadership Consortium in which members discussed some of the barriers faced by women aspiring to leadership positions including work/life balance, geographic mobility, access to political and professional networks, confidence and self-advocacy.
The consortium identified specific challenges that need to be addressed:
Women superintendents report lower job satisfaction than men.
On average, women advanced to the superintendency later in their careers and at an older age than men.
Fewer women than men were promoted from within their current districts.
Perceived qualifications for the superintendent's role varied by gender. Women were promoted because of their experience in curriculum and instruction and men for their personal characteristics.
Wilson noted that with increased focus on student achievement, "you would think that being an instructional leader would help you move up. We want leaders who know about school improvement. But many boards don't understand that, so women are given that second seat as curriculum directors or assistant superintendents. They are not seen as the person who can work with the board and the community and be the face of the district."
Consortium members pledged to use their network of influence to give female leaders entrée, help them build their network, let them know about opportunities and watch successful leaders at work, which will give these women a leg up in their careers.
Wilson will be integrating these strategies into DASL's leadership development programs for superintendents, principals, assistant principals and teacher leaders.
"Delaware has been a kinder environment for women in educational leadership," said Wilson, "but there is still room for growth. Regarding career opportunities for women, there should be no doubts and no limits on them. You should never get hired because you are a man or a woman; it should always be the best candidate. Women need to have equal opportunities to move into those roles."
At the conclusion of the project, AASA will develop a white paper on the "lessons learned" about the experiences of women pursuing senior leadership roles in education and outline recommendations to increase access, opportunity and advancement. In March, both groups will share their experiences at AASA's National Conference in Education in New Orleans.
Article by Hilary Mead