Collaboration to provide international internships for students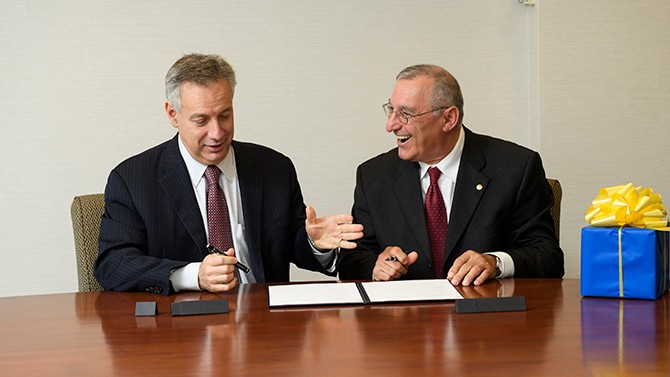 In September, representatives from the University of Delaware and the American Community Schools Athens (ACS Athens) met in Newark to sign the University's first General and Supplemental Agreements with an institution in Greece.
"We are thrilled to partner with ACS Athens to give our students the kind of hands-on, global experience that will enrich their studies at UD," President Dennis Assanis said. "ACS Athens is an innovative leader known for excellence in pedagogy and leveraging the latest in online learning methods. As we continue to strengthen our partnership with ACS Athens, our students will benefit from getting to know Greece's many contributions to history and civilization."
In addition to an official signing ceremony, ACS Athens President Stefano Gialamas visited with various campus administrators and held open forums with College of Education and Human Development (CEHD) faculty members and current students.
The partnership, spearheaded by CEHD, will provide education and human services students at the undergraduate and graduate levels the unprecedented opportunity to fulfill practicum requirements through an international internship, teaching, or research experience at the school.
ACS Athens is a student-centered international primary and secondary school with approximately 900 students. It serves a diverse student population of more than 56 nationalities, giving UD's CEHD students the opportunity to gain a truly global perspective on education.
"All of your static impressions of labeling will go away here," Gialamas told students interested in the program.
Innovative in many ways, the school pursues a constructivist approach to education, using "an American curriculum with the spin of freedom," said Gialamas.
Situated on 50,000 square meters of land, the school offers farm-to-table dining options for its student body. First graders spend time in the chemistry lab, fifth graders explore geometry through M.C. Escher paintings and ancient sites, and eighth graders volunteer each month at local refugee camps. "Any idea you have, you can do it here," he added.
The first UD students will travel abroad for internships and teaching experiences at the school in spring 2017.
According to Bahira Trask, chair of the Department of Human Development and Family Studies, the opportunity to intern and teach abroad will be invaluable to future educators and counselors as they move forward in their careers. "It changes you fundamentally," she said. "You will never be the same."
Lauren Montagna, a senior early childhood education major, is excited about the new partnership. "My interest right now is to see education in different places," she said.
Education and human services students will be mentored during their internship and teaching placements by ACS instructors and guidance counselors, who will receive special training prior to the students' arrival.
ACS staff will also provide support in securing apartment housing in the city of Athens during their stay. While students will be just a short metro ride from the campus, each will be surrounded by the modern Greek culture and the remains of thousands of years of history.
"The experience will be invaluable," said Gialamas to interested students. "You must just be positive, open-minded, and have a willingness to learn."
The new partnership will also create opportunities for faculty and researchers from both institutions to collaborate on future projects.
The school is accredited by the Middle States Association of Colleges and Schools and is the only program of its kind approved to use the Sustaining Excellence Protocol. ACS Athens educators are active outside of the classroom in scholarship, having published more than 150 studies in the last decade.
"Our faculty and students work to solve educational or social problems with the goal of making a difference in the lives of children and families. This partnership provides our faculty and students with an exciting opportunity to investigate a topic with ACS Athens faculty, to investigate problems and solutions from two perspectives," said Carol Vukelich, CEHD dean.
This partnership came about following an exploratory trip to Greece in May. A delegation of UD administrators including Vukelich, Trask and additional faculty and graduate students visited several education institutions. They hope to establish additional partnerships with the University of Patras and the University of Athens.
More details will be available on the collaborative opportunities in late fall on the Department of Human Development and Family Studies website.
Article by Nikki Laws
Photo by Kathy F. Atkinson