UD hosts Cross-University Collaborative Mentoring Conference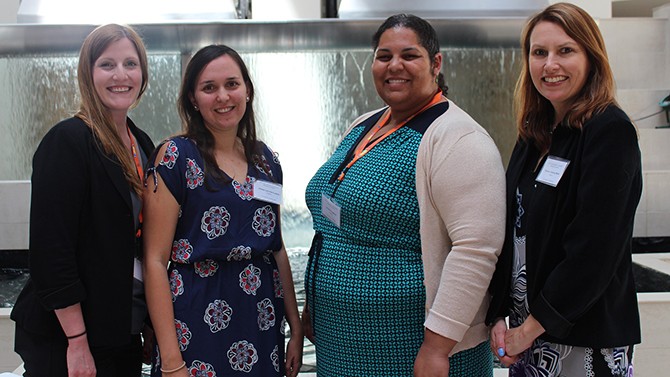 The University of Delaware hosted the Cross-University Collaborative Mentoring Conference (CUCMC) on June 9-10, welcoming graduate students and their mentors from nine universities. CUCMC provides a rich doctoral training experience to young scholars committed to careers in child-centered research. The conference had three main objectives:
Mentor future generations of applied researchers;
Provide a context that features innovative research; and
Build a network of rising scholars and their mentors.
This year's conference, which had as its theme "Working Together: Promoting Positive Development in Diverse Children and Families Across Systems," featured over 25 student presentations. The event provided graduate students studying education and child development a unique opportunity to share their research and receive feedback from faculty and peers at other universities. "Bringing together graduate students and scholars from other universities helps to foster a close-knit community of scholars who are able to share their research and ideas at all stages of development, said School of Education (SOE) faculty adviser Marika Ginsburg-Block. "We had presentations from first-year students as well as students who will be moving on to postdoctoral positions in the fall."
Conference agenda
Bahira Trask, chair of UD's Department of Human Development and Family Studies, gave the keynote address on global education and inequity. A panel discussion followed, outlining postdoctoral research opportunities. The panel featured Laura Finan and Henry May of the University of Delaware, Heather Rouse of Iowa State University, and Catherine S. Tamis-LeMonda of New York University. This year, CUCMC also honored Staci Perlman with a memorial presentation. Perlman, an assistant professor in human development and family studies, passed away in August 2015. Her former graduate adviser, John Fantuzzo of the University of Pennsylvania, spoke about her dedication to Philadelphia families struggling with homelessness and her enthusiastic support for CUCMC.
Collaborative coordination
Planned and facilitated by a committee of current students from the hosting university, the conference uniquely serves as a leadership experience for emerging scholars. This year's planning committee included graduate students Dandan Chen, Juana Gaviria-Loaiza, Sara Shaw and Jordana Woodford. With the help of Ginsburg-Block, the committee recruited students and faculty, reviewed student proposals, advertised the event, and solicited donations. "CUCMC is a great experience because it gives students the opportunity to present their research, no matter the stage, and develop lasting relationships with current and future researchers in the field. It's all in the spirit of being supportive and encouraging," said Woodford, a doctoral student in the School of Education. "It was hard work planning the conference, but I'm so happy that we were able organize it for all of the participating students and especially, in honor of Staci Perlman, who had been actively involved in the conference." Over 55 students and faculty participated from Fordham University, Iowa State University, Lehigh University, New York University, Tufts University, the University of Miami, the University of North Carolina, the University of Pennsylvania, and UD. This year's conference was sponsored by UD's College of Education and Human Development, School of Education, and the Department of Human Development and Family Studies, as well as the Graduate School of Education at the University of Pennsylvania and donations from Fordham University, Tufts University, and the University of North Carolina at Greensboro. Beginning at the University of Pennsylvania, this conference has continued for 16 years with UD faculty and students participating from its onset. Read this article on UDaily. Article and photo by Jessica Henderson.